Great industrial design requires teamwork; working alongside engineers and model-makers, our industrial designers use in-depth research and elements of design-thinking to turn your concept into an innovative solution.
Our Industrial Design Firm Turns Product Ideas Into Beautiful Product Solutions.
---
From initial concept to final product design and material selection, the industrial designers at Enventys Partners develop, validate and refine designs to arrive at innovative and iconic solutions. We balance logic and functionality with creativity and overall aesthetic in all our product designs. During the design process, collaboration is key. Our industrial designers work hand-in-hand with our engineering team to make sure that your product is manufacturable and will meet functional and user needs before releasing final designs.
The Best Products on the Market All Have One Thing in Common – Exceptional Industrial Design.
All great product ideas start with a problem. From extensive research to user considerations, our industrial design team gets fully immersed in the product and the problem it is trying to solve. This immersion and our wealth of experience in a variety of product categories allow us to deliver beautifully-designed, innovative product solutions with enhanced functionalities that fit seamlessly in their environments.

User-Centered Research
We immediately immerse ourselves in your project, diving deeply into understanding the product and user needs. Through design research, consumer analysis and human factors, we elevate form and function to craft products that create enriched experiences for users.

Conceptualization & Ideation
Governed by a well-crafted design criteria that was formulated from critical insights uncovered through research, our industrial designers formulate a portfolio of aesthetic and functional concepts that lay the foundation for how the product will function, look and feel.

Rapid Prototyping
Our team uses a plethora of rapid prototyping techniques to elevate the design and function of your product. Through rapid prototyping, our team is quickly able to find solutions and key insights that define the product. These opportunities allow us to create prototype solutions that move your idea forward.
Our Industrial Design Specialties
We are heavily involved with your industrial design project from start to finish, here's what you can expect when you work with us.

User-Centered Research
Market Analysis
Brand & Product Analysis
Consumer Identification
Ethnography Studies
User Evaluation

Conceptualization & Ideation
Brainstorming
Concept Generation
Functional Evaluation
Component Layout & Form Development
Environmental Analysis

Rapid Prototyping
Form Modeling
Ergonomic Studies
User-Experience Analysis
Concept Evaluation
Our Industrial Design Services
---
Creating an industrial design blueprint is a fluid process that requires constant development and testing. We understand the importance of creating a design that properly addresses consumer needs, is aesthetically-pleasing, functional and fits industry standards. While each project is different and requires its own unique plan, when working with us you can expect:
Researching
Strategy & Design Criteria
Brainstorming
Ideation
Form Modeling
3D Modeling
3D Rendering
What to Expect When Enventys Partners Handles Your Industrial Design Project
We are heavily involved with your industrial design project from start to finish, here's what you can expect when you work with us.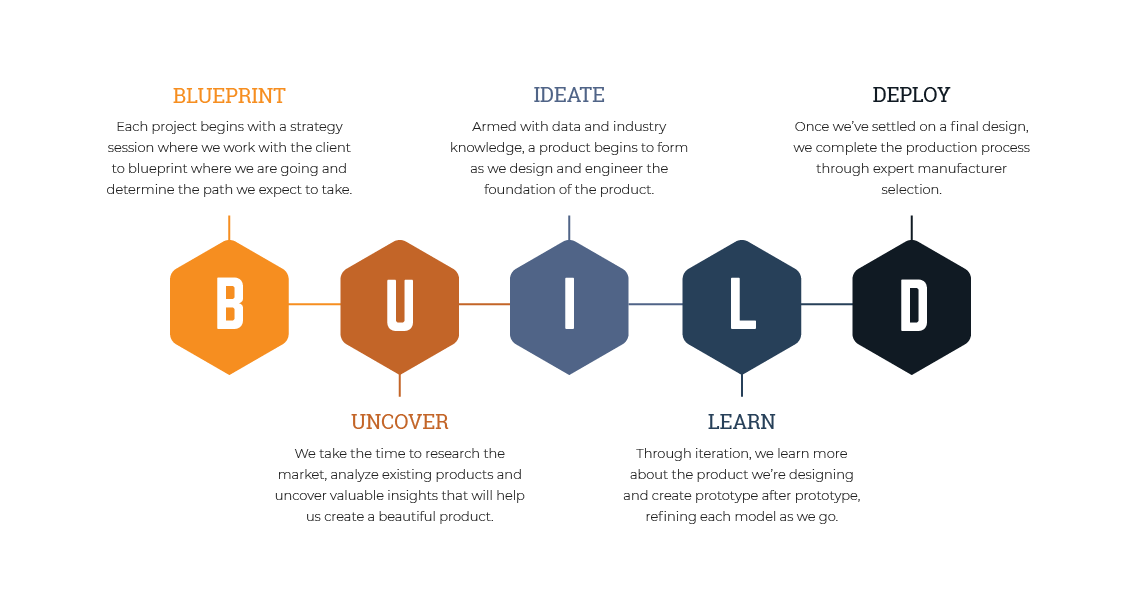 Are You Ready To Get Started On Your Next Industrial Design Project? So Are We.
Our industrial designers will help define the aesthetic of your product to give it the maximum impact in the marketplace. The industrial design team uses ideation sessions to explore iconic forms that will complement the environment in which the product lives. Whether you know what you want your product to look like or you simply have a vague concept in mind, the team at our industrial design company will work with you to explore options for the ideal look, feel, and function that will resonate with your audience and perform well in your target market.

How Can We Help?
Whether you need an all-encompassing strategy or assistance with a single service, we provide value for your new product launch. We offer crowdfunding, product development and digital marketing services, all under one roof.

Ready, Set, Launch
We truly shine when a client utilizes all three of our primary service offerings. Having one place to develop, launch and market your consumer product concept helps leverage efforts, reduce costs and simplify the process.