"Should I Crowdfund My Idea?" Here's What to Consider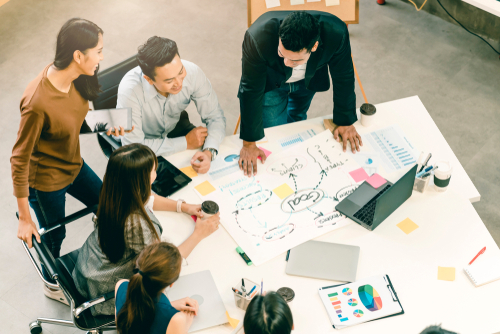 You have an idea and want to bring it to fruition. Where do you begin? How do you make it happen? Crowdfunding is a great way to launch a new product and build your business. Not to mention, it is mutually beneficial to both project creators and backers. However, crowdfunding does not guarantee high-level success for every product; it's crucial to determine ahead of time if your idea is a good fit for crowdfunding, or if it may be better suited for a more "traditional" route.
This presents a tough question: Should I crowdfund my idea?
How to Determine if You're Ready for Crowdfunding
First, you must decide if your idea is ready for crowdfunding. Here are some points to think about before even considering crowdfunding:
1. You have a working prototype.
2. You have a unique, tangible reward to offer.
3. You have support lined up for day 1.
4. You have a free product to give away.
5. Your product is not similar to the competition.
6. You don't have to meet a high funding goal in order to fulfill rewards.
7. You don't need to launch in a hurry.
8. You are not offering a prohibited perk/reward.
9. You are not selling your product elsewhere.
If you've run your project through this checklist and it passed, congratulations! It looks like you're ready to move forward with crowdfunding. Next, we'll discuss the key ways to begin preparing for the launch of your crowdfunding project.
If after running through the checklist, you don't feel prepared to run a crowdfunding project just yet, well also discuss the next steps you should take later on in this blog.
If you ARE ready for crowdfunding, here's what to do next.
If you've decided that crowdfunding is right for you and your product, there's a lot of prep work that needs to go into your campaign before you hit the launch button.
Decide Between Kickstarter and Indiegogo
Choosing the right platform for your project depends on what your product is and how much money you need to raise. Both platforms provide different pros and cons, for example, competing success rates, differing platform fees structures, country eligibility and more. where you are launching from and more. Understanding the difference in these platforms is essential before making the big decision.
Once you've chosen the right platform for your project, you can then begin pre-launch to gather leads — Facebook advertising and email marketing are the two of the best methods to do so.
Curate Content and Prepare Your Campaign Page
First, you'll need to gather photos. Your product shots and lifestyle images tell your story, strengthen your brand and visually convey the need for your product. These photos must be high-quality, otherwise, your brand will appear unprofessional or untrustworthy. Second, you'll need to create an enticing campaign video. This adds a personal touch and shows potential backers how your product will fit seamlessly into their lives. All of these elements — photos, video and copy — will be utilized on your campaign page — their caliber is critical to the success of your campaign.
Contact Your Family and Friends
Launching with ample support right off the bat will help boost momentum in terms of funding at the start of the campaign. People are more likely to back a campaign that is already funded or that is at least showing traction. Be sure to keep your family and friends in the loop as you approach launch day so that they can support your campaign once it's live. If your loved ones cannot back the campaign at that time, they can still help by sharing the project with their networks to get the word out.
Finalize Your Working Prototype
With crowdfunding, backers must be willing to wait months before receiving your product. However, before deciding if it's worth the wait, they'll need to know what the product looks like and how it works. Having a functional, highly-aesthetic prototype demonstrates its legitimacy to potential backers and will likely convince them that you're more than prepared to deliver on time. This also gives you some insight on the cost of production, which will set you up for an effective rewards structure.
Find a Reliable Manufacturer
Your working prototype is finalized, which means you're ready to find a manufacturer. Make sure the manufacturer you are interested in meets each of your needs. The last problem you want to run into is delaying shipment.
If you are NOT ready for crowdfunding, here's what to do next.
If you've run your product through this checklist and it failed, don't fret. Although you may not be ready to move forward crowdfunding, there are numerous effective avenues to explore.
Partner With a Product Development Team
Your product may be lacking some vital components, but that's OK. Partnering with an experienced product development team will help to further refine your idea, preparing you to take your product to crowdfunding or the market at a later date.
Complete a Market Test
Executing a trial run of your product is a great way to receive feedback and gain insight from potential buyers to better your product before launching. This is a great option if you're unsure how your project will perform online and you want to avoid the possibility of wasting time and money. You can take the feedback, whether it's the price, product design, or something else entirely, and use it to improve your product.
Head Straight to Ecommerce or Amazon
Sometimes your product simply isn't suited for crowdfunding. Selling your product on a personal website or Amazon can maximize sales if executed properly.
Ecommerce offers a plethora of benefits to you and your shoppers. With a personal website, you won't have to worry about any geographical or time-related restrictions because shoppers from almost any part of the world can shop on your site at all hours of the day. Overall expenses and costs will also likely be inexpensive when compared to brick and mortar start-up fees. Not to mention, it's a great way to lay the foundation for your brand and build it while you're first starting out.
If you want to initially offer your product on a well-known, already-established platform, Amazon is the way to go. Shoppers all around the world know Amazon and what they stand for: a trustworthy company that supplies an easy shopping experience. You also have the option to not worry about packing or shipping your product to buyers, as Amazon's fulfillment center options can handle that for you (for a small fee, of course).
Ready to get started on your Kickstarter or Indiegogo campaign? Contact us today to tell us more about your project and request a quote!
Work With Us
Want to learn more about how we'd prepare your product for launch? Request a quote today.
Want To See This Advice In Action?
Check out our case studies and learn more about how we've achieved stellar results for our clients.