Common Ecommerce Pitfalls

& How To Avoid Them
Being able to stay clear of common mistakes and pitfalls is one of the most important things you can do. These helpful tips and strategies will help your ecommerce site and business reach greatness in the coming year and beyond. From building your site, to social, SEO and customer service, we will help show you what to avoid and what can help you flourish.
Ecommerce Web Development
Imagine, if you will – a skeevy, back-alley store, nestled in the most dangerous part of town. The inside of the store is even uglier than outside. The aisles don't make any sense; there's cans of food next to cleaning supplies next to Christmas lights. There's a suspicious person following you as you shop, keeping to the shadows – of which there are many, due to the poor, flickering, yellow-tinted lights. There's no security guards and when you asked a store clerk for help finding a product, they simply responded, "I'm sorry for your confusion, I will address it with management." You looked for a review for the store online, but you couldn't even get cell service while inside.
There's a whole wealth of reasons why your ecommerce store can have that same awful experience. There's too many to count so here's five:
Poor Design
At the end of the day, your website's design is the most important aspect of conversion rate optimization. Consumers, for the most part, are visual beings. They see something they like, they are more inclined to buy and use it. Ensuring that your website is visually pleasing and that the customer journey is both personalized and cogent goes a long way toward improving your conversion rate and, thus, increasing revenue.
Unintuitive Navigation
Your navigation is the roadmap to your site. It tells the user at a glance what you offer, where it is and how to get there. Factoring in the fact that consumers can often be fickle and possess short attention spans, you can see why it's important to display information quickly and concisely. Set up a clear hierarchy with easy-to-navigate silos – products laid out in one silo and
so forth.
This will help in two ways – it gives your users a yellow brick road to follow through your website while simultaneously offering added SEO benefit.
Not Being Mobile Responsive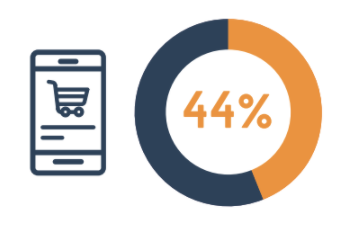 While customers purchase more on desktop computers, mobile device ecommerce (mcommerce) is not far behind. By 2024, mobile is expected to account for 44% (or $488 billion) of all online sales.
It is important to note that there are many individual ecommerce categories where the breakdown by device is much closer. Small-ticket items, like video games, toys or event tickets, have much more even distribution. So no, most consumers won't be ordering a new MacBook Pro while casually surfing the web on their mobile devices. But for less expensive items, it would be best to make sure your site is mobile responsive.

While some people won't buy off your website, it's likely they'll still interact with your business online at some point in the buying process. And if you don't improve mobile responsiveness, stats show 40% of users will go to your competitor after a bad mobile experience.
Insecure Site
Consumers are becoming increasingly more concerned with site security, and for good reason. Studies show that
90.2% of the browsing time on Chrome is spent on HTTPS pages.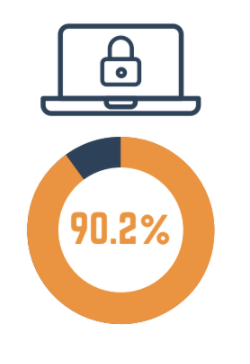 The good news is that, in today's day and age, it's becoming simpler to get at least the basic levels of security for your website. At the very least, ensuring that your site shows the "green padlock" – a valid SSL certificate – goes a long way toward easing the consumers' concerns.
One benefit of Shopify is that it's a hosted platform, so your store is inheriting the same level of protection that all Shopify stores inherit. For novice store owners, this is the easiest, fastest and likely cheapest route. However, it's a double edged sword – Shopify doesn't offer the same level of customization that a self-hosted platform like WooCommerce does.
For more information about making your ecommerce store the online version of Fort Knox, check out this article from GoDaddy which details 10 in-depth ways to protect your ecommerce site.
Long/Confusing Checkout Process
Similar to unintuitive navigation, having a long or clunky checkout process can drastically affect your conversion rate. Nothing is worse than finding an item you'd like to purchase, adding it to your cart, fishing around for your credit card, entering in your information, and then being presented with four more pages and 100 more fields to navigate through.
Streamlining the checkout process is one great way to clean up your ecommerce store. The less hoops the user has to go through, the better. Depending on the platform you choose, you have options on how your checkout is served – whether via a series of pages or through a more streamlined, dynamic, one-page solution via jQuery.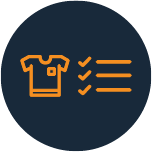 Not Having Unique Product Descriptions
When presenting products onsite the product description is one of the most critical pieces for SEO. Don't use the same manufacturer info everyone else does for products by other companies and don't allow others to use your high-quality content for products of yours they sell. Take time and create unique descriptions that show off your brand and explain your product well. Adding detail about a product's features is a fantastic way to include keywords specific to your target audiences.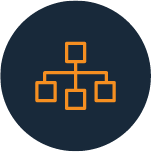 Not Having Content on Product Category Pages
Write a short explanation about the product within the category you've created; this content helps rank for keywords revolving around an entire group of products but it also allows customers to understand key highlights for the entire group of products. Link to specific subcategories or even top products to draw additional attention to them. As a bonus: by defining the category past just a title, you can see if you have products out of place or if you're missing subsets that you would've ignored otherwise.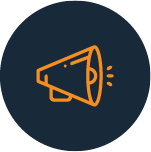 Failing To Build Links Or Do Any Public Relations
One of the cornerstones to SEO is building backlinks from authoritative and relevant websites. This involves creating a PR and outreach strategy to get mentioned by other websites. Look for easy targets such as best of X lists, gift guides, industry guides, and reviews of your product. Don't forget to reach out to industry sites, and research where competitors have been. It's always best to ensure that what you're doing is unique and that your products are unique in concept and design. By making something your own, it allows for easier distribution and conversation about your site and your product line.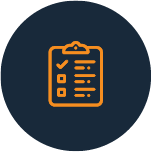 Thinking That Your Website's Content Is 'Done'
Without strategically adding new content regularly that targets your ideal demographic/customer, the site's growth often becomes stagnant. If you're struggling to come up with new content ideas, consider the following:
Comparisons of products
Reviews of products that aren't yours
Buyers' guides to product sets
Industry data and information
Helpful /informative how-to's
Thought leadership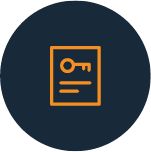 Using General Keywords Instead of Getting Hyper-Specific With Keywords/Terms
When it comes to category title tags, product title tags and keywords within content pieces (both product/ category and description/informational), each page should have a very specific focus. To do this, you must get descriptive and use long-tail keywords which are heavily-refined phrases to target niche audiences. For example, a women's fashion category page should use the long-tail keyword "steel toed boots for women" or "women's steel toed boots" instead of just "boots" or "women's".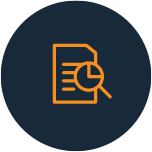 Not Using/Snippet/Schema/Markup on Products + Reviews
Ensuring that the plugin or custom setup is feeding markup data correctly is important. Using reliable review plugins such as Yotpo that ensure this data is being presented is critical to having ratings shown within search results. Additionally, the data highlighter found within Google Search Console can be used to highlight product info and details.
Marketing Strategy & Planning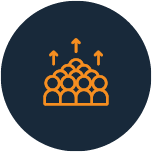 Trying To Market In Too Many Channels
When first marketing a business it's very easy to want to cast a wide net, especially when those nets can be cast for free using social media, for example. The thought process is that if you fish in a variety of places and market to a lot of audiences, you're bound to hook yourself with at least one new customer. Unfortunately, this never works out!
It's important to evaluate which marketing channels and methods you can afford, which can get you your target demographic and which you believe will present a good ROI. Begin by testing your marketing ideas on a smaller scale and see if your hypothesis was correct. As you start to develop more traction, keep applying your time and budget toward the channels producing the highest ROI/potential growth, and cut out those that aren't.
There's no reason for you to keep spending money on advertisements that aren't accomplishing your goals, creating content that isn't driving quality traffic or sales, or posting on a social channel to an audience of one (yourself).
Not Establishing and Maintaining Your Data and Analytics Correctly
It's very difficult to understand the LTV (life-time value) of your customer base, and only some businesses ever manage to fully accomplish it. However, that doesn't mean you shouldn't be trying to get as close as possible. All too often ecommerce businesses, and businesses in general, don't establish and track the goals of their website. When it comes down to understanding how campaigns performed and where budgets should go next, they're left lost. Establish solid end goals, such as sales numbers, and seek to capture data points and events on customers as they move through your site and associate them with those points directly. At a minimum, seek to track customers from their original source to thoroughly monitor ROI from your marketing and advertising.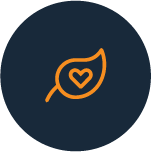 Failing to Establish a Brand - Not Being Unique
In some cases this pitfall can stem from the business idea and operation itself, but it's through marketing where a business gets its voice, style and overall brand. In an ever expanding digital world with websites competing for each and every visitor, it's important to set yourself apart from the crowd, especially within your industry. Determine what actually separates your business apart, who your target demographic is and what their personalities are, and begin creating messaging and marketing around that.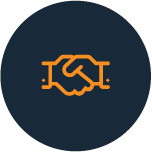 Trying To Do It Alone
The key to success is always who you surround yourself with. This is especially true when it comes to marketing. Seeking out partnerships is every business' best opportunity for growth, regardless of how big or small. These partnerships can come in many forms including deals with other businesses, influencer and promoter relationships, news and blog relationships or even simply finding marketers who know how to do something better than you (SEO, PPC, PR, etc.).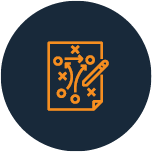 Getting Ahead of Yourself Or Forecasting Incorrectly
Forecasting your marketing incorrectly can come in a variety of forms. There are cases where marketing is heavily under budgeted during seasonalities and as a result the business slows down during these periods instead of maintaining pace.
Other cases come from a desire to start marketing as early as possible when the business may not actually be ready for this kind of attention and demand. All too often when this happens, the website crashes, inventory isn't ready, and it all came from a desire to market too hard instead of growing naturally and presenting the product or business when ready.
A third case can stem from overspending on ideas that aren't going to help meet the objectives of the business; it's important to prove that a marketing strategy is effective for the business before diving too deep into it, especially financially.
Paid Advertising
While the goal is ultimately the same across the board, different platforms come with different pitfalls based on how they show ads to users. Google Ads is primarily reactive, showing ads on the Search Engine Results Page (SERP) based on the user query. Facebook Ads is more proactive, showing ads to their users based on psychographic targeting data culled from the millions of profiles on their platform. As such, different pitfalls can occur on these platforms, and it's easy to overlook something as you navigate their different challenges.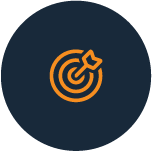 Your Facebook Ads Targeting Is Too Broad
When building your audiences, remember that Facebook starts with a huge number of possible users in order to allow you the best chance to find your ideal target audience within that user base. However, unless you're swimming in money, there's no way to target all 213 million accounts in the United States effectively.
While the obvious demographic choices of gender, age and location are great starters, don't forget categories like purchase behaviors (ex: gadget enthusiasts, gift shoppers, prepaid debit card users), mobile device type (iOS, Android, tablets and even Windows phones) and education (from high school to master's degree, and specific schools). Be sure to consider all of the options that are available when you build your audience in order to get your ads in front of the most relevant users.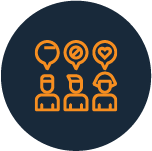 You Aren't Taking Advantage of Lookalike Audiences On Facebook
One of the nice features of Facebook Ads is being able to create "Lookalike Audiences", which are targeted lists similar to the people who have already liked your page, have visited your site or are in your customer email list. This allows you to let Facebook do some of the targeting work for you by creating a base audience of users more likely to convert because they share traits with users who already have converted. It's one of the easiest ways to start building an audience, and one that is often overlooked.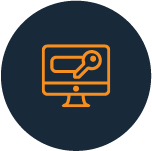 You Haven't Added Any Negative Keywords on Adwords
When building your first ad campaign on Google, keywords are one of the fundamental pieces of the structure. However, many neglect adding negative keywords – words that will prevent ads from showing because they are not in your target audience. For example, if you're selling tiaras for children's costumes, you may want to add "yacht" as a negative keyword. Users searching for the boating brand, Tiara Yachts, shouldn't be served your ad erroneously. By reviewing your search terms report regularly, you can identify the negative keywords that are costing you money.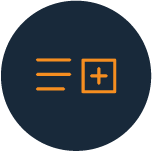 You Aren't Using Ad Extensions On Adwords
Ad extensions essentially give you more SERP real estate for no additional cost. As you battle for the top position, there are only so many characters you can use in the body of your ad. These extra lines of text allow you to add information about your location, phone number, special features and more. In addition, you can track performance on these extensions, which will help you develop new copy for better-converting ads.
You Haven't Enabled Tracking or Any Remarketing Pixels
All of the major ad platforms offer tracking pixels and codes that will allow you to track the results of your ads as they send traffic to your site. While Google Analytics can provide a lot of referral data in their dashboard, having results directly correlated in your ad reports will allow you to make decisions regarding your campaign effectiveness quickly.
As you A/B test your ads, you'll be able to track conversions, helping you determine which combination of copy and imagery helped you reach for goals in the most cost- efficient way. The key is making sure that the codes are installed correctly on your site, so be sure to review the instructions thoroughly before installation.
Social Media Marketing
In the 21st century, it can seem as though nearly every business is on some form of social media. However, it's not a simple case of "if you build it they will come"; just creating a Facebook page or Twitter account isn't going to automatically get you likes, comments and retweets, or increase your sales from social. Effective social media marketing requires a thoughtful, strategic approach. As you're planning your social media strategy, watch out for these five common social media marketing pitfalls.
Blog & Email Marketing
Email marketing is an easy way to reach out to all your customers and potential customers alike in order to either make a sale or simply to stay on top of their minds in between sales. It is an inexpensive tool that can help make conversions but when done incorrectly, can actually backfire. Avoid the five common pitfalls of email marketing outlined below to make sure your campaigns don't fall flat!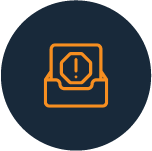 Don't Spam
Delivering bulk, unsolicited and/or irrelevant emails to a list of people is considered spamming. Not only will those emails undoubtedly go right into spam folders, but due to the CAN-SPAM Act, it is also illegal and you could be fined over $40,000 per email sent. It is extremely important that this doesn't happen to you if you want to have a successful email campaign. There are a few steps to take to ensure your email doesn't get flagged as spam.
To start, make sure each and every person on your list actually subscribed to your email list. Emailing an unsolicited list of people will not only have a negative impact on your reputation, but will also have a miniscule, if any return. You also need to give everyone on your email list a way to opt out of receiving emails by providing an unsubscribe button/link on every email.
Any form of deception can result in your email being marked as spam. Be very upfront with your readers by using consistent branding in your emails and using naming conventions that your readers will recognize. For example, if your readers only know your company as ABC, don't list the "from" name as the CEO of the company because readers won't know who they are receiving an email from. Also, be sure your subject line and headers don't mislead or trick the reader into opening the email – they should accurately describe the content of the email.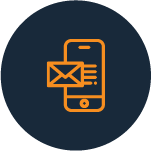 Don't Forget About Mobile
Marketers almost always create their email campaigns on a desktop computer, and once it's created, they may think their job is done. However, they have forgotten about one key component: people open 50% of emails on their mobile devices.
To ensure that your email is mobile-friendly, start with keeping the subject line short. While a desktop can show over 60 characters, a mobile device only shows 25-30 characters of a subject line. If your subject line is too long and readers aren't able to grasp the point of your email, they probably won't even open it. Using pre-header text, the text just below the subject line that further describes the content of the email, is another way you can ensure your email is mobile-friendly.
Another mobile-friendly point to note is not to rely on images. Oftentimes, people turn off their image displays on their email apps to prevent spammers from knowing they opened their emails and getting more spam. For ecommerce brands, this means that your email images might not be seen by mobile users so make sure you don't include any important text on them. Use the text copy to deliver key details and involve email images as supplements.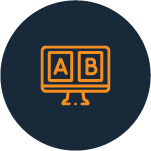 Don't Skip A/B Testing
Because A/B testing is not required to send an email, many will often forego using it altogether, which is a huge mistake. A/B testing allows you to test different variables of your email so that you can see how small changes can impact your open and click-through rates. The most common and useful variables to A/B test include subject lines, from name, content type and send time. Don't skip over A/B testing- the results may surprise you and in the end could help bring more customers to your site and in turn bring in more revenue.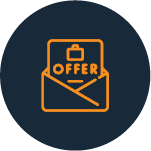 Don't Be Too Salesy
While the end goal of sending an email marketing campaign is to make more sales, you don't want to come off as overly promotional or salesy. While customers do want a good deal, they will recognize an email that is over-hyped with too many exclamation points or a deal that is too good to be true. In this instance, your email will end up in the trash more often than not.
While you should advertise any promotions you have going on, keep it brief and don't over-promise. It can also be helpful to find interesting industry-related articles and blogs from other outlets to share with your readers. This will not only keep readers engaged, but can also help create good relationships with other companies.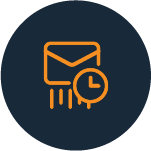 Don't Forget Automations
Automated emails can be a lifesaver when dealing with email marketing because you want your customers to know you appreciate them. By automating your emails, it will not only save you some time but it will also keep you on top of your customers' mind. A few automations every ecommerce company should have set up are welcome emails for when a customer signs up for the email list, a cart abandonment email for when a customer adds an item to their cart and then closes out the window, and a receipt email that sends an invoice immediately after a customer makes a purchase.
If you take the time to set these email automations up, it will benefit you greatly in the long run. By doing this, you may spend more time on email marketing upfront, but ultimately it will make your job much easier.
Ecommerce Store Customer Service & Reviews
Why Customer Service and Brand Reputation Still Matter
You've developed a product that solves a common problem, or perhaps it just makes life a little easier. You've completed market testing and data shows you've got something big on your hands. You've hired a web developer to create a beautiful online store, you've stocked inventory, and hired an agency to market the product. Your website launches and once the masses know about your brand and offering, you're convinced it will "sell itself."Easy peasy. You'll be a millionaire in no time! This very well might be the case… that is, until customers' complaints and poor online reviews start to pile up, and there's no one to address the problem or respond to unhappy customers. Far too often, the value of great customer service and the importance of establishing and maintaining an honorable brand reputation is underestimated, particularly by lean startups. Your product may change the way we live our lives but if negative experiences and bad reviews exist online and they aren't properly addressed (and in a timely manner, too), then your dreams of retiring early will fade, quickly. Customer service and brand reputation still matter, especially in the digital age.
When you take your company online, keep these five customer service pitfalls in the forefront of your mind:

Failing to Establish an In-House Customer Service Team
Every company wants to scale and increase their annual sales revenue. As your product reaches new households and your customer base grows, the likelihood of a customer having a bad product experience increases. Failing to have a designated team of trained professionals to manage customer inquiries and complaints will almost certainly result in their concerns being ignored. And let's face it, no one likes to be ignored! Without an empathetic customer service team to remedy customer issues, unhappy customers will take their frustration online in the form of posts on company websites, review platforms and social media. This, of course, opens the possibility of more negative reviews, and before you know it, you have a reputation problem on your hands. To avoid this, hire and train staff to manage and resolve customer issues quickly, quietly, and on the customer's terms.

Failing To Assign A Person Or Team To Manage Social Media
"Social media is easy", or so say those that know nothing about managing social media accounts on behalf of a business. It goes without saying that your company should be on social media in order to reach more potential customers and establish an online presence. Over the past decade, customers (and social media users, in general) take to the Internet to voice their opinions, share experiences, give praise or criticize products and/or brands. Social media has made it easy to connect with companies directly and have their interests, ideas and concerns heard. However, social media also allows customers to give honest feedback or ask important questions that need answering. When comments and questions go unanswered, the perception is that your business doesn't care about your customers. Once again, if customers are ignored by you, they will make their feelings known elsewhere online. Depending on your type and size of your business, you will need one or possibly an entire team of social media experts fielding comments and questions. For unique or specific customer issues, take it offline and contact the customer directly. Caring about a customer's experience goes a very long way!

Hiding Your Customer Service Contact Information Or Providing Too Few Options For Customers To Contact You
Have you ever received an email notice or bill that requires a discussion with a human (read: representative) but you can't find how to reach the company? What can set a frustrated customer over the edge is the inability to locate a customer service phone number, email or online chat service. Needing to contact customer service is already an inconvenience for most, so why add to the problem? Display your contact information in the footer of your website or designate an entire page to customer service assistance. Providing multiple ways to reach the company is also preferred. There are still some of us out there that like to resolve issues over the phone, while others prefer Twitter. (Just remember to respond!)

Pushing Blame On Customers Or Making Up Excuses
Customers are not always right. Sometimes they are wrong and sometimes they are just difficult to satisfy. However, don't argue with customers and/or push blame on them. Let the customer speak and listen. Sometimes, all a customer needs is someone to hear them out. Stand by your product, but work with your customers to resolve issues. This might come in the form of a new product, shipped free of charge or perhaps an exclusive coupon code. If you receive negative comments on a review website or social media, respond professionally, offer a resolution and if more caregiving is needed, provide a direct line of contact. Whatever the care, come from a place of understanding and a sincere desire to make them happy. It will go a long way and they may even do a 180 and give your business a positive comment online.

Refusing to Acknowledge That Your Business Needs Reviews and Testimonials
More than half of all consumers vet businesses and products based on a company's online reputation and reviews. Even if you develop the best product of all time, negative company feedback and poor customer
service reviews almost guarantee that your bottom line will suffer. Utilize review/testimonial platforms such as Yelp or Yotpo and solicit customers for feedback and testimonials. Receiving negative feedback is an opportunity to learn from mistakes, and by responding appropriately and in a timely manner, you can turn an unhappy customer into a happy, loyal one.

What does all of this ultimately mean for you and your business? Well, with some common sense and avoidance of these easy-to-fall-into mistakes, you can set yourself up for success in the coming year. From developing your site to customer service, you should now have a more clear view of the dangers that lay ahead.
Don't forget though you still need to plan ahead and bring all the pieces together. If need be, reach out—there's nothing wrong with asking for a little help along the way.