You want more traffic to your crowdfunding campaign, right? In addition to paid advertising and the organic sharing of your campaign, utilizing third-party promotional opportunities can help bring in more traffic and money to help your campaign reach and surpass its funding goal.
Running a successful crowdfunding campaign isn't easy. It can be hard to cut through the noise with hundreds of new campaigns launching every day. That's why it's worth considering tapping into additional networks of potential backers. One way to do this is with
paid advertising
. Another way to do this is by using what we call "third-party" promotional services. These outside vendors offer a variety of services, from newsletters to affiliate marketing and directory-based sites, where their community of backers learns about exciting new projects.
Which ones are worth it? It can be difficult to sort through all of the different options and prices in order to decide which tools are worth the investment. Below is a guide to help you determine which third-party crowdfunding service might be a good fit for your campaign.
Kickbooster
Kickbooster is an affiliate network for crowdfunding campaigns. With Kickbooster, you pay for performance and encourage backers, media partners, and brand advocates to refer their network to your campaign in exchange for a commission on successful pledges. To date, more than $42 million has been raised through Kickbooster's referral programs.
How Kickbooster Works:
Creators build a dedicated page on Kickbooster's platform. Here you'll set your base commission rate, select images to showcase your product and provide links to media kits so would-be affiliates have the assets they need to promote your campaign. Once you've built the page, set it live alongside your campaign and share a unique sign-up link with your network.
Once affiliates sign up to refer your project, they're provided a custom link of their own to share. For every sale brought to a project from their link, that affiliate earns a commission. Project creators typically offer anywhere from 10-20% to encourage sharing. On average, Kickbooster brings in more than $3K for our projects, and we recommend that project creators list their campaign in the platform's marketplace. We suggest listing projects in Kickbooster's marketplace since it allows creators to tap into the platform's very large network of prominent influencers, and the increased exposure is typically worth the investment.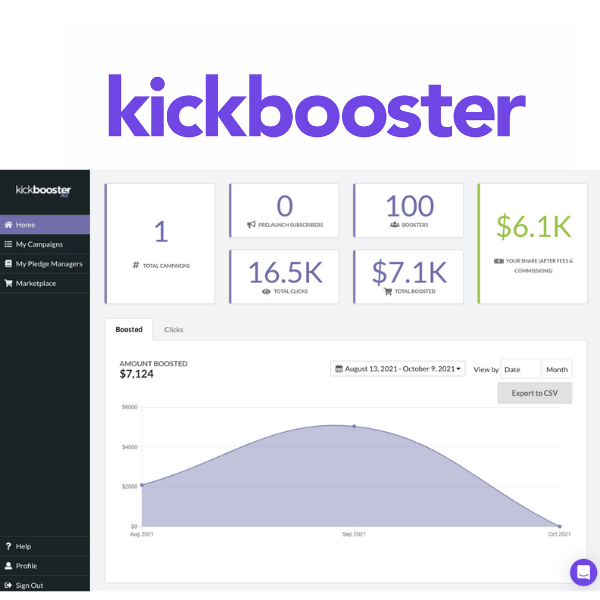 Charges and Fees:
Kickbooster charges campaign creators $29 per month to host the project plus commissions (affiliate commissions and 3% to Kickbooster). It should be noted that Kickbooster's commission increases to a 5% fee on sales made through their marketplace. When the campaign is over, you can deactivate the Kickbooster page to stop the monthly charges.
ProductHype
ProductHype is the most powerful crowdfunding newsletter. Boasting an audience of more than 300,000 engaged members, ProductHype newsletters have generated more than $7.8 million in tracked pledges for campaigns across a variety of categories.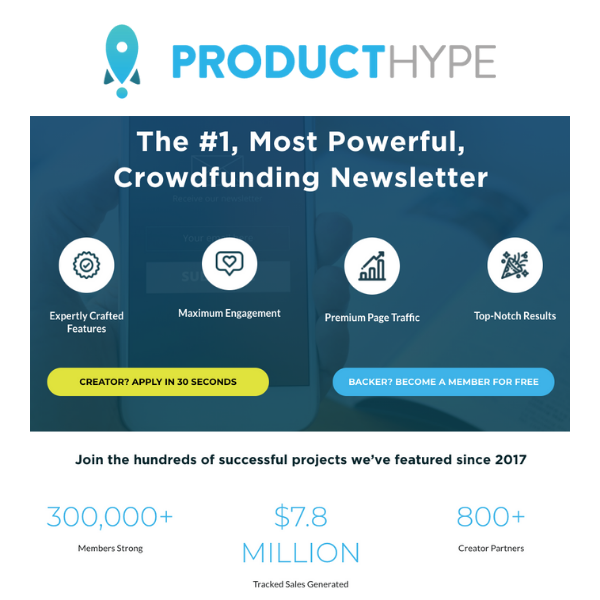 How ProductHype Works:
Creators interested in appearing in a ProductHype newsletter are encouraged to apply. This exclusive newsletter reviews applications and charges a combination of flat fee plus commissions. These fees vary depending on the desired placement in the newsletter and demand for limited spots.
On average, campaigns featured in ProductHype raise $5K-7K with some campaigns raising significantly more.
BackerClub
BackerClub is a platform consisting of more than 22,000 people who have backed an average of 107 crowdfunding projects each. Promoting your project in BackerClub means your campaign gets a spot on the platform's website and in their emails.
How BackerClub Works:
Creators submit an application to promote their project on BackerClub. The process is short, simple, and can be completed in less than five minutes. If approved, BackerClub begins promoting your project via its site and newsletters.
BackerClub operates via "advertising campaigns." Creators can set a maximum budget and duration for the campaign and will agree to pay BackerClub for every click they drive to the site.
Charges and Fees:
BackerClub charges $1 per click. A creator who sets a max budget of $300 may only be charged $258 if that is how many clicks were driven to the campaign page from BackerClub's listing and newsletter promotions.
BackerLand
BackerLand is a community of thousands of crowdfunding super backers. Its members have supported 700+ projects on Kickstarter and Indiegogo, contributing to an average of 36 projects. The BackerLand community has pledged more than $42.8 million and counting, with each project on BackerLand getting an average of $1,800 in new pledges.
How BackerLand Works:
As a campaign creator, you'll need to offer a unique reward for BackerLand members. When submitting your project, you'll need to offer an exclusive reward in exchange for their support. Most go with a simple 5%, 10%, or 20% discount for BackerLand members, but others offer reward tier upgrades or free add-on items. Ideally, the better your special rewards are, the more support you're likely to get.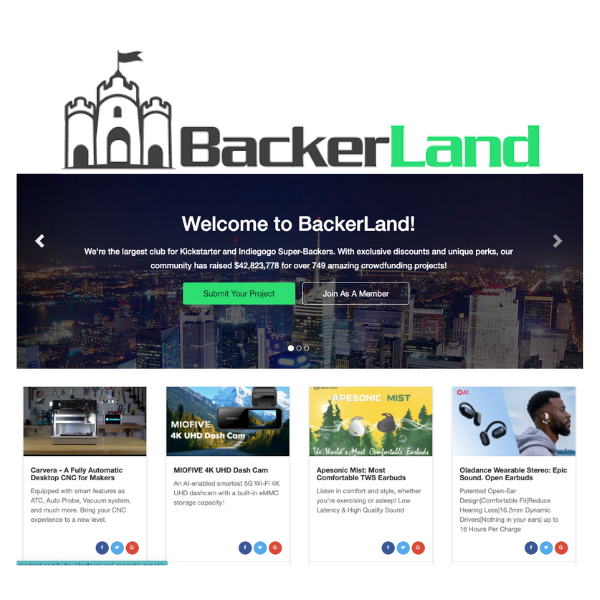 Charges and Fees:
The BackerLand fee is $349 for inclusion in their newsletter and listing on their site. As a preferred agency partner, we're able to offer creators a discount on those services and higher placement in the newsletter.
BackerCity
BackerCity is a crowdfunding community for creators and gadget lovers to interact with each other. The platform offers a free listing of your campaign but that comes with a very limited duration. BackerCity requires payment for a permanent listing and other promotions.
How BackerCity Works:
Creators submit to BackerCity with a special reward for their members. Once the campaign is approved, creators have three different promotional packages to choose from. Packages include features like inclusion on the front page of the website, social media promotions, newsletter inclusion and more.
BackerCity also offers creators a dashboard that enables creators to further promote their campaigns with a-la-carte solutions. This opens up the ability to send more newsletters, bump the campaign higher on the site, etc. BackerCity advertises a 100% guarantee within 30 days.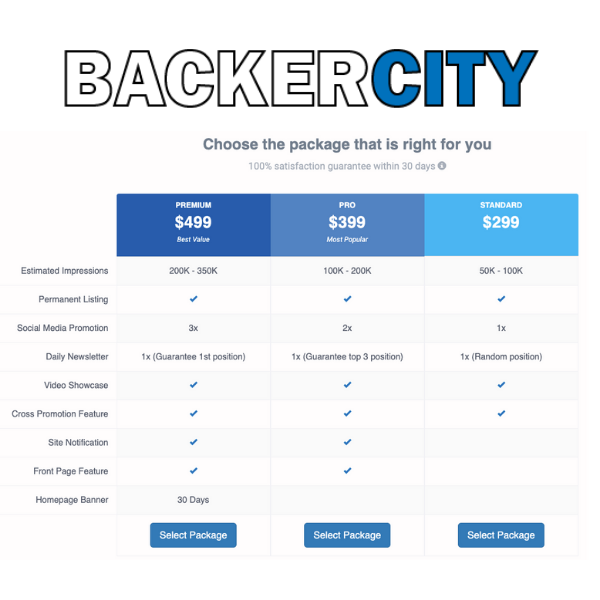 Charges and Fees:
These packages start at $299 and the highest package is $499.
BackerCrew
BackerCrew is a newsletter service that shares trendy projects with superbackers. They don't require a special reward, and their packages start at $249. Enventys Partners' clients receive a discount on their promotional packages, and BackerCrew offers a money-back guarantee, so if the results don't pay for themselves, they will refund you.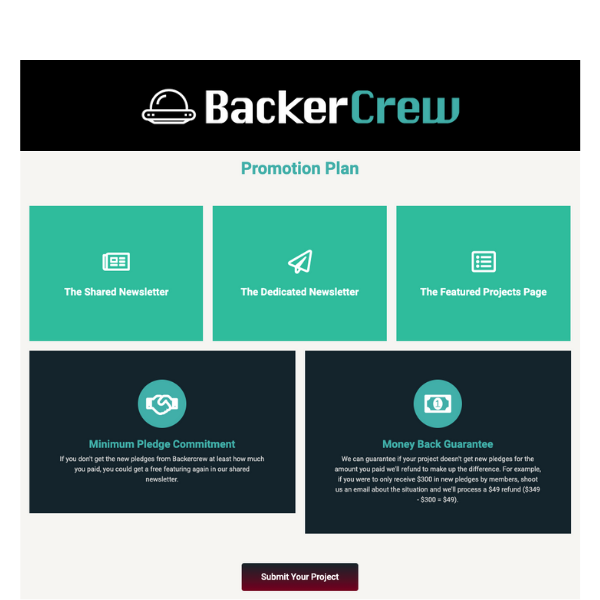 This is Why I'm Broke
This is Why I'm Broke is a platform that allows creators to "pitch" their product to the site's users for a short period. If your product's engagement with their readers is at least equal to or above the average of all products listed, it will earn a permanent spot on the site.
How This is Why I'm Broke Works:
Create a 200-character limit pitch about your product. It will then be shown to 20,000 of the platform's verified unique users. Unique clicks and wishlist saves are measured and compared against the average engagement performance of all products currently listed on the platform. If your pitch performs at least equal to or above the average, it will be permanently listed and included in gift guides, newsletters, and social media. If your pitch doesn't perform at least equal to or above average, the listing disappears and you don't receive a refund. This is Why I'm Broke has roughly two million monthly visitors.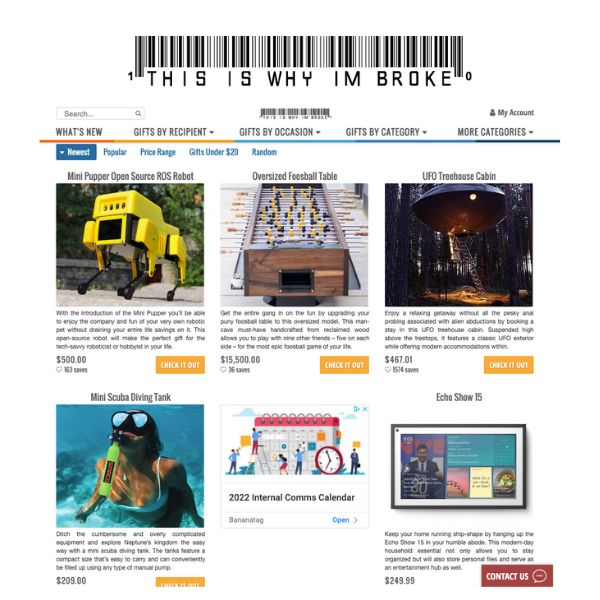 Charges and Fees:
It's $249 for the pitch. If your project passes, you earn a permanent listing. If your project fails, you don't receive a refund.
Feeling Overwhelmed?
We know selecting third-party promotions and special rewards can be overwhelming and confusing. Whether you need help choosing a platform or selecting special rewards for your campaign, Enventys Partners can help! Reach out to us to get started.
Work With Us
Want to learn more about how we'd prepare your product for launch? Request a quote today.
Want To See This Advice In Action?
Check out our case studies and learn more about how we've achieved stellar results for our clients.