Nurturing Innovation and Connections: A Journey Through Namibia's Entrepreneurial Spirit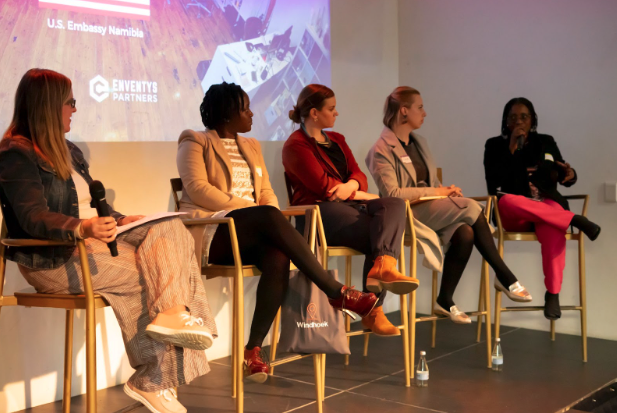 Last year, my journey led me to the captivating landscapes and warm-hearted people of Namibia. As I embarked on an innovation training venture in Windhoek, the capital city, I found myself immersed in a whirlwind of creativity and collaboration. The response to the program was overwhelming, with more than 200 individuals vying for just 40 available spots. The enthusiasm and talent I encountered were truly inspiring, leaving me with a sense that my mission in this remarkable country had only just begun. The vibrant energy and determination of the Namibian entrepreneurs fueled my desire to return and continue the transformative work we had begun.
Last year I fell in love with Namibia. I went there to do an innovation training in the capital of Windhoek last summer and loved meeting and working with such talented people. The response for the program was overwhelming with more than 200 people registering for the program for just 40 spots. While we delivered a great program where we built some amazing prototypes in just days, I left feeling like my work there was not nearly done and hoping to get another opportunity to do more work there. Fortunately, last September the US Embassy in Namibia approved me and my team to provide funding for us to come back in 2023. I was excited for the opportunity to reconnect with the lovely people that we met in 2022 and to meet a new batch of entrepreneurs and people in industry that are working to make Namibia a better place.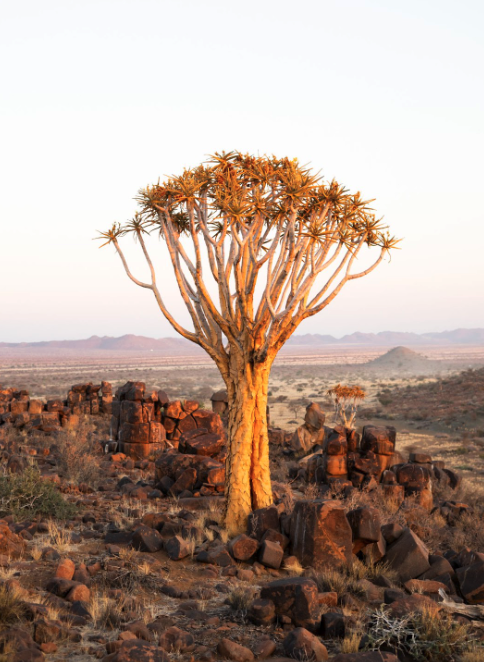 The Quiver Tree Forrest is one of my favorite places in Namibia
The 2023 innovation training program was slightly different than what we did the previous year. Instead of one 4 day program, we did two shorter programs in two different cities. This gave us the opportunity to work with more people and to work in a different part of the country. We started in Windhoek again and did a three day program which consisted of a speakers day, a workshop day, and a day of "office hours" to do one-on-one consultations. Then we drove to the coastal city of Swakopmund to do a 2-day program with a speakers day and a workshop. I was again joined by Eric Gorman and Julia Jackson from Wily who were instrumental in helping to deliver such great programming.
In Windhoek we were again hosted byThe Village restaurant and event space, and our speakers day kicked off with the program with aplomb. Eric and Julia did a talk about the power of design sprints before an immense panel discussion where Julia interviewed 4 amazing Nambian women entrepreneurs including owner of The Village restaurant, Elzaan Otto, Pam Ngweda who works in fashion and social entrepreneurship, Maria Immanuel the founder of Trade Africa which is a marketplace for African-made products, and Tanya Stroh an award-winning multidisciplinary designer and the founder of the design firm Turipamwe. The afternoon had an engineering and mindset focus and I did a talk about product development pitfalls between presentations from Namibians Vaughan Weiss about 3D modeling and taking risks on the entreprenuership journey and Tutaleni Illonga about game design and gamification.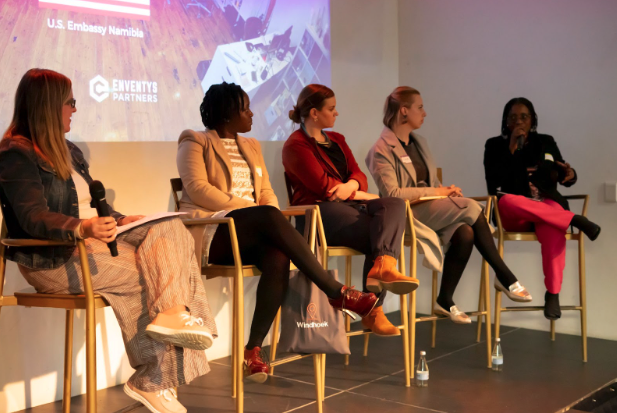 The women entrepreneurs panel was a highlight of our speakers day in Windhoek.
The lectures and panel discussion had the participants and trainers inspired and ready for the workshop on day 2.  Using the challenge question "How might we help farmers protect & nurturetheir plants so they can increase their production & profits?"  we led the 40 attendees through a mini design sprint and a 'no code to code to cloud' prototyping exercise. Julia and Eric led the group throught the design sprint and I, with the help of Matt Rosin-Prior who joined us as he started his year abroad on his Watson Fellowship, helped the groups build prototypes of plant moisture monitoring and automatic watering systems. IoT company Particle was again a supporter of the program and provided their Argon WiFi boards for us to use. By the end of the session each team had a concept for how to help farmers with an app based prototype of a plant watering system.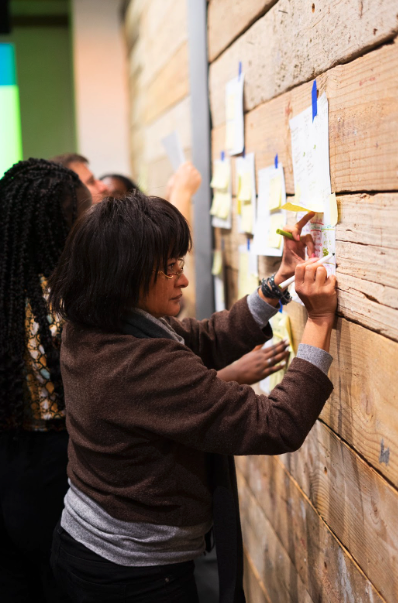 Teams using Design Sprint methodology to come up with solutions to our "How Might We" question. 
Our program in Windhoek ended with a full day of office hours. This was a session for one-on-one discussions with local entrepreneurs that had participated in our program and are working on their own businesses. It was a great opportunity to do a deep dive into their worlds, hear their challenges and provide advice and guidance. Businesses ranged from a service to provide low-cost WiFi to remote areas of Nambia, a service to have college students run errands and do odd jobs, and a care box and board game for girls who are starting to have their period. Our host Deane Spall at the Village also had a side business where he was growing greens hydroponically on the roof of the parking deck and we got a tour of his operation too.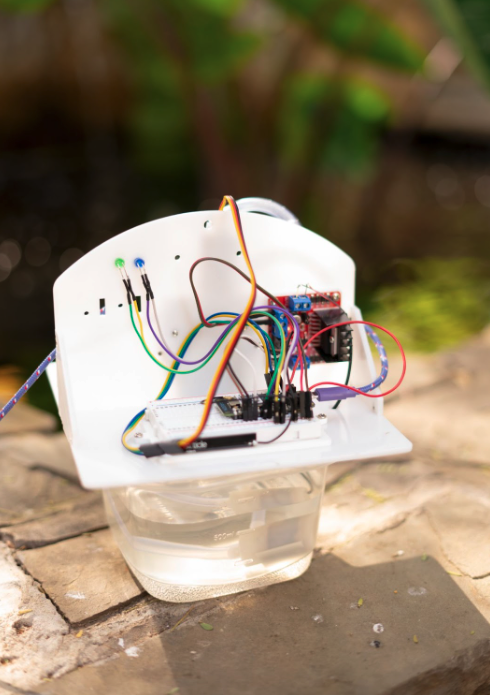 The Particle powered plant watering system that teams built during the program.
We packed up our supplies and headed to the coast to Swakopmund for our second program. Swakopmund is chill beach town on the Atlantic coast and Namibia's second city. Our venue for this session was The MTC Dome which is the largest indoor space in the country and combines athletic and high performance training with entreprenuership. Our host, Etienne Raymond, uses the resources there to provide training, mentorship and support for the entrepreneurs with a high performance sports mindset to help people reach their business potential. It was the perfect environment for our workshop.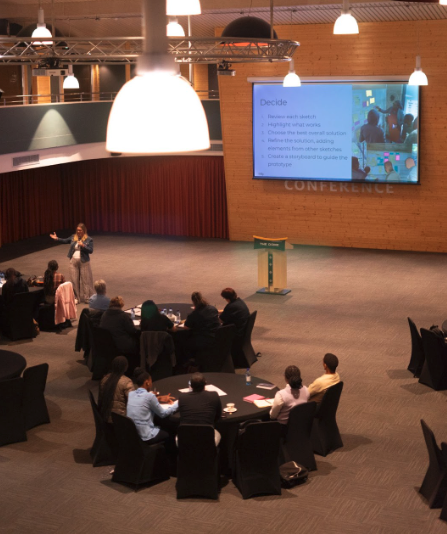 Julia Jackson discussing the power of Design Sprints at the MTC Dome in Swakopmund.
The Swakopmund program followed a similar format. We started with a speakers day again and in addition to our talks about design sprints and prototyping, we had a suite of great Nambian speakers. Etienne spoke on entrepreneurship mindset and we had the founder of Namibian coffee roaster Slow Town Coffee speak on his journey to bring craft roasted coffee to the country. We also had Dr Pierré Smit speak on entrepreneurship and environmental sustainability and learned about how the unique enviroment in Namibia can be used for farming blueberries, snails and other food product that can be used locally and for export. On day 2 we provided our participants with the same challenge as we did in Windhoek and had a great day of design sprinting and prototyping to finish up our program.
Namibia is a desert country with very little population compared to its geographical size, yet is full of wonderful, welcoming people with great ideas and a strong entrepreneurial spirit. Yes, I love coming to Namibia to see the wonderful wildlife and rare and weird plants, but it is the friendships and connections with people that I value the most when I leave. I am fortunate to have been able to go to Namibia twice and hopeful to have more opportunities to serve these great people in the future.
Work With Us
Want to learn more about how we'd prepare your product for launch? Request a quote today.
Want To See This Advice In Action?
Check out our case studies and learn more about how we've achieved stellar results for our clients.