Training programs in Sicily and Cesena underscore a world-class inventive culture. After two days of design sprint training and a day and a half of intensive prototyping, we were surrounded by great ideas and prototypes.
"Picture it. Sicily. 1922."
It is the only partial quote from any "Golden Girls" episode I can reliably remember. It was also firmly planted in my brain as I set off on my latest international innovation training program to Italy.
One hundred years after the Sophia character's story about a "young military officer stationed far from home looking for a friendly face and a glass of Chianti," my colleagues Eric Gorman, Julia Jackson and I rolled up to a roadside cafe in Catania, Sicily. We were armed with a suitcase full of Post-it notes and electronics. We were searching for (and finding) a refreshing glass of Aperol Spritz and some talented folks with whom to work.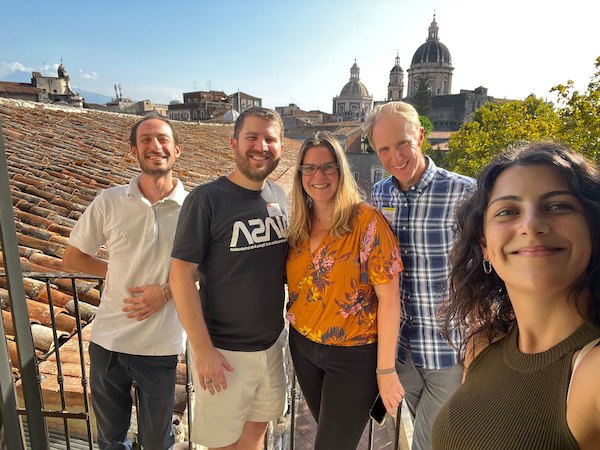 After a four-day program in Sicily and a 2-day program in Cesena, we walked away with some new friends, some great prototypes, and a new respect for Italy. We were inspired by its innovative culture forged from some of the greatest artists and engineers the world has known.
Innovation inspiration
Before our innovation training programs began, I played tourist in some of the great Italian cities. I was fortunate to bring my mom, whose ancestors came from Italy.
Between glasses of wine and wonderful food, I visited two sites that represent the pinnacle of Italian engineering and design: the Florence cathedral and the Ferrari museums in Modena and Mugello.
The dome of the duomo in Florence is an iconic landmark in fabulous city but also an engineering marvel. The dome is the largest masonry vault in the world, reaching 116 meters into the Florence skyline. Brunelleschi designed it in the 15th century with a revolutionary double dome design that can stand without the typical support structure common in other churches of the time.
The result was brilliant and mesmerizing. My mother and I ascended all 463 steps to the top and were rewarded with a brilliant view of the city at sunset.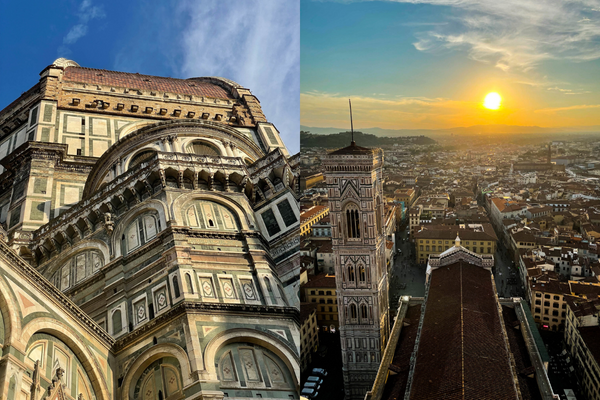 Of course, Ferrari is synonymous with Italy, high design and precision engineering. Enzo Ferrari used his passion for racing and high performance to create one of the world's most iconic auto brands.
For someone like me, who loves Formula 1 racing and watched the era dominated by Michael Schumacher and the Scuderia, it was a wonderful experience to see both the iconic road cars as well as the all-conquering F1 cars of the late 1990s and early 2000s designed by Ferrari engineers.
Ecological Eurekas
Fully inspired by the great art, architecture and innovation from around Italy, it was time to get to work. Our program was again sponsored by the U.S. State Department, this time through a grant from the U.S. Consulate in Naples.
First on the agenda was a 4-day hackathon in Catania, Sicily, focused on the challenge question: "How might we use technology to help agricultural producers maximize their crop output while minimizing environmental impact?"
At the Isola co-working space, based at the beautiful Palazzo Biscari, we had the ideal venue for our 20 participants to tackle this challenge. After two days of design sprint training and a day and a half of intensive prototyping—including working with Particle IoT development boards—we were surrounded by great ideas and prototypes. The ideas included intelligent water collection, creative leasing of agricultural land, and smart compost collection.
Then it was off to our second program, a 2-day innovation training in Cesena—a sleepy city of about 100,000 people just a short train ride south from Bologna.
We held the training at the incubator, CesenaLab. Given that Italy is soccer mad, we decided to give our 35 participants this challenge: "How might we enhance the experience of going to a football match sustainably?"
Of course, being good trainers, Eric, Julia and I had to do our research. We attended the Bologna FC-vs.-Fiorentina (Florence) match the weekend before to get immersed in the passion of football culture in Italy.
Interestingly, about half of the trainees were football fans and half of them were not, which made the solutions they came up with very diverse.
Ideas ranged from unique ways to make the local Cesena FC team stadium a community space to how to make the fan experience better for both home and visiting supporters. Hopefully, the American owners of Cesena FC will take notice.
Creativity endures
Italy was a bucket list experience for me. It was amazing to see the great art and architecture of the land of Michelangelo and Leonardo da Vinci, and even better to share it with my mom.
I was equally impressed by the great people of Catania and Cesena that we worked with, and their innovative spirit and passion to make Italy and the world a better place.
Work With Us
Want to learn more about how we'd prepare your product for launch? Request a quote today.
Want To See This Advice In Action?
Check out our case studies and learn more about how we've achieved stellar results for our clients.