How to Prepare for CES as an Exhibitor, Member of the Media & Attendee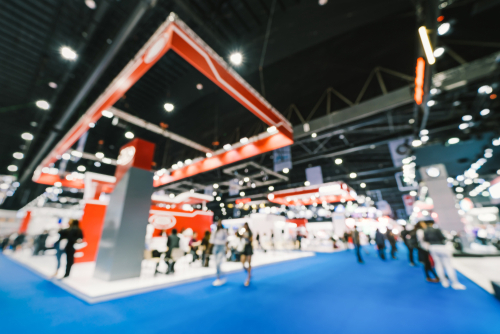 So, you are attending CES this year. Congrats, because you are about to experience one of the biggest tradeshows on Earth and a must-attend event for anyone in the electronics industry. It is four days of non-stop, day and night action both in and outside of the show venues.
While four days sounds like a lot, the time flies by, and you need to be prepared in order to get the most out of your time and expense to attend. I have been fortunate to be part of CES as an exhibitor, member of the media and industry attendee. No matter what your role or goal for the show, here are some pro-tips to get the most out of your time.
How to Spend CES as an Exhibitor
Above all else, the two things every exhibitor needs for a great show is a clean booth design and a working product or prototype.
Booth Preparedness
If you are a startup and have never exhibited at CES before, you will most likely end up in the Eureka Park area of the show, which is for new companies. Each booth space is 10' x 10' so everyone has the same space to work with. However, you still need a well-designed booth to compliment your product and prove how serious you are. At the bare minimum, you need a banner to display your brand to hang in the booth, but depending on the nature of your product, you may need a much more immersive experience than just a podium in front of a wall. You are allowed to have a test track, furniture, or other elements that complement your device in the best way possible.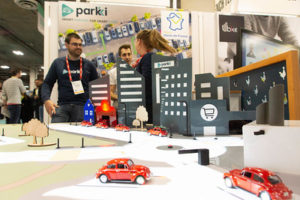 The Parkki booth had a great demonstration of their smart parking technology that included a model city.
Prototype Quality
The prototype or product needs to look and work great. With so many attendees and media coming by the booth, the whole world is going to see your product and it needs to be the best version yet. Make sure you have multiple devices, spare batteries or any other parts and pieces that may be prone to failure to make sure that each demo you do will go flawlessly.
That being said, when it comes to product demos at CES, you will not give nearly the amount of live demos at the booth that you think you will. Most visitors have a jam-packed schedule and will only be at the booth for 30 seconds or less. They will rarely want a full demo. If the prototype breaks, try not to fix it at the booth and make sure to keep smiling and taking business cards until you can get back to the hotel to work on it "behind the scenes." The relationships you build at CES are more important.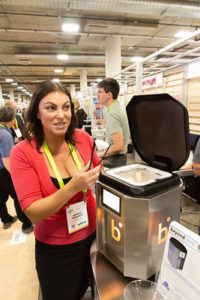 Brooke Predmest from Beyond Zero gives a live demo of their cooling device, but not every booth guest will want a full demonstration.
Marketing Materials
The show is all about marketing your new product, so you need to have great materials to support your business. Note that many people will have their hands full and do not necessarily have bags, so full 8.5" x 11" sales sheets may not make it home. Keep it to postcard or smaller, and it is also helpful to have swag to give away like pens and stickers. In full disclosure, I love a good sticker and will find somewhere to put it when I get home, which will prolong exposure to your brand. Pens and other knick-knacks are good too.
Meetings to Prepare for and Other Exhibitor Tips
In addition to booth visits, there are other events like Shark Tank auditions and meetings with potential partners. These instances will require a product demo and you only have one opportunity for this to go well.
Finally, do not skimp on the creature comforts. Make sure you have water and snacks at the booth. You are going to be on your feet all day and will have little time to break for food, and it is refreshing to have sustenance nearby.
Best Ways to Spend CES as a Member of the Media
Whether you are a writer, photographer, or vlogger, if you are a member of the media, you are lucky because CES offers free passes to qualified members of the media. You have to apply at least a few weeks before the show and prove that you have a legitimate platform, but the threshold for entry is not as stringent as you may think. However, covering the show can be a grind. Not only do you have the four days of the show to cover, the days before the floor opens are filled with press-only events and panel discussions, but these can also be really informative and can help you be at the forefront of all the show has to offer.
When you get there, the first step is to find the media center. They have all the amenities to keep your week on track. Coffee, tea, food, WiFi and a swag bag are just a few of the niceties. You also have the chance to hob-knob with others in your field and get some helpful tips.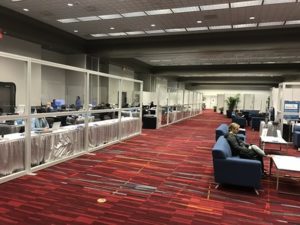 The media center is an oasis for the weary writer, photog, or videographer.
During the show, you have to play a little bit of defense when walking the floor with a media pass. Every exhibitor wants to spread the word about their product and they will go to great lengths to chat you up for a potential media placement. You can lose valuable time if you are too giving. Politely decline the overzealous PR reps and stay focused on the topics and areas of the show that interest you most.
If you find a company that you want to interview in greater depth, ask to make an appointment in the early or later hours of the show when it is less crowded so they have the space to give you their full attention. Make sure to take lots of pictures of the booths and products you want to feature, as well as the badges of the people you talk to. It can be a lifesaver to have these reference photos once you get back home to write the big story.
How to Navigate CES as an Industry Attendee
Going to the show as an industry attendee is deceptively the hardest way to do the show. On one hand, you are not unencumbered by having a booth to monitor, but you need to have a good plan and stay focused to make sure you get the most from your time. If you are not careful, you can waste four days testing out every VR headset and massage chair (yes, there are multiple massage chair testing areas at the show) and not make any great connections. Have a goal in mind and an industry you are interested in, and use the app and website to map out key booths that you want to visit. It is also helpful to reach out to these companies before the show to set up an appointment to make sure you meet the right contacts face to face.
Once your main business is sorted out, then feel free to enjoy the bounty of cool tech on display. The big company booths with the VR racing simulators and walls of high-def displays are often less crowded really early or late in the day.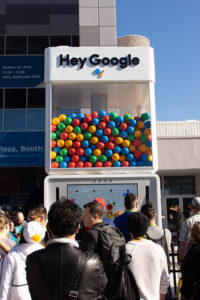 Enjoy the awesome corporate exhibits, but make sure you do your business first before waiting in line for swag.
CES is a brilliant show that the electronics industry, and the world, talks about for months afterward. No matter how prepared you are, it will be overwhelming and tiring (and you will surely hit your 10,000 steps before lunch each day). However, if you keep these tips in mind and remember to stay focused, you will make many great connections, learn new trends in your categories of interest, and still have time to drool over the walls of high-def TVs.
We're attending CES, are you? Let us know! If you'd like to learn more about our product launch services for everyone from startups to corporations, we'd love to chat – get in touch today!
Work With Us
Want to learn more about how we'd prepare your product for launch? Request a quote today.
Want To See This Advice In Action?
Check out our case studies and learn more about how we've achieved stellar results for our clients.