Many creators want to crowdfund $1 million for their inventions through crowdfunding. Despite this, a number of inventions have become household names on far less. Enventys Partners shows you that success doesn't have a $1 million price tag.
You Don't Have to Raise $1 Million for a Successful Crowdfunding Campaign
Oftentimes, creators come to us asking how to successfully raise $1 million on Kickstarter or Indiegogo. The reality is that only a very small number of creators actually raise this much during their crowdfunding campaign. Your actual goals, not your "nice to reach" goals, will best set you up for success — even way beyond the crowdfunding phase.
If you've ever worked with someone planning to launch a Kickstarter or Indiegogo campaign then you've probably heard, "our goal is to raise $1M and be the most successful campaign in crowdfunding history." Working with over 500 crowdfunding campaign creators each year, we hear this statement…a lot.
Show me the stats
It's easy to look at the most successful product launches on these platforms and dream that, one day, your own product will be among them. However, this isn't always the case. In fact, it's rarely ever the case. To better constitute success let's look at some stats that Kickstarter openly provides:
Approximately 38% of all campaigns that launch on Kickstarter reach their funding goals. If you reach yours, then you're already doing better than 1/3 of everyone who launches on the platform.
Of the successfully funded campaigns, only 4% raise six figures or more (1.5% of all campaigns launched).
the stat every campaign wants to achieve — only 0.2% raise $1M or more (0.1% of all campaigns launched).
"But I need to raise one million dollars!"
No, you really don't.
It's about MORE than the campaign
A lot of behind-the-scenes work should take place before, during, and after your campaign. It's  THAT work that you put into it that will drive the success for your business. Crowdfunding platforms can help launch your business, start a community of loyal brand ambassadors as your customer base, and build the foundation for future products. There are plenty of products that have launched on crowdfunding that have raised $1M and then crumbled down the road. There are also products that launched, didn't raise a significant amount of money, and still went on to become successful businesses. Don't believe us? Check out these examples:
Funds Raised: $67,622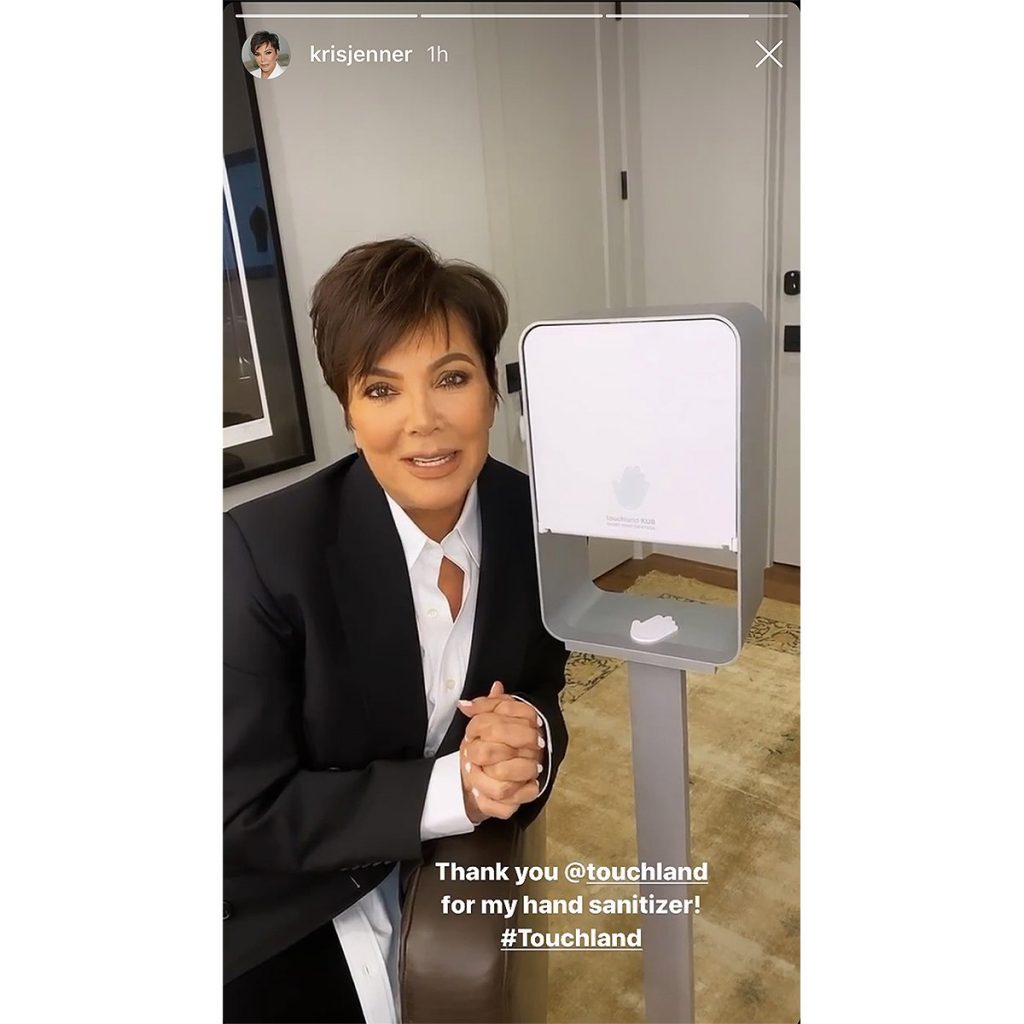 Yes, that's Kris Jenner with a Touchland. So, it's fair to say they've made it big. Touchland tackled hand sanitizer before it became a hot commodity in 2020. They created a next-gen hand sanitizer solution that moisturizes, dries quickly and leaves skin refreshed. A successful, but modest, campaign set them up for the viral success they've now achieved.
Funds Raised: $119,196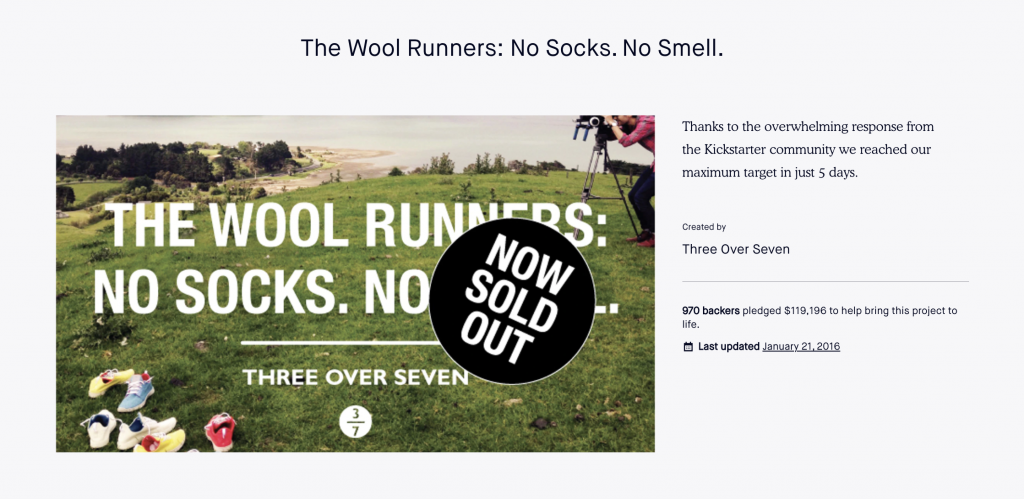 After their campaign, the team rebranded as Allbirds, but they invented the world's first wool sneaker. This campaign was already in rare company having crossed the $100,000 threshold. Today, nearly every sustainable or new sneaker concept we work with references Allbirds as a company they wish to emulate.
Funds Raised: $54,214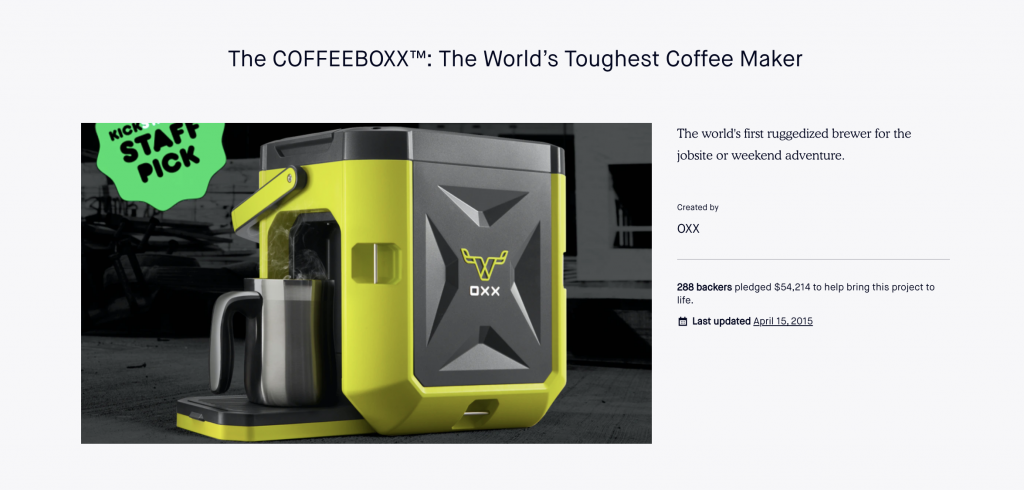 Single-serve coffee pods like K-cups are convenient, but limited to at-home brewing. Until The COFFEEBOXX that is. The redesigned the coffeemaker to make it ready for adventure. Their 45-day campaign didn't shatter records, but the brand is now sold in Walmart and Home Depot in addition to Amazon.
Funds Raised: $307,332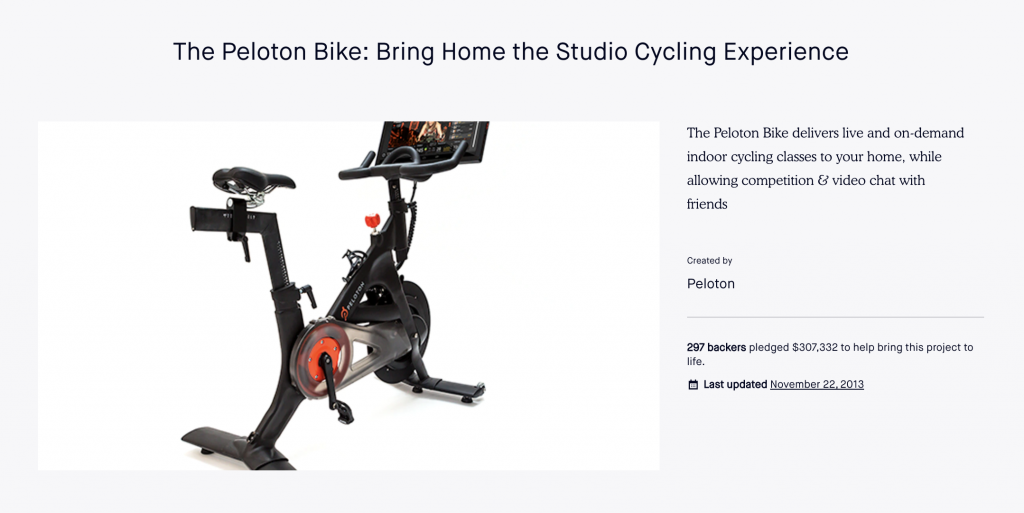 I'm sure you know at least one person who owns a Peloton. Their campaign was reasonably successful by most measures, raising more than $300K in 30 days back in 2013. Today, they're a household name. During the pandemic lockdowns, Peloton's sales surged 172% with waitlists for people looking to work out at home.
Funds Raised: $171,560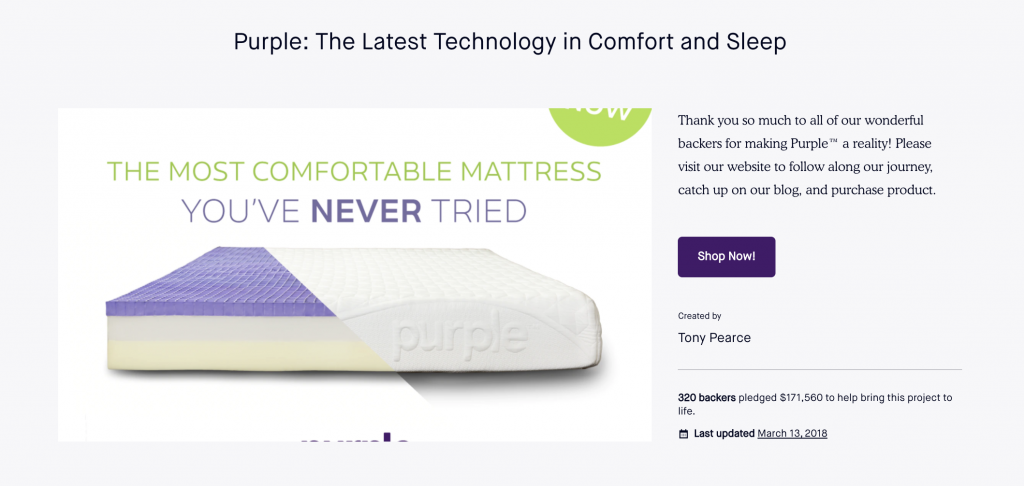 In 2015, Purple debuted on Kickstarter and earned the support of 320 backers. They then launched campaigns for a pillow and pet bed. Today, they've received more than 19,000 5-star reviews and have sold more than half a million mattresses.
Funds Raised: $33,873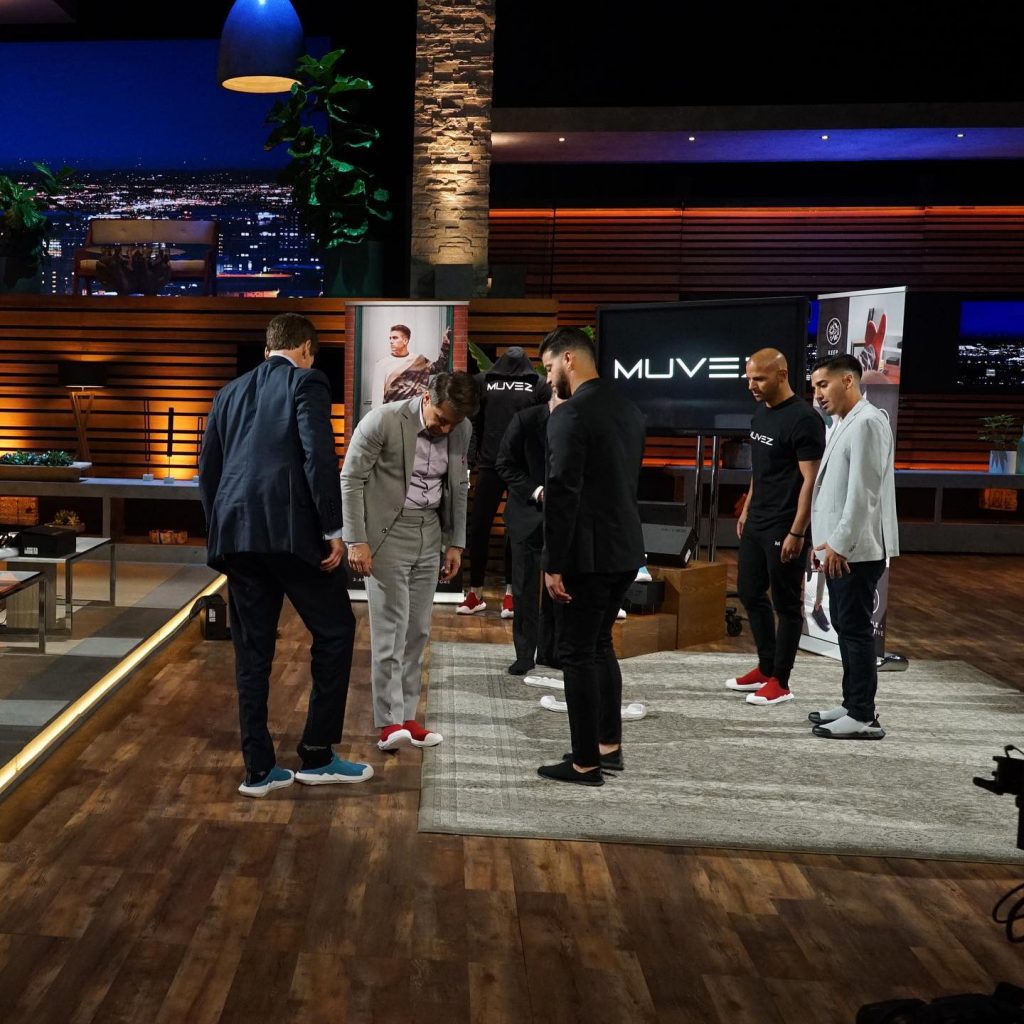 You've never heard of them? This innovative footwear concept doubled their public funding goal, but still stood well shy of the million-dollar mark. They didn't even break six figures. That didn't stop them from continuing to build a successful brand. Post-crowdfunding they debuted on Season 11, Episode 18 of Shark Tank where Daymond John invested $200K into their business.
Set realistic goals to manage expectations
When looking at what you want to raise versus what you need to raise, be reasonable. Yes, you need to know your margins, but crowdfunding should be a way to "kick" start your product launch. Raising almost nothing and knowing how to pivot can have as much of an impact as raising millions for your big idea. Sometimes too much success can be just as daunting as not being successful enough.
With either outcome, your aim should be to use your success (whatever that may look like) to learn how to better market your product and set it up for greater success in the future.
Improve your chances of success by working with Enventys Partners
If you're thinking about launching a crowdfunding campaign but don't know where to start, reach out to Enventys Partners. We've worked on hundreds of Kickstarter and Indiegogo campaigns in a wide range of industries. We'll take into account your budget, funding goals (both the "must-reach" and "nice-to-reach" numbers), and build a strategy for your upcoming launch.
Work With Us
Want to learn more about how we'd prepare your product for launch? Request a quote today.
Want To See This Advice In Action?
Check out our case studies and learn more about how we've achieved stellar results for our clients.