"By the second day, it was on Good Morning America. And then the TODAY show calls, and they fly me out to New York City and I'm on national television having a water balloon fight in Times Square with Carson Daly."
Interview with Josh Malone, Inventor of Bunch O Balloons
In this series, "Celebrating Success," we're speaking with innovators and entrepreneurs who walked the path of taking a product from idea to reality. Today, we're speaking with Josh Malone, inventor of Bunch O Balloons. His invention was a viral success on Kickstarter, but that success led him on a journey filled with patent infringement and a lengthy court battle with a serial infringer. Today, he works with US Inventor to coordinate patent policy and advocate for legislation to protect inventors.
Thank you for joining us. When you look back on the journey that you've taken as an entrepreneur before you became a household name, what stands out to you about your journey?
It was orders of magnitude more involved, and more successful. Everything was multiplied by 1,000. The number of sales, the number of headaches, the amount of attention. I just wanted to make a living as an entrepreneur, and sell enough of my inventions to put food on the table and then go do it again. It was way beyond what I was aiming to do, so I'm hugely blessed.
What were you aiming to do? Tell me more about your story as an inventor.
I had quit my job in 2006 to pursue inventing. At the time, I was making a digital paper cutter. I wanted to solve the problem of cutting shapes and letters for household use on paper and cardstock. It was for decorating, cardmaking and scrapbooking. I'd had other high-tech inventions when I worked at Texas Instruments, but they were always components of a bigger product.
But I faced everyday problems that frustrated me. It was annoying—like things don't work well, or they're too tedious and I was thinking of ways to improve them. Entrepreneurship is ingrained in our national culture, and part of being this is being an inventor. Looking back now, it's kind of crazy, but I had this idea that if I invested, and made a solution that other people might want, that I could own the rights to it. I could start a business and compete with the big guys. I assumed there was a reward on the other side. I knew most of my ideas weren't going to pan out, but it was worth trying.
There has to be a reward on the other side for an inventor to invest hundreds of hours, or quit a job, or in my case quit a job and drain the 401K. I don't recommend that, especially now that I've learned that patents don't protect small businesses. But I believed in it, so I went for it. The paper cutter was actually a moderate success. I got a prototype and a working device. We got it to market, sold a few and it was a licensed product.
Tell me about Bunch O Balloons. How did you come up with the idea, and how did it get to be successful on Kickstarter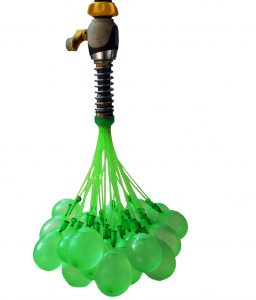 Inventing had been up and down for seven years, and it was the end of the line. I had bills to pay, college to fund, so I was going to go back to the corporate world and I was dreading it. In the middle of winter, I was working on my resume and applications, and at the same time was trying to solve one last problem: the water balloon problem. It was an idea I kept coming back to because I just knew there was a solution.
I played around with some things and we used all kinds of different tools, but there weren't a lot of ways to fill and tie a water balloon. I tinkered around with many different ideas. For instance, I took surgical tubing and had this technique to fill and pinch, like a sausage. I was working on that when I had the thought of trying to stuff the balloon with something to plug the neck of the balloon. I spent a lot of time developing biodegradable soft plugs, and I got to where I thought it was almost ready. But I didn't think it was the optimal solution. So I kept going.
Talk about the crowdfunding campaign for Bunch O Balloons.
It's funny. After I came to Enventys Partners, a new product came on the market and it was a gelatin capsule inside of a balloon. I thought, 'Wow, I'm glad I didn't stop there." If I had, they would have beaten me to market, but I was fortunate to have kept going and come up with a better solution.
I'd never done a crowdfunding campaign, so Enventys Partners had great advice and helped us execute. At the end of the day, what worked was people saw my product and there was magic. My real goal was $100,000, but our public goal was $10,000. We blew through it in three hours on the first day and by the end of the first day, it was viral.
Gizmodo covered us first, then BuzzFeed, Huffington Post and we started getting a lot of eyeballs on the project and it kept climbing. By the second day, we were on Good Morning America and then the TODAY show called and flew me out to New York City. So there I am on national television having a water balloon fight with Carson Daly. It was incredible. The product presented really well, and it was a perfect fit for that format.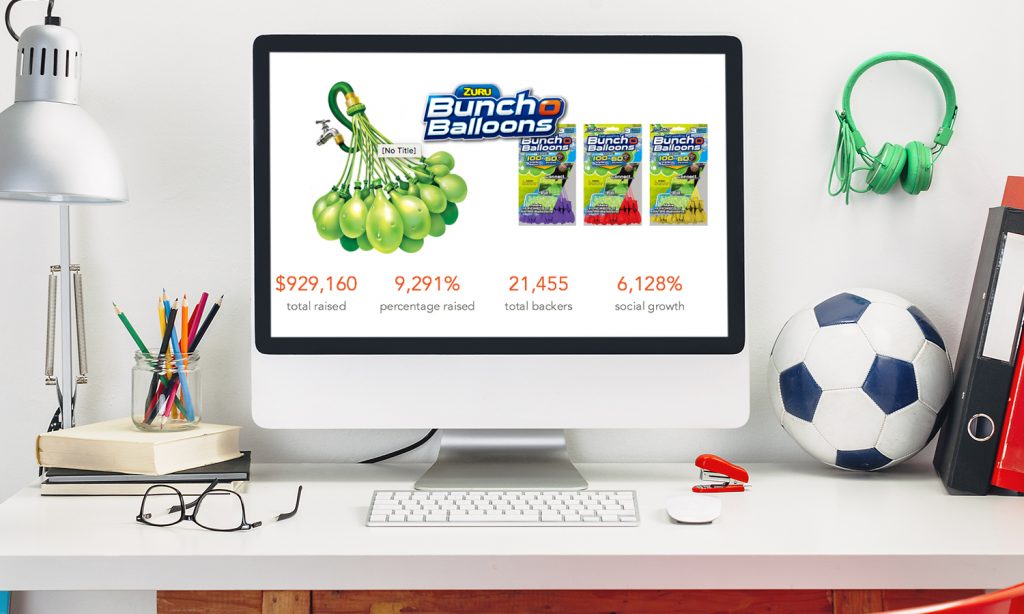 Knowing what you know now about crowdfunding, would you do it again?
Bunch O Balloons wasn't my first product to bring to market. In the past, before Kickstarter and Indiegogo, and others, I had to go out and sell it. I'd go to trade shows and convince manufacturers. It was almost impossible because you had to invest money, create inventory, get products on shelves, and only after all that would you know if you had a successful product. It was so hard to get a partner to help you take a product to market because there were, and are still so many unknowns.
Kickstarter lets you circumvent a lot. Yes, you need a prototype, but I had a small production facility and was already making them. I wanted to do better than just having a working prototype. I wanted a product that was ready to deliver and sell. So many Kickstarter products struggle with the post-campaign part.
Can you explain? How did you do things differently from those campaigns?
There was a huge campaign on Kickstarter that almost stole our thunder. Coolest Cooler started two weeks after us and raised $13 million in 52 days. They blew us out of the water. But they couldn't deliver.
A misconception about crowdfunding is that you're going to raise a lot of capital. If you break even, that's a home run. In my case, we had enough margin to deliver the product and make a little profit, but we burned through it. I didn't want to send low-quality products, so I had to throw away a bunch of materials. We delivered 100,000 packs to 21,000 backers, and we did it on time.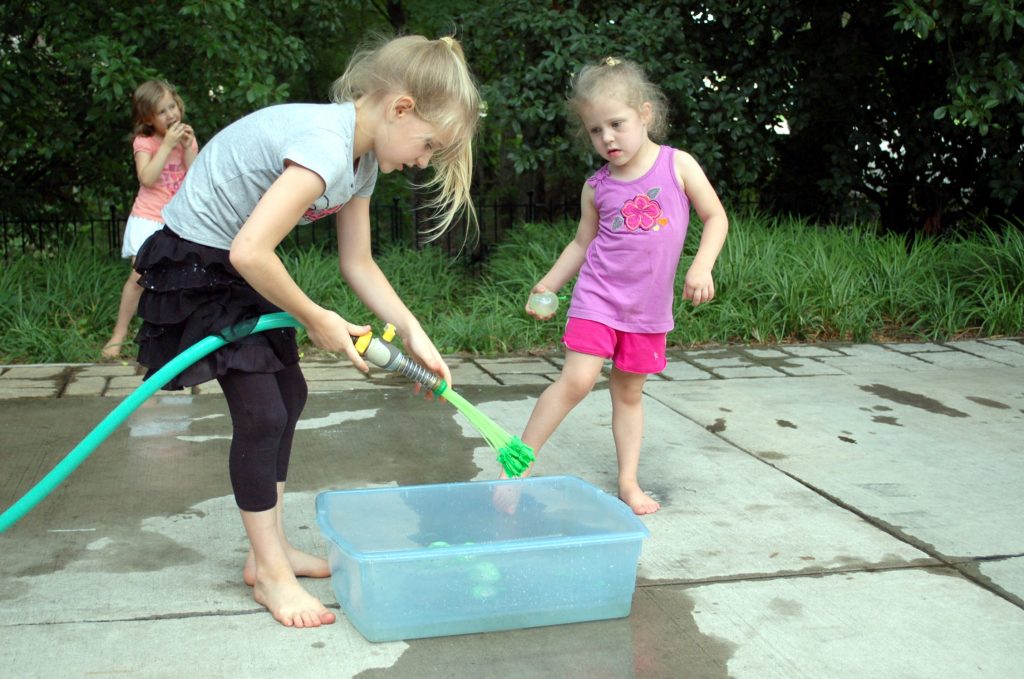 You thought Kickstarter was a wild ride, but what happened after?
After the campaign went viral, there was a lot of interest. Toy companies, Wal-Mart, Target and several others wanted millions of units. ZURU was one of the companies that reached out. I think I'm different from a lot of inventors because I get into the details and want to make sure it's a success. So manufacturing was a big problem that I wanted to help solve. A lot of manufacturers didn't have a plan, but ZURU did.
Kickstarter demonstrated that there was a huge market for this product, and I couldn't hack it together because I knew what it was going to take. It's very hard to get the balloons, the o-rings on 100 tubes and then turn around and sell it for $9.99. I had an idea of how to solve it, but it was going to take a lot of money and a lot of time.
ZURU came in and understood my problem and had the experience and resources to solve it quickly. So we put a deal in place where they would license it and pay me for the intellectual property and for all the risk and investment, but they'd have the exclusive rights globally to take all the headache of manufacturing, marketing, and distribution.
The factory was this magical place where you could look down a conveyor belt and see my invention rolling down the line one after another, thousands of balloons non-stop. So I shipped my Kickstarter orders and 200,000 more units I sold with an ecommerce offering and partnered with ZURU. Now we're well over 50 million units, which I think comes out to 5 billion water balloons. It's pretty incredible.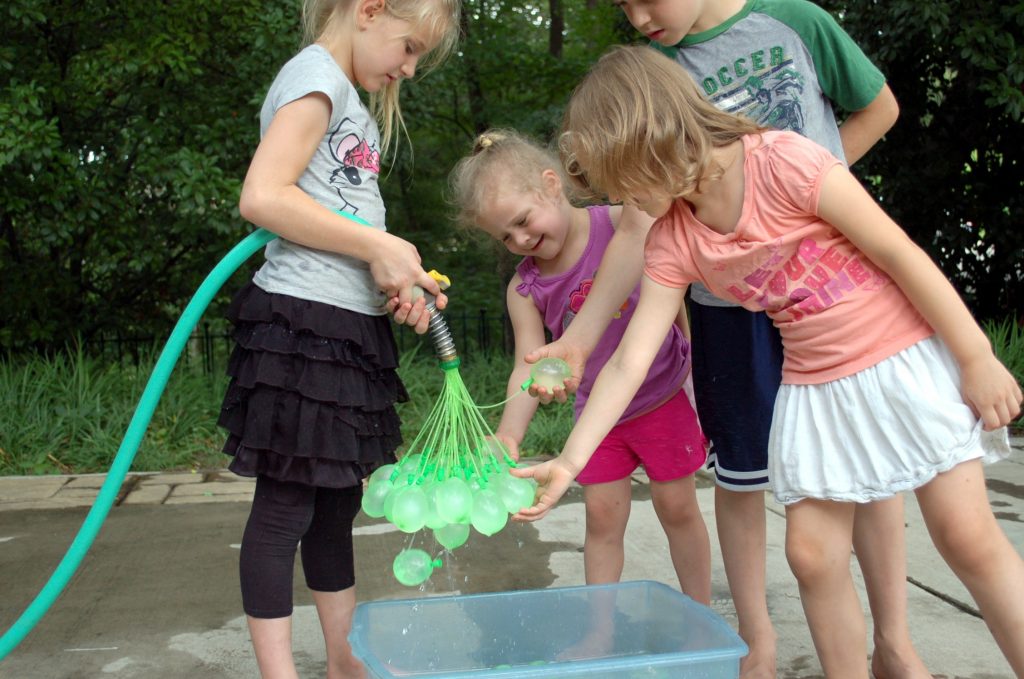 The story doesn't end there, does it?
No. After inking the deal, the copycats set in. Telebrands ripping off my invention was an absolute low. Wal-Mart is one of their largest partners, and they put a pallet of copycat products in every one of their 5,000 stores. I'd go grocery shopping with my kids and there they were stealing from us.
But we saw more miracles in fighting them in the court system and in fighting the US Patent and Trademark office who took their side. There's a movie about it now. I came out the other side of all of this in May 2019 after four and a half years of the most vicious, intense legal fight. I had 30 different attorneys and we spent $20 million in legal fees. And we beat these guys who'd never lost before. I joined up with the non-profit US Inventor and now we are giving inventors a voice in Washington, D.C. striving to make the patent system fair for startups who want to compete to deliver better products and technology
What advice would you give another inventor?
If you're too successful, they will steal your invention. You'll need millions of dollars and many years in court to bring them to justice, and at the end of it, you're probably going to lose.
But, if you're an inventor or an entrepreneur and you're scrappy and informed, you can be successful. You just need to think, "OK, what am I going to do when I get copied?" There are other forms of intellectual property besides patents. Think about how to structure your business so that you can exit with a profit and start another one.
Enventys Partners Celebrates Client Success
As we celebrate 20 years in business, Enventys Partners is grateful to the clients who trusted us to be a part of their journeys. If you're looking to bring an idea to life, we'd love to partner with you too. Connect with us.
Work With Us
Want to learn more about how we'd prepare your product for launch? Request a quote today.
Want To See This Advice In Action?
Check out our case studies and learn more about how we've achieved stellar results for our clients.