Creating successful advertising campaigns isn't easy. If it were, everyone would be doing it successfully. For crowdfunding creators, it's even trickier. You're advertising a product that doesn't yet exist, and trying to build hype around the idea of your product.
At Enventys Partners, we're always
looking at the ads we run
for our clients. We tweak copy, assets and audiences until we find the magic combination that resonates with backers. We also don't want to keep that information to ourselves. We want crowdfunding creators to succeed, and advertising is a huge part of that.That's why we're sharing our best ads from the second quarter of 2022, with our analysis of what made them work.
1. Scorpion Pack
Scorpion Pack is a patent-pending, lumbar waist pack that is designed to carry gear for any outdoor adventure. It's a simple product, but it's thoughtfully designed and produced with quality materials.
The Best-Performing Ad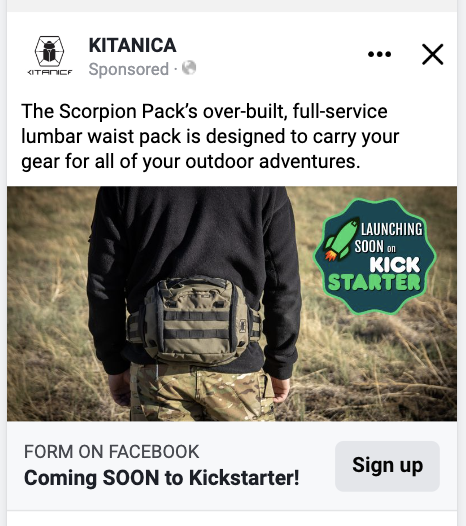 CPL: $1.31
CTR: 1.88%
CPC: $0.43
CPM: $8.14
Leads: 169
We ran this ad during the pre-launch phase of the campaign. Our goal was to gather leads that could be nurtured and converted during the live campaign. This ad worked really well because it clearly shows the product in use. There is a badge that stands out telling the user the product is "launching soon on Kickstarter". This allows the user to immediately know the purpose of the ad. Alongside the badge, the CTA says "Sign up" again telling the user what action they need to take.
2. WaterBear
WaterBear is a universal, tiny, cleaning tool for every lens and screen. With WaterBear you can safely clean any lens/screen/monitor without the fear of scratching or damaging the lens. It sticks to any device so it's ready for use instantly.
The Best-Performing Ad: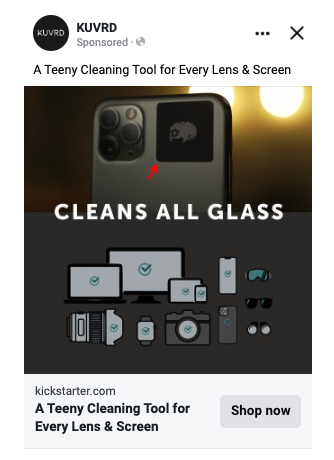 CPC: $0.98
CPM: $8.27
Conversions: 15
This ad leverages several things we find well-performing ads have in common. It's simple. It's clear. It shows the product and all use cases for it.
The ad copy is short and to the point and the CTA tells the user exactly what action we want them to take. We're leaving nothing to the imagination with this ad, and backers responded well to it.
3. P4
P4 is an all-in-one completely wireless charging solution. It's composed of three parts: the Plug, the Hub and the Mobile. You can use each part of P4 separately, or joined together, for a more powerful charging solution for any device, anytime, anywhere.
The Best-Performing Ad: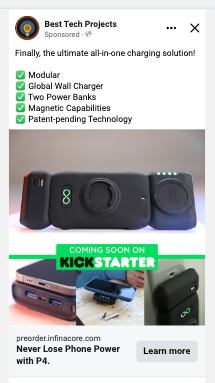 CPL: $1.18
CTR: 2.65%
CPC: $0.51
CPM: $12.26
Leads: 154
This ad is a great example of how to fully utilize the space you have for advertising with still images. It's worth noting that our team finds that videos and gifs provide lower numbers for CPC and CPM, but when it comes to conversions, still images are a runaway winner. Showing a collage of images allows the user to see all aspects of this product in one quick glance. In addition, the check mark clearly lists the features that go along with the image.
The result is a clear ad that shows the product and all it can do for backers.
4. Jarsty
Jarsty is an all-in-one meal prepping container system. Users place raw ingredients in the container and cook meals fresh in a microwave. The valve creates pasteurization to prevent food-borne illness, and make cooked meals last longer if not immediately consumed.
The Best-Performing Ad: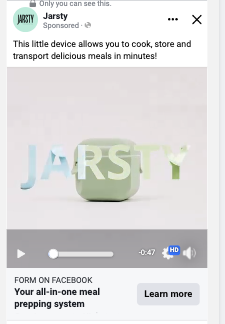 **To view the full video click here
CPL: $1.22
CTR: 3.40%
CPC: $0.51
CPM: $17.32
Leads: 178
The video in this ad has very catchy music that would most likely cause someone to stop scrolling their feed if they had sound on. If they do not have sound on, the video starts out showing the product with bold text overlay saying exactly what it is. This grabs the user's attention in the first few seconds. In addition, the copy and headline are short, easy to read,and very clearly explain the product.
Work With Us
Want to learn more about how we'd prepare your product for launch? Request a quote today.
Want To See This Advice In Action?
Check out our case studies and learn more about how we've achieved stellar results for our clients.