Selling a product on Amazon takes a lot more than creating a profile, posting product information online and shipping the product to a customer. While Amazon, one of the world's top online retail giants, provides a comprehensive platform for ecommerce businesses and entrepreneurs, a lot goes on behind the scenes that you need to understand before you can make your first sale.
Now that you've decided to sell on Amazon, our comprehensive guide will help you understand what you'll need to do and consider in order to get started on Amazon. We will also discuss how to prepare your listing for repeated success.
In this ebook, we'll cover:

Understanding the Fee Structure

How to deliver your products to customers

How to write Amazon listing copy that drives sales

Understanding promotional options


Understanding Amazon reporting

How to accrue repeat customers

Additionally, we've included questions you should ask yourself along the way.
Understanding the Fee Structure*
As you may know, you have to pay certain fees to sell on Amazon. However, these fees vary greatly based on your account type and the products you want to sell. Below, we'll cover the types of accounts available as well as the fees you'll need to be prepared for.
*Note: these fees are accurate as of 3/6/2019 but are subject to change by Amazon.
First, there are Individual and Pro accounts. Consider the volume at which you plan to sell your product in order to choose the best account for you. Individual accounts are traditionally for low-volume sellers with less than 40 sales per month, while Pro accounts are for high-volume sellers.

Type:
Individual (Less than 40 sales/month)
Monthly fee:
$0
Listing fee:
$0.99/item, per sale
(Less than 40 sales/month)

Type:
Pro
Monthly fee:
$39.99
Listing fee:
$0
There are certain restrictions for Individual accounts, such as how many listings a seller can have. Gift wrapping is also not available for Individual accounts. Learn more about the Individual and Pro account types here.
Regardless of the type of product sold, Amazon deducts a referral fee percentage calculated on the total sale price, excluding taxes. Some products have a minimum referral fee, usually $1 – $2. For a more detailed list of referral fees, see Amazon's current percentages below:

Shipping fees are another thing you should budget for. One way to potentially save money is to ship products yourself, as Amazon pays out a Shipping Credit to those that are not FBA (Fulfillment By Amazon) accounts. However, you should double check the shipping costs for self-shipping because the Shipping Credit is not a 1:1 match.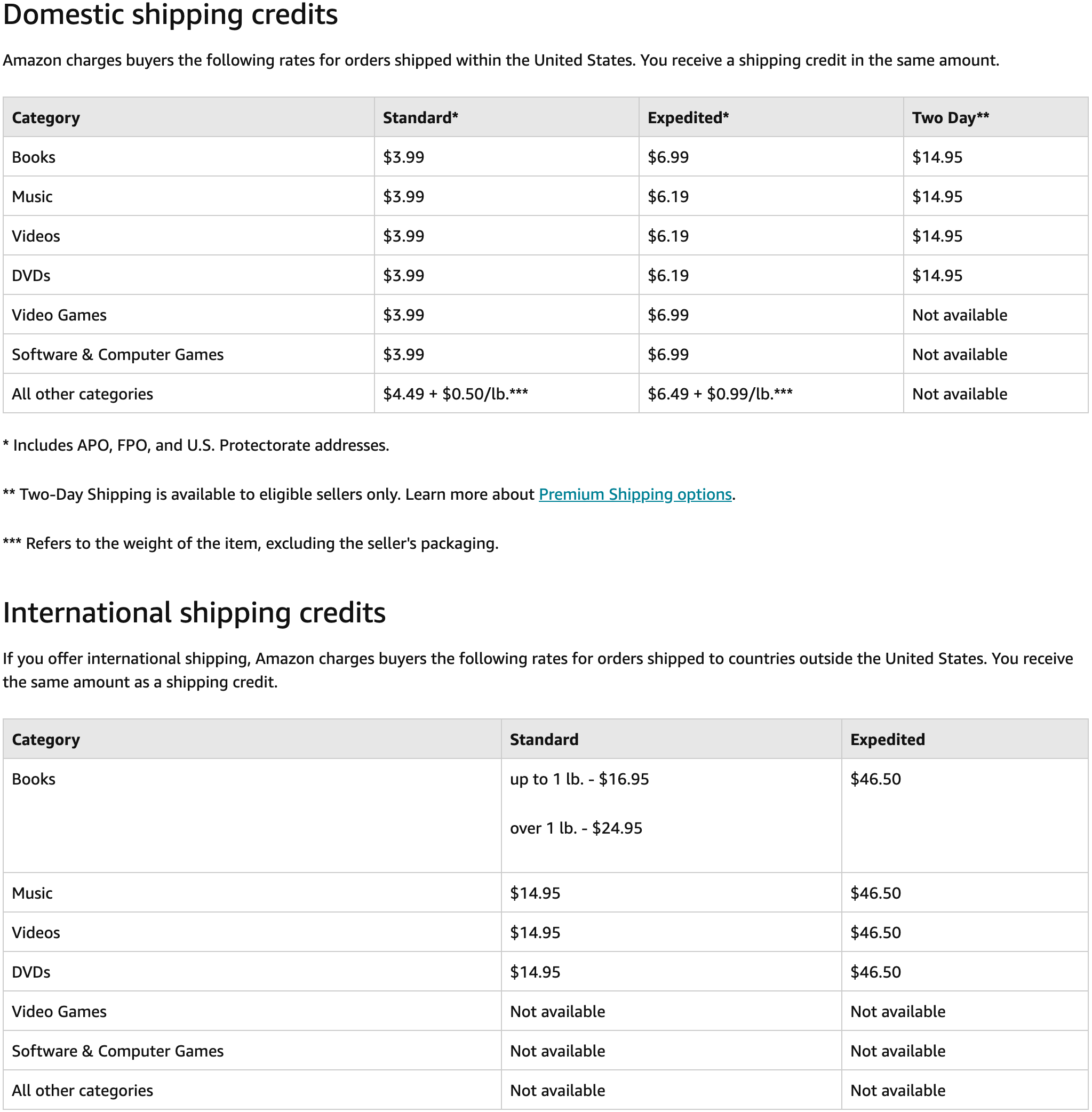 Question 1
Have I budgeted for all relevant fees when determining my bottom line?
How To Deliver Products To Your Customers
Once an order is placed, there are two ways to get it to their doorstep, Fulfillment By Amazon (FBA) or Seller-Fulfilled Prime (SFP). What does this mean, exactly?


FBA
This means that Amazon will house your product in one of their warehouses and handle all of the order fulfillment responsibilities for you, for a fee.

SFP
This means you will be responsible for the shipping and handling of your orders, and you'll receive a Shipping Credit from Amazon for doing so.
Additionally, while SFP may seem more affordable, remember that you have to house your product somewhere. So unless you're using your garage or a spare bedroom to store inventory, you will have to pay product storage fees one way or another.

When Amazon charges you FBA fees, they are charging you for two things:

Fulfillment
The packing, shipping and handling, customer service and product returns of your orders.

Storage
The charge for all units stored in an Amazon fulfillment center based on month (inventory storage is more expensive during the holiday season) and average volume.
A major plus to FBA is the freedom of not having to deal with the hassle of shipping products, handling product returns, or dealing with refunds and lost shipments. Amazon takes care of all that for you. If you get a negative review about the shipping process of your product, you can even have it removed from your account because Amazon is the party responsible for the negative experience.

It is important to note that if the same product sits in an Amazon warehouse for six months or more, you will start accruing penalty fees.

Question 2
How will I ship my products? Can I afford to warehouse them or should I do it myself?
How To Write Amazon Listing Copy That Drives Sales
Before you can move inventory or increase your revenue, you have to sell the idea of your product to potential customers. Having accurate and strategic Amazon listing copy is important for two reasons: first, you're able to showcase how your product will benefit customers, and second, you can strategically use keywords to attract the appropriate traffic to your listing. Below, we'll cover how to write your product listing, which includes the Title, Product Listing and Search Terms.
For a more detailed, step-by-step guide on how to write the ultimate product listing, check out our second ebook, Everything You Need to Know About Writing an Amazon Product Listing.
Analyze Your Competitors
Before you can write copy for your product listing, you should analyze your competitors' listings and copy.
First, analyze what your competitors are doing both on and off Amazon. On Amazon, see what products are listed when you search for products similar to yours. Take note of how they describe their products and what words or phrases they use. Don't forget to look at their reviews and examine how customers talk about their products. Think critically about ways to make your product descriptions stand out when compared to your competition's based on their online content and customer reviews. Do you have a bonus feature that your competitors do not? Be sure to highlight that as soon as possible in your listing.
Create Your Keyword List
At this point, you should be ready to begin creating a list of keywords. Start by listing out all potential keywords. Use the knowledge you've uncovered through audience and competitor analysis to think of keywords your ideal customers are likely to use, and also consider additional brainstorming tools like a thesaurus to complete your initial keyword list.
Conduct Keyword Research
Once you have a list of possible keywords, you can begin to organize and curate your list and prioritize your keywords using a number of keyword tools. Most have free versions available, but if you want an in-depth look at keywords, you should consider investing in one of the paid keyword research platforms such as SEMrush, SEOChat Keyword Suggest Tool, Helium or Jungle Scout.
Write Your Listing
Armed with a solid list of keywords, you can begin to write your product description and product features. Before you begin, familiarize yourself with Amazon's product page style guide. If you need further help making sure your product listings fit their guidelines, visit the Help Center for Amazon Sellers.
Amazon operates on keywords rather than keyphrases, and you only have to use a keyword once. Keyword-stuffing and repetitive keywords will not strengthen your listing; while repetitive keywords will not hurt your listing, you should avoid taking up valuable space with them when possible. Remember, keywords used in your title, product listing and search terms are all weighted equally, so focus on selling your product with the keywords rather than stuffing keywords into your customer-facing copy.
Routine Refinement
You should plan to re-evaluate your listing regularly as your business begins to grow and you notice other trends from your listing activity, as well as successful keywords used in advertising, customer reviews and competitor's strategies. This does not mean that you should change your listing constantly, this simply means you should be agile and stay on top of keyword trends when necessary.

Question 3
Have I optimized my listing for sales using the five-step process laid out above?
Understanding Promotional Options
Amazon provides its sellers with creative ways to discount their products with enticing sales and deals for the platform's 310 million users. Strategically running various Amazon promotions can help you increase interest in your product, rank your listing higher than competitors' and circumvent any issues with overstock. Below, we'll cover the various deals you can take advantage of while selling on Amazon.
A Lightning Deal is a single item paired with a limited quantity of extra savings coupons, available for the time period stated or until all coupons are used. You must meet certain criteria in order to become eligible for a Lightning Deal, but once you are eligible, you can experience a variety of benefits from Lightning Deals, including eliminating overstock, showcasing your other products by proxy, improving your search rank, appearing on the Amazon deals page and showing up as a "deal" in search results. Similar to a flash of lightning, Lightning Deals are quick, and generally run for four to six hours once approved.
The Early Reviewer Program is a community of Amazon customers who purchase and leave reviews for new products on Amazon that have few or no reviews. While the customers do not receive the product for free or at a discount, they may receive a small reward (e.g. a $1 – $3 Amazon gift card) for participating and leaving a review on your Amazon listing. There are no limitations on the type of reviews customers can leave (they want them to be as honest as possible), and the goal is to help new products gain reviews to create a more informative shopping experience for Amazon customers.
Your ASIN (Amazon Standard Identification Number) must meet the following criteria in order to be eligible:
Your ASIN (Amazon Standard Identification Number) must meet the following criteria in order to be eligible:
Must be a US-based brand-registered Amazon seller
Product listing must have fewer than five reviews
Product must be priced above $15.00
If you are new to Amazon and your product meets this criteria, this should be one of the first programs you consider.
Prime Day is a yearly sale that Amazon holds for all Prime members during the second week of July. During this time, Prime members can take advantage of exclusive deals that are only seen once a year. Similar to Black Friday or Cyber Monday, Prime Day is one-day only (though in 2018 it was extended to 30 hours).
Deal of the Day on Amazon, a subset of Today's Deals, is a single-day discount for certain items on Amazon. Customers can find these deals under their "Today's Deals" tab when they log in. The criteria for getting chosen is still slightly ambiguous, however, a good place to start is to ensure you have a positive product review and seller feedback rating and are Prime eligible.
While these
Amazon-based promotions
are great services to take advantage of, you can also run a promotion on your product any time you like, just as if you were to discount your item on your ecommerce website.
Once you log into your account, simply visit the promotions tab to take advantage of any one of these options:
Social Media Promo Code
Free Shipping
Percentage Off
Buy One Get One
Giveaway

Question 4
Do I have a promotion strategy in place, including timing, budget and inventory?
Getting Started With Amazon Ads
Regardless of if you have experience managing paid media campaigns on Google, Bing or Facebook, Amazon's paid media platform has its own process entirely. If you're just getting started with Amazon ads, we'll discuss a few things to consider below.
First, there are three main ad types on Amazon: sponsored product ads, headline search ads, and product display ads.
Amazon also has two different campaign types, Sponsored Brands and Sponsored Products. Sponsored Products are what Amazon calls ads for individual product listings on Amazon. These are cost-per-click ads, meaning you only pay when someone clicks on your ad, and they are displayed on search results pages and product detail pages. Sponsored Brands work the same way but they showcase your brand and product portfolio (three at a time).
Sponsored Product campaigns have two targeting options:

Sponsored Product Automatic Campaign
Automatic campaigns simply set their budget and rely on Amazon to farm keywords for their listing. You should consider the data from these campaigns when conducting future keyword research. This is a great option for beginners, however, sellers will lack control over approving keywords and could rank for irrelevant terms.

Sponsored Product Manual Campaign
This means you will be responsible for the shipping and handling of your orders, and you'll receive a Shipping Credit from Amazon for doing so.
Sponsored Brand campaigns are based on manual keyword targeting only at this time. There is not an automatic option.
Sponsored Product Manual Campaigns have two targeting options:

Keyword Targeting
Keyword targeting relies on keywords that relate to your product and the terms shoppers use to search for products similar to yours.

Product Targeting
Product targeting allows you to set up campaigns that target users searching for specific products, categories, brands or other product features that are similar to the products in your ad.
Why Keyword Research Is Important
Keyword research is crucial when it comes to building and refining your ads. For similar reasons as to why using the proper keywords is important for your product listing, keywords are arguably even more important for your Amazon ads. Effective keyword usage paired with a smart bidding strategy is what will attract the right prospects to your product listing. As we've discussed before, Amazon's algorithm is built to promote the most relevant, highest-selling product. This can only help your ad budget and your bottom line. Who doesn't want that?
When Should You Start PPC Campaigns?
There are two different schools of thought when it comes to starting PPC campaigns for new Amazon listings – start immediately or wait until your listing has gained 10 – 15 reviews. Many believe that if your listing has reviews before you start running ads, that will help the strength and efficacy of your listing. It will also make better use of your ad budget as many believe that reviews boost conversion rates, and throwing ad money on a listing that doesn't convert is wasteful. Others choose to start PPC right away to get traffic that will hopefully convert and leave a review on their listing. At the end of the day, it just depends on your overall goals, strategy and budget.
Building a Keyword Strategy
The nature of keyword strategy and bidding depends on a few things, including your budget, strategy and PPC management style. It's all about testing and refinement to see what is and isn't working for your Amazon ads.
When it comes to bidding on keywords, some believe you should do so, even if you rank organically, because it secures a higher position in the Amazon search results, which can help you make the sale. Others believe you should stop bidding for keywords that you already rank for, because your product should be able to generate sales on its own if it's indeed superior. This increases your profitability and liberates your budget to test other keywords.
Regardless of what ad campaigns you decide to run or what strategy you decide to implement, you should always have an automatic campaign running because they give you placements you can't bid for and allow you to discover new keyword opportunities and ideas for product targeting. You should also exclude your manual bids from your automatic campaigns because you want to avoid bidding against yourself.
Amazon lets you bid for three different keyword match types: broad, phrase and exact.
Broad match type offers your ad broad traffic exposure. This means that your ad will be triggered by a shopper's search term that contains the keyword you are bidding for and close variants in any order.
Example Keyword:
"Hat Rack"
Eligible search terms are: "

hat racks

", "

discount hat racks

", "

door rack for hats

"
Ineligible search terms are: "

cap rack

", "

trucker hat organizer

", "

ball cap rack

"
Phrase match is more restrictive than broad match, as it targets more specific audiences, and will generally result in more relevant placements for an ad. The search must contain the exact phrase or sequence of words or their variations.
Example Keyword:
"Hat Rack"
Eligible search terms are: "

door hat rack

", "

hat rack for girls

", "

hat rack for closet

"
Ineligible search terms are: "

cool caps racks

", "

rack for hats

"
Exact match is the most restrictive match type, but can be the most relevant. The search term must match the keyword exactly or be a close variation of the exact term.
Example Keyword:
"Hat Rack"
Eligible search terms are: "

hat rack

", "

hat racks

"
Ineligible search terms are: "

cool hat racks

", "

baseball hat rack

"
When using different match types per group, remember to exclude each match type from the other like this:
Broad Match Group
Exclude both phrase and exact match from this group
Phrase Match Group
Exclude all exact match keywords.
If you don't use Amazon-specific keyword research tools that tell you the average bid for the keyword you want to bid on, you should start your bid at the maximum Amazon recommends for your exact match keywords. You should bid 75% of your exact match bid for your phrase match, and 25%-50% of your exact match bid for your broad match.
Once you've established a baseline, you can bid up and down depending on performance.
When it comes to understanding how to optimize your ads, the Search Terms report is the most important report to reference on Amazon's backend. With this in mind, you should also establish an acceptable ACoS (Advertising Cost of Sale) for your budget. Initially, you may want to consider a high ACoS to gain sales velocity. Once you've earned decent organic sales, you may want to try to bring the ACoS down to what you are comfortable with, or less than 30%. Once you do that, you'll be able to better understand how you should spend your budget and apply your strategy accordingly. While you can check your reports as often as you like, you should consider optimizing your ads every $50 at the beginning, then once a week, and then once a month.

Question 5
When do I want to start running ads, before or after I've gathered reviews? What ad types do I want to run to promote my listing?
Understanding Amazon Reporting
Although Amazon tends to keep some sale information close to the vest, there are a few reports that you can analyze on a regular basis to keep track of your inventory and sales trends. In addition to inventory and fulfillment reports, you can also take advantage of the reporting options discussed below.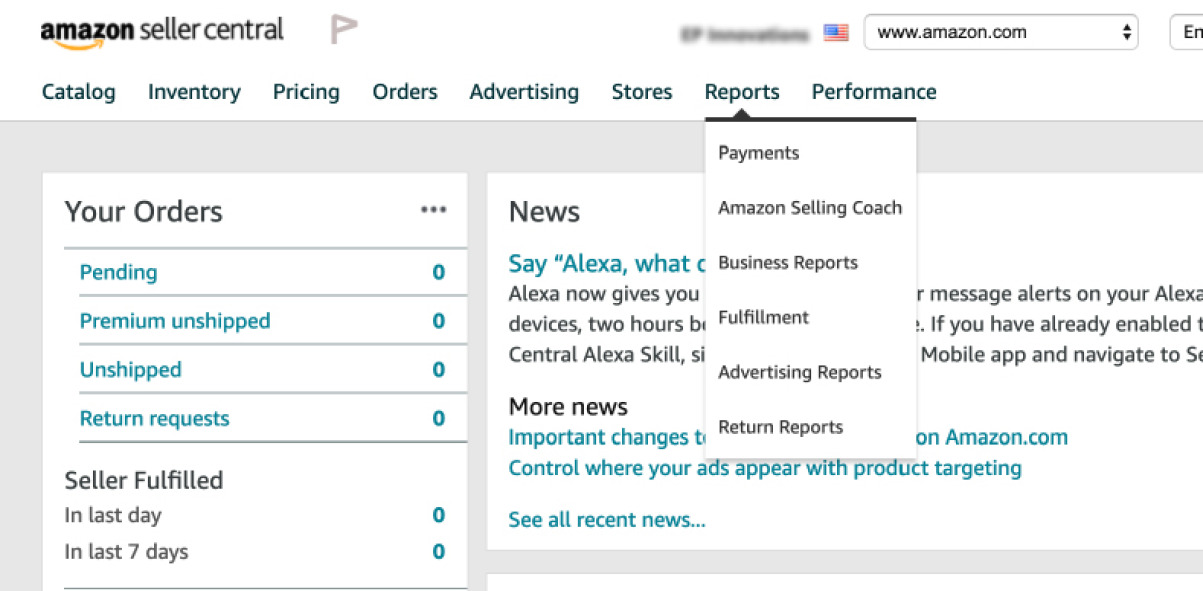 Business Reports allow you to categorize information like page sales and traffic, as well as brand performance, by Date, ASIN or Time. You can download this information in CSV format at any time, but the historical data for your listing will currently only be available for up to two years.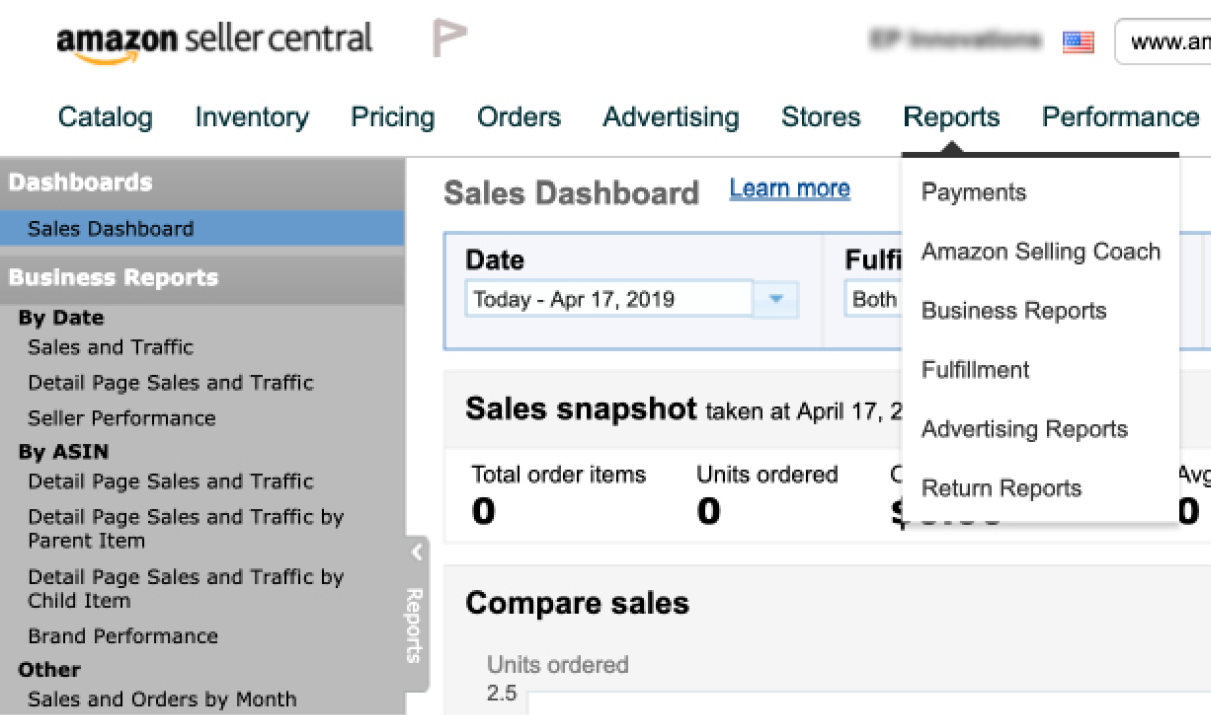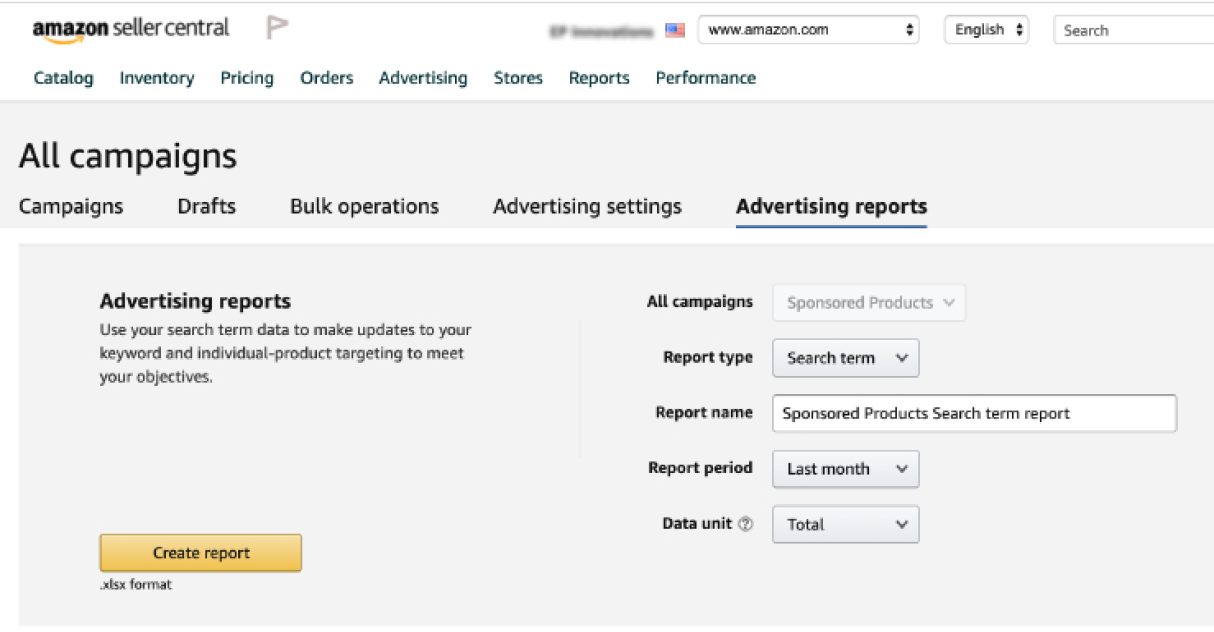 The Advertising Reports tab allows you to run reports on Search Terms, Targeting, Advertised Products, Placement, Purchased Products and Performance Over Time. These reports are primarily for ads, however, you can glean important information from Search Term reports and apply it to your product listing copy where applicable.
Under the Return Reports, you'll also be able to see the frequency of returns, regardless of whether you are Seller Fulfilled or FBA.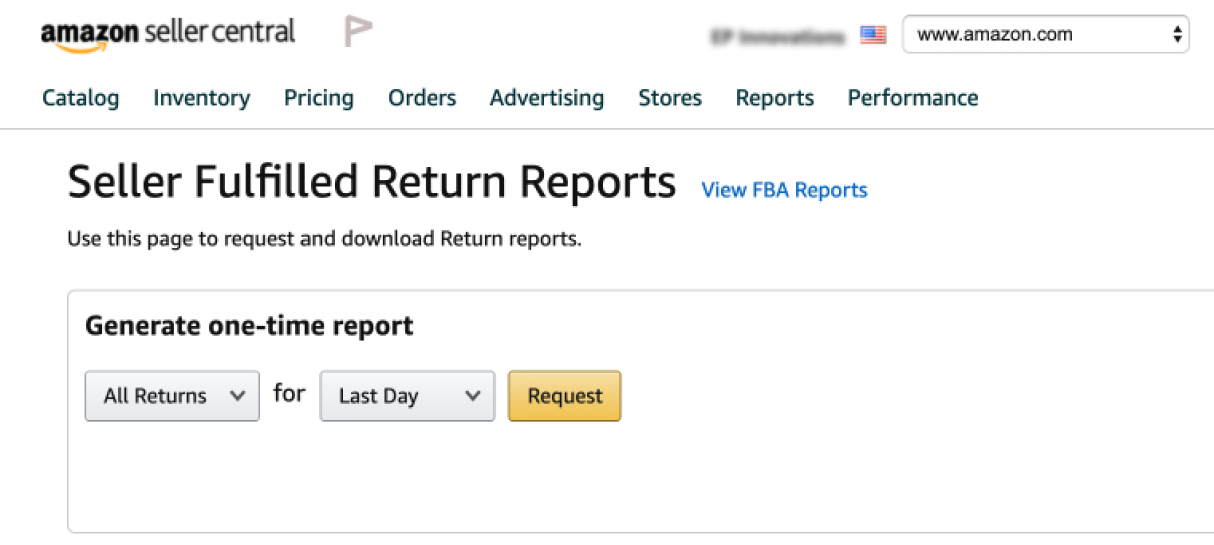 Question 6
What information will I want to look for in my reports on a regular basis?
Although Amazon makes it easy for customers to repurchase items by showing them their "Previously Ordered" orders, gaining repeat customers on Amazon can be quite difficult, as Amazon sees their customers as their customers and not yours.
Their algorithm is built to promote and sell the highest-converting products at that moment, which may not always be your product. Additionally, collecting customers' contact information for incubation and re-engagement is nearly impossible. Here are a few ways to work around that:
Automated Feedback Services
Though you don't have access to specific emails, services like Feedback Genius allow you to send drip email campaigns to those who purchase, so you are able to send continued communications to your customers to ask them to do things like leave a review, check out your website or refill their orders if you have products that will need to be refilled after a certain amount of time.
Even if it is a microsite, having your own website outside of your Amazon listing with capabilities to collect leads or sell additional products is important. Hosting a website off of Amazon's platform can also help strengthen your Amazon listing, as Amazon will view this as an external link about your product, which helps improve your rank. If you are able to drive traffic from your thank you emails, consider encouraging behavior that would lead customers to your site and ask them to leave their email address for additional information. You should also include your website on your product packaging or inserts. Once you gain this information, you can remarket to them directly from your email list.
Focus on Social Media Growth
Another thing to include on your product packaging or inserts is your social media handles, with the hope that you will gain followers. Once you create your accounts, you should work to create a brand that your fans would want to follow on social media. You may even attract your fans via social media initially if executed correctly. From there you can re-engage fans and encourage them to visit your Amazon listing by including a link to your listing in your bio. You should include your social media accounts in your digital marketing strategy – post regularly, and be sure to post every time you are running a sale or promotion to garner attention.
Host Contests and Giveaways
In addition to hosting your own website and focusing on your social media growth, run lead generation contests, referral contests and giveaways. This will increase brand awareness and help you collect more leads that you can reach out to at a later date.

Question 7
Do I have a plan in place for gaining repeat customers and lead generation?
Ready To Get Started?
While there is a lot to consider before you start selling on Amazon, if you have a solid grasp on the information covered in this ebook and can confidently answer each question, you're on your way to success!
If you would like to sell on Amazon but want help navigating the waters,
the marketing team at Enventys Partners has a passion for proof-positive results.
If you're selling on Amazon, or want to sell on Amazon, Enventys Partners can improve your product listings, paid advertising strategies and anything in between to maximize your sales.