Ecommerce Marketing

For The Holidays
Everyone who works in retail or ecommerce knows one fact to be true – holiday sales are critical to the health of a business. Just consider the following statistics and figures about the 2017 and 2018 holiday season from the National Retail Federation.

Sales during November and December increased 2.9% compared to the same period in 2017.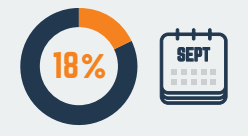 18% of shoppers planed to start their holiday shopping in September or earlier.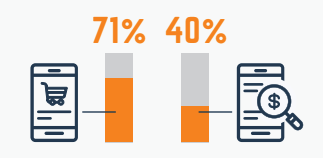 71% of smartphone owners used their mobile device to make holiday purchase decisions and 40% used it to research products and prices.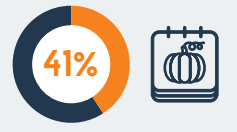 41% of consumers planned to start their holiday shopping in October or earlier.

Consumers reportedly budgeted $1,007 to spend on gifts, other holiday purchases and non-gift purchases for themselves and their families.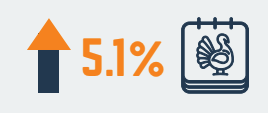 November shopping grew 5.1% year-over-year.

October shopping was up 5.7% year-over-year, suggesting that holiday shopping is starting to kick off earlier and earlier each year.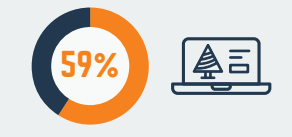 59% of consumers planned to purchase at least some holiday items online.

An estimated 165.8 million consumers shopped between Thanksgiving Day and Cyber Monday.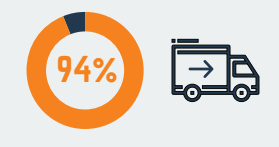 94% of consumers planned to take advantage of free shipping when shopping online during the holiday season.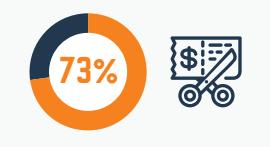 73% of consumers cited sales and price discounts as the most important factor when deciding to shop with a particular retailer.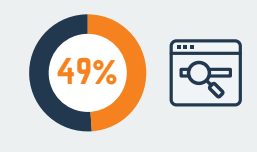 49% of consumers planned to find holiday gift inspiration through an online search.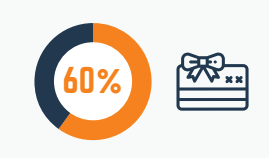 60% of consumers reported they would like to receive gift cards.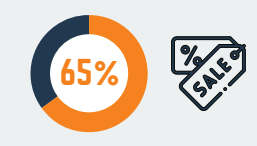 65% of consumers' holiday purchases were influenced by sales and promotions.
The holiday numbers come as NRF is forecasting that retail sales during 2019 will increase between 3.8 percent and 4.4 percent to more than
78%
of consumers report they plan to spend more or the same amount as they did last year. For those planning to spend more, not surprisingly, the primary reasons given were improved household situation and more confidence in the economy.
19% of holiday shoppers plan to use innovative offerings such as seamless checkout, voice-assisted shopping, and virtual or augmented reality. This is something to keep in mind as you build a user-friendly shopping experience.
57%
of this year's holiday dollars will go through online channels.
Additionally, see how key retail sectors during the November-December holiday season grew year-over-year:
↑
Online and other non-store sales were up
11.5%
at
$146.8 billion
.
Clothing and clothing accessory stores were up 4.2% at $61.7 billion
Building materials and garden supply stores were up 1.6% at $61.5 billion.
Health and personal care stores were up 2.6% at $60.8 billion.
Electronics and appliance stores were up 0.2% at $22.3 billion.
General merchandise stores were up 2.3% at $146.8 billion.
Furniture and home furnishings stores were unchanged at $22.6 billion.
Grocery and beverage stores were up 1.9% at $130.5 billion.
Sporting goods stores were down 13.5% at $16 billion.
Clearly, the 4th quarter of the year presents a tremendous opportunity for retailers to increase their profits. What can retailers do to improve their digital marketing and ensure their promotions are at the top of shoppers' lists during this competitive time of year for ecommerce-based businesses?
Creating a Digital Marketing & Ecommerce Strategy for the Holiday Season
First and foremost, it's important to begin planning your ecommerce strategy for the holiday season early. Even if you begin strategic planning in October, you're late to the game.
Consider Google Trends data on searches for the phrase "Christmas gift ideas." Search traffic begins to pick up at the beginning of August, starts increasing rapidly at the end of October and peaks in the middle of December. Thus, starting early is critical.
Starting early has other benefits beyond beating the rush and getting ahead of the competition. These benefits are addressed in greater detail below, but for a sneak peek, here is what they entail:
Optimizing your site for organic traffic with SEO and content marketing doesn't happen overnight; you're going to want to start well in advance
You'll send out more emails than you do the rest of the year, and starting early gives you time to prepare them.
Thinking about your holiday marketing early gives you ample time to set up retargeting and remarketing campaigns and test your messaging with a small budget before scaling up your budget during the most active holiday shopping period.
You'll have plenty of time to make sure your website can handle traffic spikes. It is important to get the technical side of your website squared away to avoid any down time often seen when a retailer has a major sale.
You can coordinate with your sourcing, manufacturing and distribution partners to forecast inventory and make sure you have enough in stock.
Before you begin settling on specific tactics to market your products during the holidays, take time to assess your company's past marketing efforts, set goals and build out an overall strategy.
Start with research. How did your company fare during the last holiday season? What worked well? What could have been executed more effectively? What trends did you notice? What did your competitors do? What trends are your industry's thought leaders predicting for this year?
Considering these factors and more, set your goals and objectives. How much product do you need to sell? Are you hoping to introduce a new product or products? Do you have other goals, such as increasing brand awareness, building an email list or raising money for a charity? Only once you have your goals clearly established can you begin to build out your holiday marketing strategy.
This is a good time to consider your sales strategies, too. Data shows that sales and promotions are a key factor when consumers decide which retailers to shop, and that free shipping matters to online shoppers. Create a promotional calendar for Q4 mapping out all your promotions for each holiday, and then start building your marketing plan around it. Once you have your sales strategy in place, you can begin thinking about specific tactics. Keep reading to learn more about how to take advantage of some of the most effective tactics for ecommerce marketing.
Don't have time to read this guide right now?
PPC & Facebook Advertising
Pay-per-click advertising is a critical part of any ecommerce holiday marketing campaign. Competition only gets more intense during the holiday shopping season, and if you aren't paying to get in front of your customers, you're going to have a much harder time getting in front of them at all.

There are many different types of online advertising, and each one is designed to meet a different goal. For example, suppose you make jewelry and sell it in your online shop. If you want your product seen by those searching for "stylish necklaces" online, Google Ads may be your best bet. If you want to reach those who may not have considered purchasing a necklace for their wife or girlfriend, Facebook Ads are a great choice, due to their precise targeting options. If you're hoping to target those who have visited your website in order to increase the chance of converting them, Google and Facebook Ads are both great options depending on your product and demographics. Familiarize yourself with the different types of ads available, then use the methods that most closely match your goals and your target audience.
Of course, you won't want to begin running holiday-specific ads in the middle of the summer, but planning for your ads ahead of time can help you make the most of your ad spend once you get closer to the holidays. Use the third quarter to test your ads at a lower budget. Consider testing different audiences, ad types, messaging, imagery and keywords to determine what works and what doesn't. Then, once it gets closer to the holidays, you can ramp up your ad spend without worrying about using up your budget running ads that won't convert. Additionally, this is a great time to focus on getting leads that you can then target during the holiday season
You'll also want to use the third quarter to finalize your ad budget for the holidays. Expect for prices to go up on each advertising platform due to an increase in demand and a decrease in ad inventory. This may lead to a higher cost-per-click (CPC) and cost-per-1,000-impressions (CPM), but try not to worry too much about these metrics as long as your campaigns are profitable. A better metric to judge whether your campaign is doing well is the click-through-rate (CTR). The CTR tells you if you are targeting correctly and whether or not your ad speaks to that audience.
Email marketing is also quite important for a holiday marketing campaign for many reasons. With such strict email marketing and spam laws across the globe, those who receive your emails are almost certainly getting them because they want to see what you have to say. This means that email marketing is an incredibly simple way to reach those already interested in your brand or product. What's more, your competitors will be filling your audience's inboxes with promotions. Don't ignore email marketing as a form of promotion and let them overshadow you!
A good holiday email marketing strategy includes three primary components. First, leading up to the holidays, work on growing your email list. Considering offering an incentive, such as a one-time discount code, to get people to sign up for your email list. During this time period, send enough emails to keep your company top of mind, but not so many as to annoy your email subscribers. You definitely do not want to drive them away before the holiday season begins.
Second, use the time period before the holiday rush to start preparing your emails. Build templates, write copy, design graphics and get everything in order so that all you have to do during the busy holiday season is press "send."
Third, make a plan for all the email addresses you will collect from new customers during the holidays. You'll want to set up additional campaigns so that those who purchase gifts during the holiday become repeat customers in the new year.
Make sure to keep your emails fun and holiday-centric. Use seasonal language, highlight your promotions and include exciting graphics. Be especially sure to mention your promotions in the email subject lines, so that recipients are more likely to open the emails. Feel free to have a little more fun than normal, if you want – everyone appreciates some holiday joy! Just make sure to keep things on brand so that you can easily transition back to your normal email marketing tactics after the holidays.
Additionally, this is a great time to revisit your automated messages. Make sure that any drip campaigns or abandoned cart emails are running so that you don't miss any opportunities to make a sale. Be sure to check your messaging as well, to be sure that it makes sense for the season. If you don't have any email automation setup, now is a great time to do it! Start with a cart abandonment campaign so you don't lose site visitors who put items into their cart but don't check out.
SEO doesn't happen overnight. If you want to rank for your keywords in December, you can't start thinking about it in November.
Begin early by determining what keywords you want to rank for. How you determine this will vary depending on your specific business, your products and your customers, but there are quite a few things to consider. What products sold best during the last holiday season? Which of your products make the best gifts? What are the current trends in your industry or vertical? How much do your customers typically spend?
Once you prioritize keywords you can begin to focus on ranking higher for these keywords through content marketing and SEO. Some tactics you can employ here include updating all product descriptions to include keywords that describe your product well. You should also update your website's metadata to include keywords. Additionally, continue to incorporate your priority keywords into your blog posts.
As you get into November and December, you can begin to incorporate more holiday-centric content into your publishing schedule. Here are some of our favorite end-of-year and holiday content marketing ideas:
Create gift guides – note that you may not want to publish these until closer to the season
Recap your most popular blog posts throughout the past year
Write a round-up style blog post featuring your best sellers over the past year
Offer sneak peeks of what is coming up in the next year
Provide tips for the new year that relate to your product or industry
Write holiday-themed blogs, such as how to use your product at a holiday party
Get emotional with a true, feel-good story related to your brand, or by partnering with a charity
The casual nature of social media makes it a great environment to explore fun, creative ways for your ecommerce brand to celebrate the holidays. Below are some of our favorite ideas.
Create fun graphics. Look for ways to add some holiday flair to your typical marketing graphics – a Santa hat, a snowflake, a Christmas tree, a menorah, or something else. Spice them up a bit for the holidays and make them stand out so they are more noticeable to users as they scroll through their feeds. Just be sure to stay on brand; for example, if you normally stick to muted colors, don't use fire-engine red; stick to a more muted red instead.
Use influencers. Social media influencers are helpful during the holidays. Look for ways to collaborate with influencers that your customers follow. For example, send them a product sample along with a discount code, and ask them to tell their followers about it if they like it. Keep in mind, most of the top influencers have planned content at least a month in advanced, so you'll want to reach out to them as early as possible to secure your spot. Or, consider partnering for a giveaway…
Run a giveaway. Everyone loves free stuff, but especially around the holidays. Use your social networks to host a giveaway. This is a great way to involve influencers, as well! Be sure to read the platforms rules, though, and do not violate them or your giveaway may be taken down.
Post about the 12 days of _________. Posting "12 days of Christmas"-style content is an easy way to incorporate the holidays into your typical social media efforts. For example, if you are a jewelry company, you could do the "12 Days of Earrings" and highlight a different best-selling pair of earrings each day. If you sell kitchen products, you could post "12 Days of Recipes" with a different holiday recipe each day. You could also combine this with a giveaway, and give away 12 different products over 12 days.
Show off your gift guide. If you've created a gift guide as part of your holiday content marketing strategy, use your social networks to show it off! Each day, post an item from your gift guide and include a caption about why the item makes the perfect gift.
Share holiday videos. Whether it's your team wishing your followers a Merry Christmas, a year-in-review style video or a video promoting your holiday sales, video performs incredibly well on social media, so be sure to include it in your holiday marketing strategy!
If you sell your product on Amazon, you'll definitely need to up your Amazon marketing game during the holidays. This campaign will likely look a bit different than your other holiday marketing efforts, simply because Amazon is completely different than more traditional ecommerce platforms.
First, you'll need to decide what promotions you'll run. In addition to the Deal of the Day and Lightning Deals, which Amazon does year-round, Amazon's holiday strategy includes specific sales and promotions each year, such as Black Friday and Cyber Monday sales, or the 12 Days of Deals. Think carefully about what promotions you want to run during this key time!
You'll also need to consider how much inventory you need to have ready to ship. This is especially important if you use Fulfillment by Amazon (FBA). FBA releases specific dates as the holidays draw closer, but in 2018 inventory for Black Friday and Cyber Monday needed to arrive at fulfillment centers by November 5, and inventory for shipping by Christmas needed to arrive by December 5.
Lastly, create an advertising strategy. Advertising with Amazon is a great way to increase brand awareness and get your product in front of those searching for it, so if you aren't using it yet, the holidays are a great time to start. Get started before the holiday rush if you can, though, so that by the time the holidays roll around and you need to increase your ad spend, you have a good idea of what works and what doesn't.
Taking Your Holiday Ecommerce Marketing To The Next Level
Now that you have a solid marketing plan in place for the holidays, you can begin to think about what you'll do to take it a step further and beat out the competition. Here are a few more things to consider.
How can you make your packaging stand out? Look for ways to create a unique unboxing experience this holiday. Your customer may be receiving one or more packages every day during the month of December, and if yours sticks out they'll be more likely to remember your brand. Consider including a holiday card, adding holiday graphics to the box, or anything else to set your packaging apart.
How can you add convenience for your customers? Between making time to go to the store, finding a place to park and fighting crowds, many consumers turn to online shopping during the holidays to make their lives a little simpler. Think about what you can do to make online shopping even easier. Free shipping is a clear winner, but also consider things like how you can make returns easy for the gift-giver or the recipient.
How can you make your deals exclusive? If you can only offer 50% off on Black Friday and Cyber Monday, make sure your online store's visitors know that! If you're offering a good deal and shoppers know they can't get the item they want at such a low price any other time of the year, they'll be more likely to purchase it right then.
How can you appeal to those shopping for themselves? Holiday shopping isn't all about gifts; people are buying for themselves too. So, while gift-giving is a great angle for your messaging, look for ways to speak to the people buying themselves gifts as well. For example, if you are offering your product at a Buy One Get One 50% Off promotional price, you could include messaging telling your shoppers they can buy something as a gift and get a second one to keep for themselves.
How can you learn from this year's marketing efforts? As soon as the holidays are over and the rush has died down in January, take some time to examine your strategy. What worked well? What could you do differently? Spending time reflecting on the holiday season and your successes and failures will leave you much more prepared for next year's holiday and give you a solid foundation when you begin planning your next holiday strategy in six more months.
We Only Have One Spot Available For The Remainder Of The Year!
This is our favorite time of year for more reasons than one. If you're looking to enhance your holiday marketing strategy, we're the experts! Contact us today to see how we can best work together and reserve your spot.