TRIO: The on-the-go dual & triple screen laptop monitor
Background
---
After a successful campaign with DUEX (previously "DUO"), Mobile Pixels reached out to Enventys Partners for assistance with their second crowdfunding campaign, TRIO, an on-the-go triple screen monitor. After raising over one million dollars with DUEX, Mobile Pixels felt confident that Enventys Partners' team would help them reach their goal.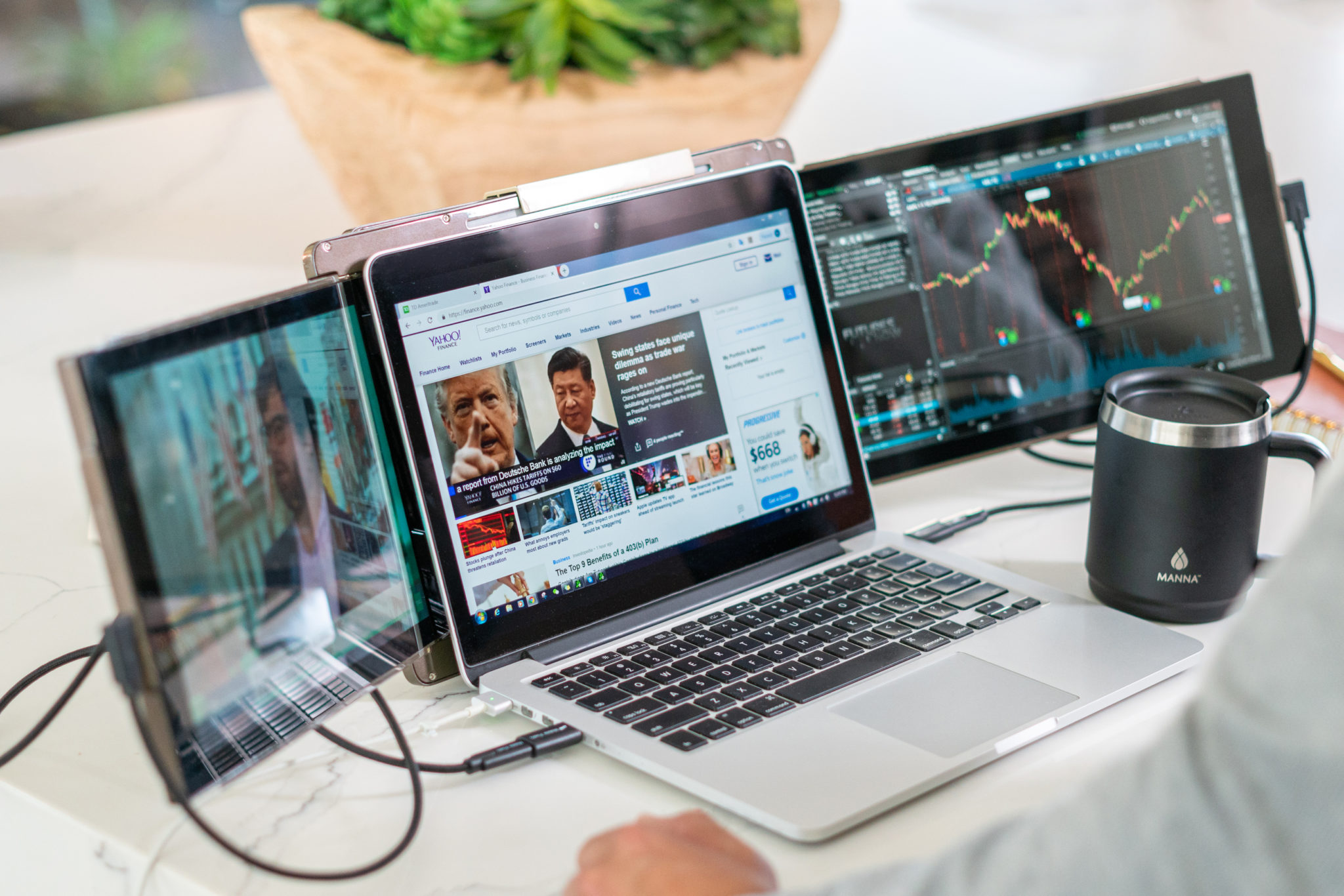 Our Approach
---
Enventys Partners used a similar strategy to that of DUEX, taking a full-service approach to TRIO. Before the launch of the campaign, the Enventys Partners team built interest in the campaign through pre-launch efforts that revolved around a landing page and contest to drum up excitement about the upcoming launch. In addition to driving Facebook ads to the page, the team also created an email drip campaign to keep all sign-ups warm leading up to the launch.
To further increase interest in TRIO, Enventys utilized the previous email list from the DUEX campaign to engage those who were interested in the previous campaign. The team also built the TRIO Kickstarter page in tandem with pre-launch marketing efforts, while also using data they had collected to influence some of their campaign page strategies.
Mobile Pixels' initial goal was to raise $35,000 through a Kickstarter campaign for TRIO. During the campaign, Mobile Pixels and Enventys used a variety of tactics to keep the momentum high and retain interest in TRIO. Early bird rewards provided a great foundation for the Facebook ads team to run offers for the campaign. They also used flash sales and stretch goals to keep the momentum up after the initial buzz slowed down, and posted updates for their backers that featured cross promotions with other campaigns. In addition to Facebook ads, the team utilized Google ads, which they did not use in their previous campaign, to target people who were searching for similar products online or similar campaigns on Kickstarter.
The Results
---
TRIO was an immediate success, reaching its funding goal in less than nine hours. Throughout the campaign, TRIO received multiple press hits and, with the support of 2,599 backers, eventually reached a funding total of $816,269, which is 2,232% of their initial funding goal.
TRIO was covered by news outlets including Man Of Many, Slash Gear, The Gadgeteer, On MSFT and more. This press coverage added legitimacy to the campaign and helped to get TRIO in front of new potential backers.
At the conclusion of the Kickstarter campaign, Mobile Pixels moved TRIO to InDemand on Indiegogo, to continue funding efforts.
The Enventys Partners team's full-service strategy proved successful once again for Mobile Pixels. This campaign is not only a great example of a well-executed, multi-pronged strategy, but also of how tapping into past resources can help refine a campaign's focus and boost success.