The Background
---
The creators of SuperCalla approached Enventys Partners seeking assistance crowdfunding their one-of-a-kind magnetic charging and data cable. We were selected to help because of our crowdfunding experience and expertise, especially in the tech industry. Through ads and promotional efforts, our role was to drive quality traffic to SuperCalla's Kickstarter page, giving potential backers the chance to support the project.
To help reach the $10,000 funding goal, our crowdfunding marketing strategy for SuperCalla was three-fold.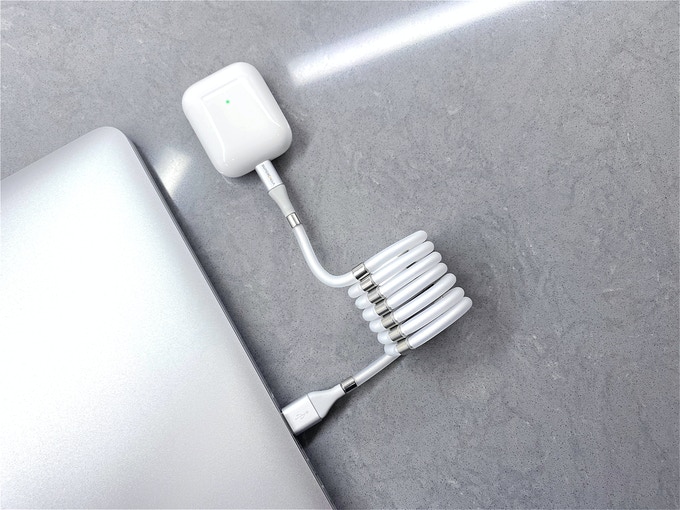 Our Approach
---
First, Enventys Partners created a Facebook Advertising campaign using media unique to their product and brand. Ads with gifs were the most effective at demonstrating the product's function which was a magnetic charging cable keeping neat and organized. Our team targeted potential backers from our internal database while adjusting each audience budget based on what was and wasn't converting, specifically ROAS. We then tested various combinations of ad copy with still images, gifs and videos, and used the ads that generated the best conversions.
Our second tactic was through PR, specifically a ProductHype Newsletter feature. Anyone who subscribes to this blog was provided the opportunity to learn about and back SuperCalla.
The last marketing strategy deployed was through cross-promotions. Our team was able to get SuperCalla mentioned on other live Kickstarter campaigns that were doing well including MOFT Z, the 4-in-1 invisible sit-stand laptop desk, and Hygiene Hand, an antimicrobial brass EDC door opener & stylus.
Proving to be an almost instant success, SuperCalla's crowdfunding campaign hit the $10,000 funding goal just nine hours after launch. As for our advertising efforts, Enventys Partners maintained a 3.8 ROAS throughout the campaign. The ProductHype newsletter was also a fruitful investment, generating over $20,000 for SuperCalla. In the end, the magnetic cable venture raised $1,758,695 from 39,355 backers, reaching its funding goal by 17586%.
Aside from Enventys Partners' Facebook Ads, ProductHype Newsletter feature and cross-promotional efforts, SuperCalla had a widely successful campaign partly due to its target demographics matching Kickstarters core demographics: males between the ages of 25-35. This demonstrated the product's perfect fit on the crowdfunding platform with its average user's interests.
If your product needs crowdfunding marketing support, reach out to us for help. Not only do we provide Kickstarter and Indiegogo expertise, our team has professionals that can also accommodate needs in product development and ecommerce.