Sated. Ready to Drink Keto Meal Shake
Background
---
Creator Ted Tieken approached Enventys Partners seeking assistance with a crowdfunding campaign for Sated, a ready-to-drink keto meal shake. Tieken needed help with his campaign page, email campaign review, Facebook Ads management and public relations, and chose to work with Enventys Partners' crowdfunding experts because of the team's 93% crowdfunding success rate.
Our Approach
---
Enventys Partners began by reviewing Sated's campaign page and email marketing strategy prior to launch. The crowdfunding team also collaborated with another ad agency to execute a pre-launch Facebook ad campaign for lead generation. Additionally, the team worked in conjunction with another media agency to secure press coverage prior to launch.
The campaign launched with a funding goal of $10,800. Throughout the campaign, Enventys Partners managed stretch goal announcements, backer updates and Facebook ads. The team also provided advice on how to use the existing Sated email list, and coordinated sending samples to journalists.
The Results
---
Sated hit its $10,800 funding goal in under two hours! The Enventys Partners team also implemented a unique stretch goal strategy that involved voting on new flavors to keep backers engaged. Additionally, the team secured press coverage in a variety of industry publications and outlets including Eat Complete, Livin' La Vida Low Carb Show, Latest Fuels and Markets Insider.
In total, the campaign raised $178,572, which was 1,553% of their initial funding goal, from 946 backers.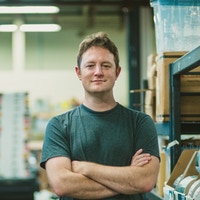 Adaptable, communicative and experienced.
Enventys was responsive, very hands on and always looking to take things on off our plate as we are a small startup with not much time to spare. They are willing to work around their boiler plate contracts and design a plan that makes most sense for your campaign.
– Ted Tieken, Founder, Sated