The Background
---
Monkee Mount, the creators of the first hands-free massage gun holder, had already worked with Enventys Partners when they initially launched the unique product during their crowdfunding campaign.
For the ecommerce phase of their brand inauguration, the Monkee Mount team needed assistance with website development, paid advertising management, email marketing, organic social media management and SEO content development. Even though Enventys Partners successfully funded their Kickstarter project (in 9 hours!), our team continued handling every marketing detail in order to make their lead generation campaign a success.
"I've worked by hiring individual people for each of the different roles in the past, but by far working with the Enventys, guys has been amazing. They have everybody that you need to take care of all the marketing, all the design work, and it's a lot easier to just work with them than trying to do it all yourself."
David Mills
Monkee Mount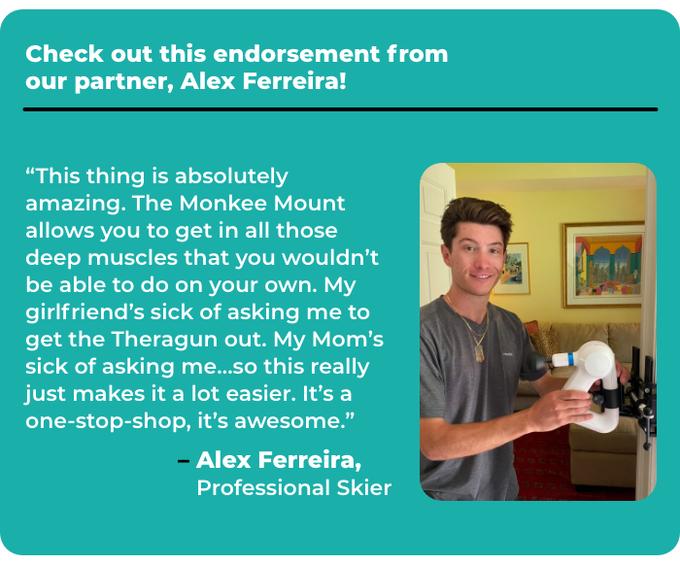 Our Approach
---
After the end of the Monkee Mount crowdfunding project, our team was tasked with garnering "pre-order" purchases through a 4-6 week lead time on the product.
We approached this in-demand campaign using a variety of methods.
The most notable way we attracted pre-order purchases was with a testimonial from an olympian. Our team utilized a compelling review quote and image of the athlete with the product throughout every marketing channel including the website, ads, email marketing and social media.
We also tapped into Monkee Mount's Kickstarter and Indiegogo lists with email marketing to generate more upsells from previous customers. Our team highlighted accessories including a Squat Rack attachment and a 2-pack of the massage gun holder to encourage bigger purchase orders.
Traditionally, ecommerce pre-order phases don't do well. However, Monkee Mount's was an exception to this rule. The positive results have made the team excited to fully launch with sale orders.
So far, Monkee Mount's ecommerce campaign has been a success in generating a healthy amount of pre-sale purchases.
As with Monkee Mount's crowdfunding campaign, the best performing ad to date in the ecommcerce phase included the olympian's testimonial.
Additionally, since introducing the attachment accessory and price-saving bundle, the team's been able to increase Monkee Mount's average order value.
And despite pre-order campaigns frequently underperforming, Enventys Partners has seen a 2x ROAS already after just a few weeks!
We credit the early success of Monkee Mount's ecommerce campaign to its strong branding involving a modern website, cohesive marketing channels, and an exciting celebrity cameo.