Hensler Surgical
Product Development
The gold standard in bone collection
---
Sean Hensler, a neurosurgical physician assistant, came up with an idea to collect and separate bone fragments, the gold standard for use in grafting procedures. Bone grafts, or bone tissue transplants, are used to fix damaged bones. Typically this process of grafting is messy, inefficient, and time-consuming; Sean Hensler wanted to simplify the procedure.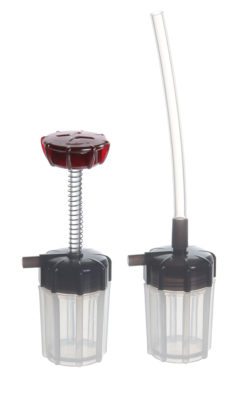 Medical Equipment Product Development
Sean was recovering from his own back surgery when the idea for a device that would press down bone fragments and filter away blood and fluid was born. In 2011, Sean took these sketches to Enventys where our vertically integrated team of engineers, industrial designers, branding and public relations specialists transformed his idea into an FDA-approved medical device ready for market.
The patented Hensler Bone Press quickly separates bones from fluid during surgery, efficiently giving doctors a semi-dry material ready for grafting. The device's two-step method allows for simultaneous collection and separation, which keeps the process from interrupting the flow of the case, and it is designed to maximize the patient's own bone for fusion.
The product was made to be ideal for a wide range of applications, including neurosurgery, orthopedic surgery, craniofacial surgery, oral and maxillofacial surgery, podiatric surgery and any other procedure where bone is collected that needs separation.
Successful Product Launch
Sean Hensler and his partner were able to debut the Hensler Bone Press at trade shows such as the North American Spine Society's Annual Meeting and the American Association of Neurological Surgeons' Annual Meeting. The Hensler Bone Press was featured on CNBC.com, Becker's Spine Review, Medgadget, Spinal News International, the ABC news affiliate in Dallas and twice within the Wilmington Business Journal. The Hensler Bone Press is made in America, and is being sold through an extensive distribution network to hospitals nationwide.
Visit their wesbite at www.henslersurgical.com.
Want to see more?
We've launched hundreds of products, and we go above and beyond to ensure you end up with a product that fits your vision and hits your sales goals.

How Can We Help?
Whether you need an all-encompassing strategy or assistance with a single service, we provide value for your new product launch. We offer crowdfunding, product development and digital marketing services, all under one roof.

Ready, Set, Launch
We truly shine when a client utilizes all three of our primary service offerings. Having one place to develop, launch and market your consumer product concept helps leverage efforts, reduce costs and simplify the process.