Goodwill Industries of the Southern Piedmont
Email List and Engagement Growth
The Background
As a legacy client, Goodwill Industries of the Southern Piedmont has worked with Enventys Partners ever since our marketing department was called Command Partners. Throughout the years, our team has held a great working relationship with Goodwill. Since partnering with them, we've designed and developed their website, helped secure their Google Grant, which is free ad spend dollars offered to non-profits and have been managing their Google and Facebook Ads accounts.
Recently, the client has focused on engaging with the community through email campaigns and growing its subscriber list. Knowing that we are a Mailchimp Pro agency with a dedicated email marketing team and writers on staff, Goodwill selected us to be their email marketing agency.
"Enventys has been great to partner with on our email marketing strategy. With their help, we've grown our subscriber list beyond the organization's expectations, created and executed many engaging campaigns, informed the community of our mission services, and driven sales to both our online and in-store platforms.
As a nonprofit, it can sometimes feel overwhelming trying to stay competitive in the marketing landscape with limited budget and resources, but with the help of Enventys, we're able to meet and exceed our email marketing goals."
– Meredith Robinson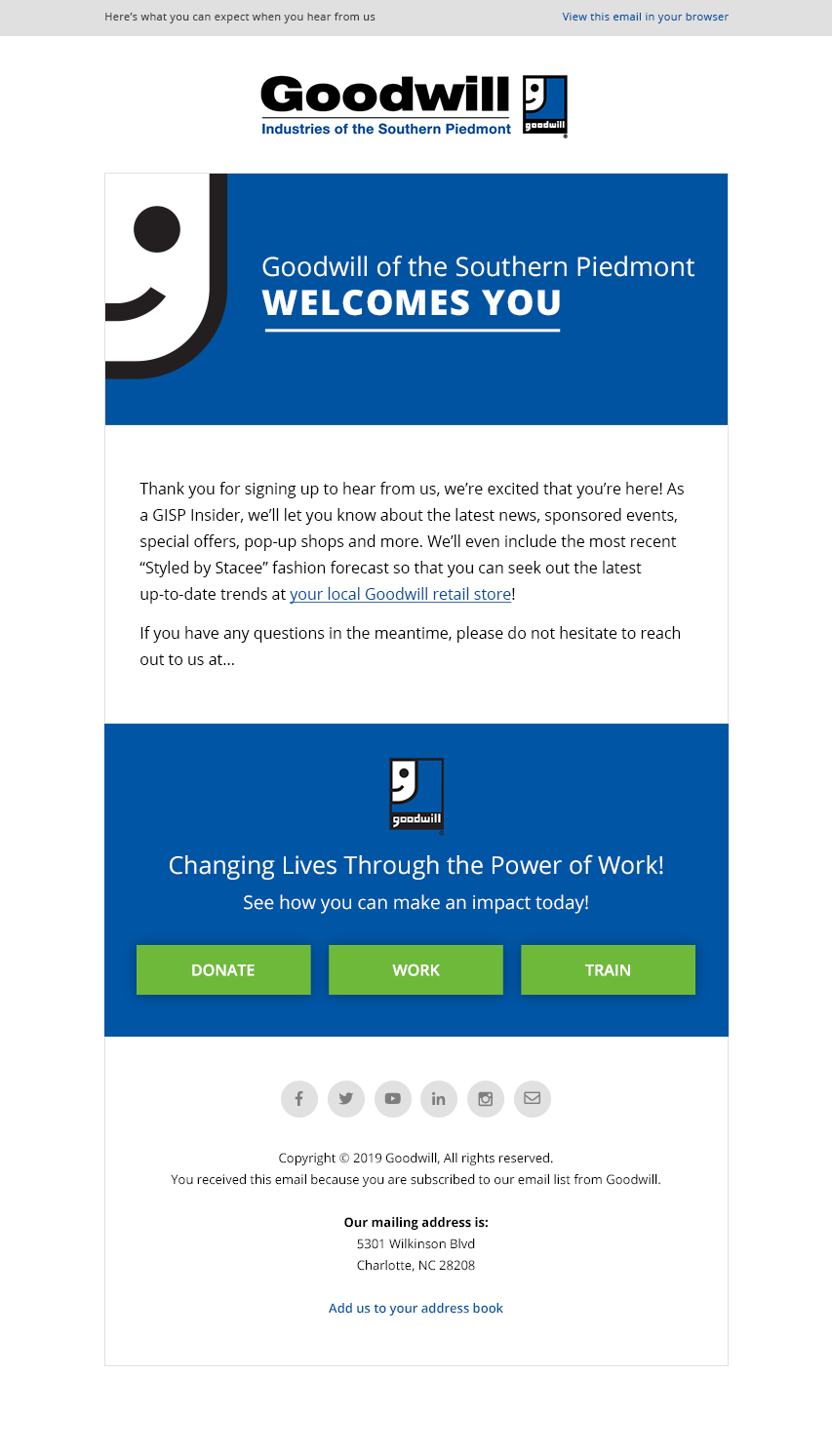 Email Marketing Approach
---
Conducting an Audit
First, our team needed to "check under the hood." We conducted an email marketing audit to assess the overall condition of the account and identify areas of improvement. At the time of the audit, we discovered Goodwill had fewer than 10,000 subscriber emails, mediocre open and click rates, poor and uninformative subject lines, as well as email sends with inconsistent frequency. We also noticed some confusion among recipients since the emails were sent with a personal From Name (e.g., Jane@GoodwillSP.org).
Our Recommendations
First, our team got to work introducing regular promotional emails. In the last two years, we've sent emails regarding sales, events, classes, upcycle tutorials and anything else that would engage the community. And, with the exception of lockdown in early-mid 2020, we've also been promoting in-store coupons to lore email subscribers to shop at Goodwill. Although the frequency of email sends largely depends on the client's events and social media calendars, both of which are managed internally by their team, we stressed the importance of consistently communicating to their subscribers. Our team recommended increasing their number of email sends to more than two per month, at the very least. On average, we send three to five emails per month, depending on events and promotions. Additionally, our team designed a more engaging email template and a landing page dedicated to signing up subscribers. Furthermore, although Goodwill was doing a fine job of collecting subscriber emails, we also suggested a fresh redesign for the exit intent pop-up.
Split Testing
We A/B tested From Names that are related to the organization and more identifiable to the recipients (e.g., "Goodwill Training and Promotions" and "Goodwill Promotions and Training"). Most recently, we started to split test the length of the emails in which we compare long-form copy versus short-form copy.
The Challenges
One of the challenges we face is that there aren't onsite conversions we can track. Subscribers can be pushed to the website for more information but the actual action takes place offline. Our tracking to prove success is limited to user signups, unsubscribes, open rates and click-through rates, so we have to innovate based on these metrics. Another challenge we encounter is tailoring our content to address all subscribers. Since Goodwill Industries of the Southern Piedmont's territory is vast, not all events tied to a specific retail location apply to the recipient. We attempted to segment Goodwill's list through a series of emails encouraging subscribers to select their email preferences. Unfortunately, less than a significant number of subscribers actually updated their preferences so the list isn't segmented. We've since abandoned encouraging subscribers to update their preference out of concern that these emails would annoy subscribers, causing them to opt-out of receiving anything further instead.
From March 2019, when we began managing Goodwill's email marketing, to December 2019, we helped grow the email subscriber list by 56%! Then, from January 2020 to December 2020, we increased their subscriber list by 38%. Overall, the email subscribers list expanded by 106% from March 2019 to April 2021.
Although in-person events were canceled for much of 2020, and retail store locations were closed for at least a quarter of the year, we were still able to achieve an open rate of 11.44%. As the economy slowly reopens, Goodwill has started promoting in-store events and community events hosted by the organization. So far in 2021, we've achieved an average open rate of 10.41%. Overall, more than 20% of subscribers remain highly engaged with Goodwill emails.
From A/B testing, we've learned that "Goodwill Training and Promotions" as a From Name results in higher open rates. This would make sense since members of the local workforce are searching for employment or looking to learn new skills during the pandemic. We've also learned that in general, subscribers prefer short yet informative emails over long, highly detailed emails. Since working with the team at Goodwill Industries of the Southern Piedmont, they've supported our efforts to test, test, test. It's because of this that we've been able to effectively communicate and connect to the Goodwill audience.
Email Subscriber List Expanded
Subscribers highly engaged with emails