HOW CELEBRITY INFLUENCER MARKETING RAISED $212K FOR A WEARABLE ON KICKSTARTER
---
Gemio is a Seattle-based startup that sought our crowdfunding expertise. At the time, the team consisted of entrepreneurs, technologists and engineers. Their main goal: connect friends in real life, outside of texting and social media, using their Gemio smartband.
Gemio features advanced LED technology that creates millions of colors and light effects that respond to music, movement and the people around you. Users can easily sync up with friends, send light signals to communicate with one another and even program their band to pulse to the beat. With easy-to-swap tiles, Gemio was one of the first truly customizable wearables.
Crafting the Gemio Pitch, Perfectly
 
The Gemio team turned to Enventys Partners for full-service crowdfunding marketing services. This included content writing, public relations, Facebook advertising, social media management, graphic design work and more. Prior to the Gemio campaign, Enventys Partners had not worked with projector creators involved with influencer marketing. The Gemio team announced their partnership with actress, singer and philanthropist, Brittany Snow. Both the Gemio team and Snow agreed to work together on the Gemio project. The goals were twofold: to help raise awareness via her nonprofit organization centered around anti-bullying and suicide prevention, Love is Louder, and to drive traffic to the actual crowdfunding project.
Snow showcased her other artistic talents and directed Gemio's Kickstarter campaign video. The music video, set to Jai Wolf's "Indian Summer", is focused around two young lovers and offers a very millennial-esque vibe. Working directly with Snow's team, both Gemio and Enventys Partners were able to create and develop a Kickstarter campaign that complemented the overall fun, youthful style and tone of the video.
A Money-Making Music Video
While Enventys Partners worked on creating the actual content for the campaign page and assisted in crafting social media posts for Gemio's team, Snow was in the midst of creating the campaign video. Gemio launched on Kickstarter and surpassed its $50K funding goal within 48 hours of going live.
The strategy for a strong start was Enventys Partners' strategic pre-launch marketing efforts combined with Snow's celebrity status. Prior to teaming up with Enventys Partners, Gemio had an existing email list of about 3,000 leads. These were collected from grassroots marketing efforts. Not only was Enventys Partners able to collect an additional 3,689 emails for the Gemio team prior to launching the campaign, but the list attributed to well over 400 sales for the campaign within just the first 48 hours.
In addition to Enventys Partners' pre-launching crowdfunding marketing tactics, Snow's team secured an exclusive first look at the video with Rolling Stone magazine. The iconic magazine wrote a full-length feature on Snow, her nonprofit and her affiliation with Gemio. Once Rolling Stone's feature went live, additional press came pouring in.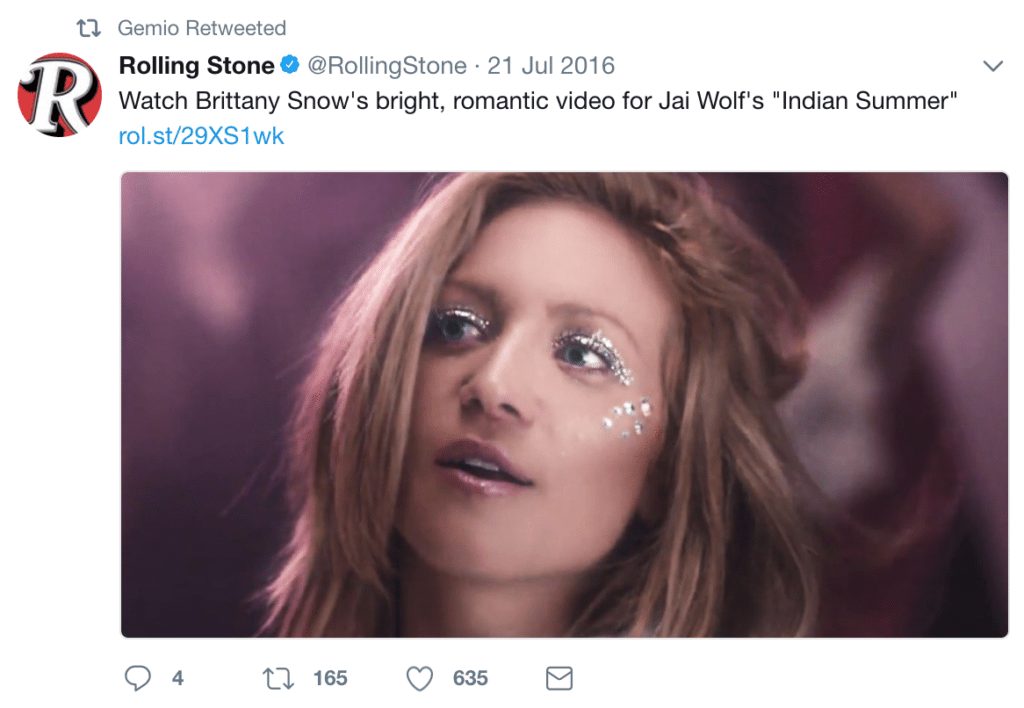 Interestingly, Enventys Partners also offers public relations services which include drafting press releases, building media kits and pitching journalists. Not only was Snow's team able to tackle the press from a social and entertainment standpoint, but Enventys Partners was able to secure coverage for Gemio from a variety of technology, wearable and product design outlets.
As the press continued to build, the campaign continued raising funds. Snow utilized her celebrity status to tweet and post about the Gemio project, her video and highlight her Love is Louder foundation.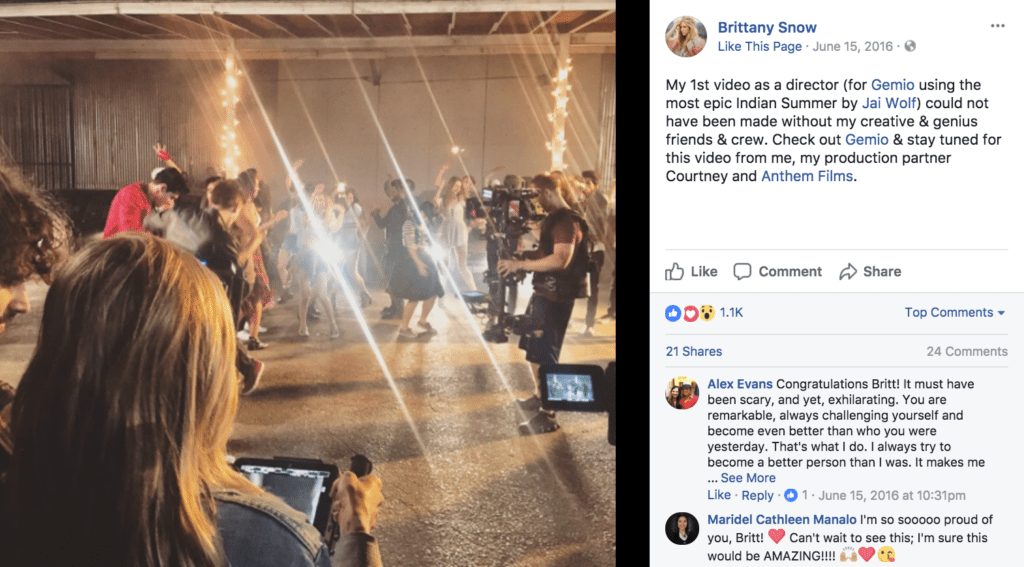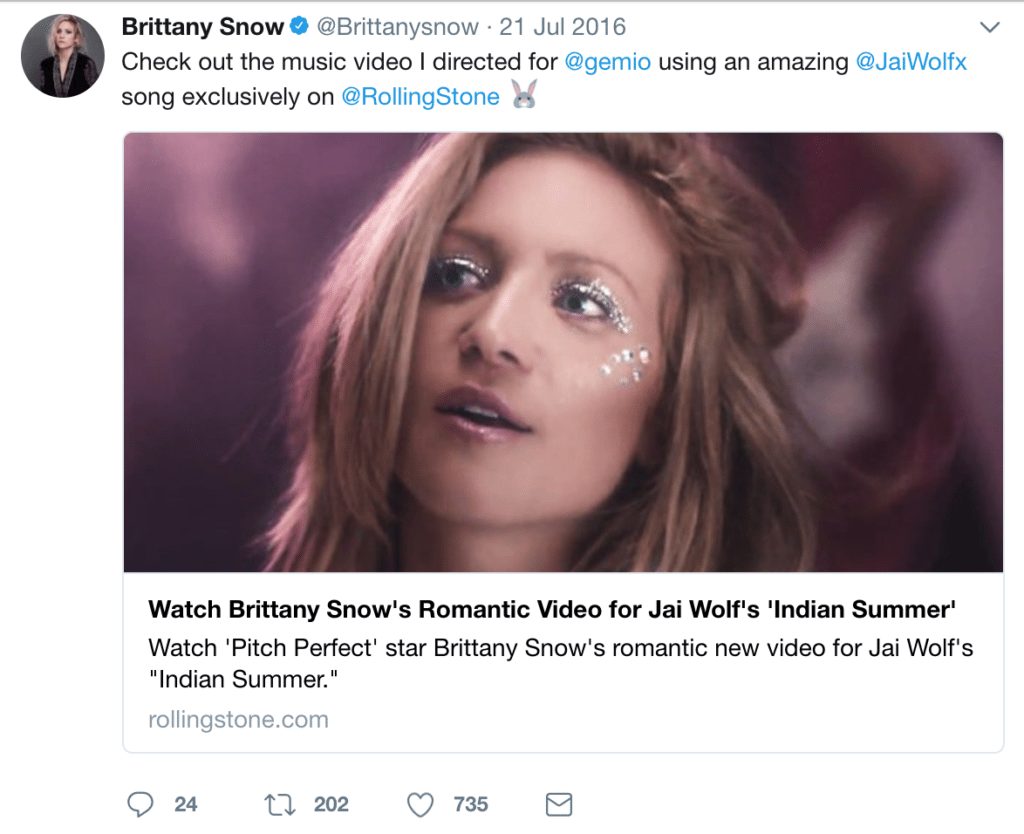 With Over $200K Raised, The Project Was A Huge Success
At the end of the campaign, the Gemio team was able to raise $212,535 for their customizable smart band. With the help of Enventys Partners' expert crowdfunding knowledge and the influence of Brittany Snow, the Gemio band was recognized as the next go-to fashion and concert accessory. Although Enventys Partners had not worked with a celebrity influencer before, Snow's status had a huge impact on the campaign. Not only was she able to highlight her more unknown creative abilities, but she was also able to raise awareness for her nonprofit and help bring traffic to Gemio's Kickstarter page. Once Rolling Stone went live, Snow's video had a somewhat viral effect. Her celebrity friends even shared the project to help spread the word.
Overall, working with the Gemio team and Brittany Snow showed how someone, especially celebrity influencers, can have a huge impact on crowdfunding campaigns. Enventys Partners has worked on hundreds of Kickstarter and Indiegogo projects over the years, and continues to fine-tune their strategy when it comes to crowdfunding marketing tactics. Working with Snow proved that celebrity influencers can have a huge impact on campaigns within the "world's first" world of crowdfunding. At the end of the day, Enventys Partners, the Gemio team and Brittany Snow were able to come together to create a campaign worth talking about.