The Background
---
Jack Yao came to us for the FIFTH time to help crowdfund a new dual-screen desk monitor.
After four wildly successful campaigns, three of which surpassed $1 million, the expectations were high for this new launch. 
Geminos was a departure from prior campaigns. While previously, Mobile Pixels' campaigns featured second screen attachments for laptops, Geminos is a stationary device. It is meant to act as a second screen at a workstation, and not for on-the-go use.
"
It goes back to that whole trust thing. It's once you have it, it stays and I trust you guys. I'm always in good hands when working with you guys. The team has been super responsive. Leyna and the entire crew been great. So I couldn't be happier.

"

Jack Yao
Mobile Pixels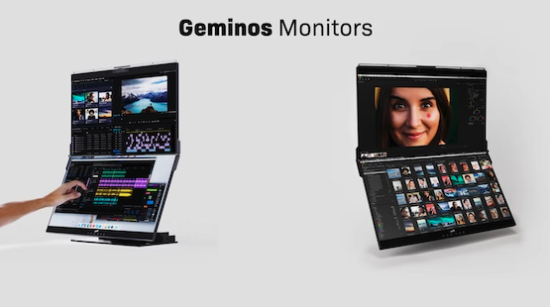 Our Approach
---
We leveraged our learnings and backer lists from all of the prior Mobile Pixels campaigns with this launch.
The audience Mobile Pixels had nurtured during their first campaigns was loyal and eager to support this new project, too.
During the campaign, Mobile Pixels wanted to add an entirely new product to the campaign which confused some backers. To remedy this, we posted multiple updates, updated the campaign page, and sent emails for clarification. 
Our public relations team aggressively pitched the Geminos launch, and leveraged the credibility and success of the brand to secure placements.
Geminos fully funded in 36 minutes and went on to raise more than $2 million.
Our advertising team achieved a 2.97x ROAS over the campaign. When adjusted for attribution loss, the ROAS climbs to 4.1x. YouTube ads saw a 7.92X ROAS and brought in more than $36,000.
We also set the campaign up with a variety of third-party promotional opportunities. These did very well, bringing in a total of $113,237. Kickbooster brought in the most of any third party promotion, with $31,537. Backercrew brought in the second highest tally of any third party promotion with $29,486. BackerCity was the third most profitable third party promo, bringing in $24,259.
Public relations brought in 7% of the total funds raised. Our team secured 90+ press hits. Some of their biggest press hits came from The Verge, Trend Hunter, Geeky Gadgets, New Atlas, Cult of Mac, The Awesomer, Core77, Liliputing, Techaeris, Gadgetify, Know Techie, Digital Trends, Tom's Hardware and Medium.