The Background
---
Jim Cooper, the co-founder of DorsiFLEX, first approached the product development team at Enventys Partners in April of 2019 seeking feedback on his product.
At that time, Cooper was already selling the first version of his product, DorsiFLEX 1.0. The first version was well received by users, but very expensive so sales were low. Cooper hired Enventys Partners to make improvements to the DorsiFLEX 1.0 design. Enventys Partners was also tasked with designing a product that could be mass-produced at a lower cost.
The work on DorsiFLEX in product development spanned two years before finally reaching a prototype with a mass-market appeal that was cost-effective to produce.
Before launching a crowdfunding campaign, Enventys Partners ran a market test on DorsiFLEX and took the information learned during the market test phase and implemented that into a crowdfunding campaign. In June of 2021, DorsiFlex launched a crowdfunding campaign on Kickstarter.
DorsiFLEX is a patented device that allows for a variable and adjustable positioning of your foot to achieve a deeper and more effective stretch of all lower leg and foot muscles contributing to plantar fasciitis, Achilles tendonitis, and other lower leg injuries.
This was the first crowdfunding endeavor for Jim Cooper. DorsiFLEX was invented and patented in 1991. Despite failing the market test, Cooper was insistent on moving forward with a crowdfunding campaign. Even though the market test didn't yield the advisable metrics that would lead to launching a crowdfunding campaign, Cooper believed in his product and felt that the Kickstarter campaign would tell him if their message resonated with people.
Cooper chose us due to a fantastic experience with our product development team, the fact he is local to us, and our demonstrated track record of crowdfunding success in the wellness/fitness/physical rehab/recovery spaces. It was ideal for Cooper to keep all the work under one roof as we had complete transparency and awareness of product costs, deliverability timing and rapport.
"After doing a market test, we didn't have the number of leads that everyone recommended having in order to have a successful Kickstarter campaign. I wasn't making my decision (to proceed with crowdfunding) on a wing and a prayer. The four years of our proof-of-concept phase really helped in making our decision to move forward with the Kickstarter campaign."
Jim Cooper
Co-Founder of DorsiFLEX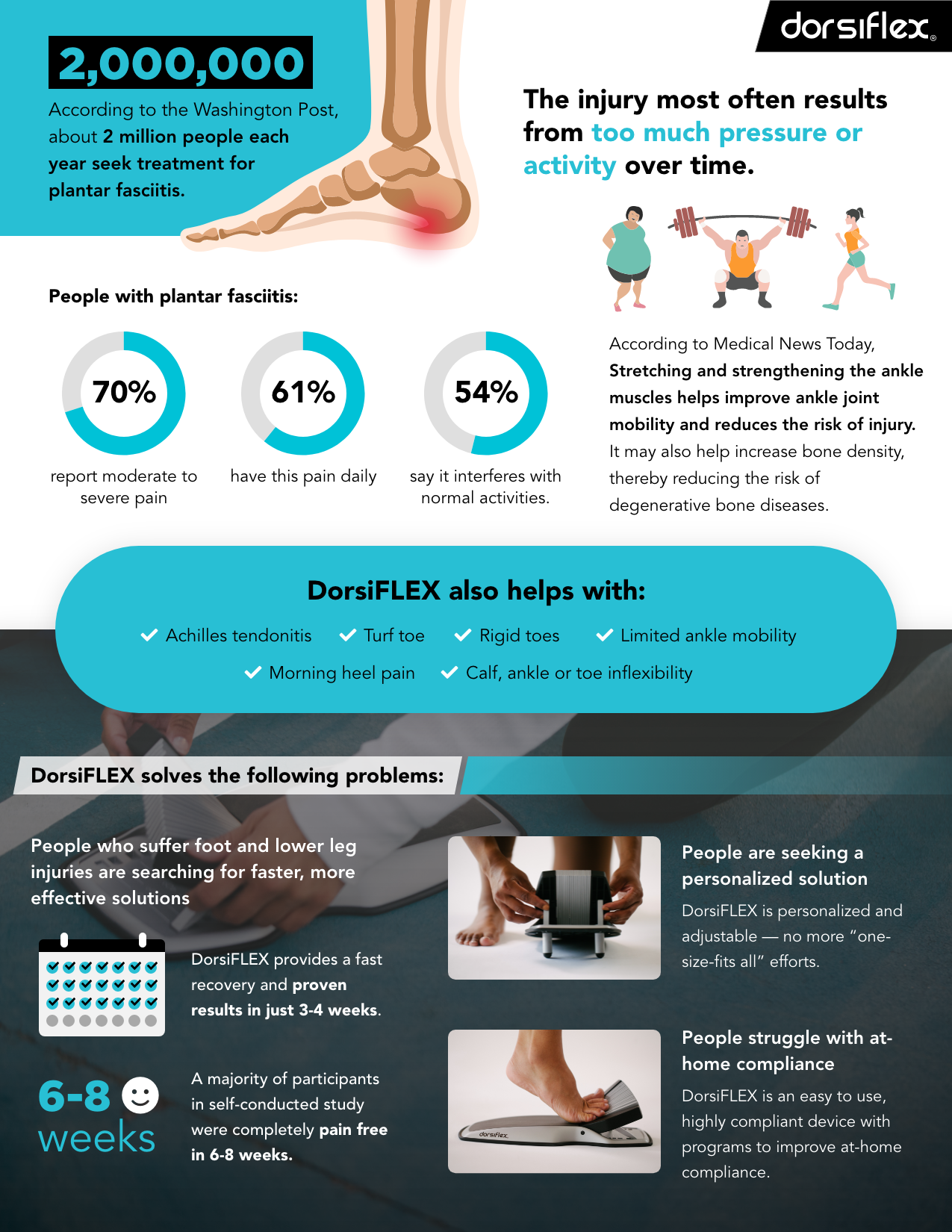 Our Approach
---
Prior to launch, Enventys Partners set out to re-design and build a more affordable version of the DorsiFLEX. We never had the opportunity to work with Cooper in person as the final design of DorsiFlex was completed during the height of the COVID-19 pandemic. Enventys Partners worked tirelessly to streamline communication and make things as simple as possible.
The designers at Enventys Partners created graphics that were engaging and highlighted the aspects of DorsiFLEX that made it better than similar products on the market. During pre-launch, our Facebook advertising team pulled custom and lookalike audiences that were most similar to products like DorsiFlex and narrowed the age range in the lookalike audiences slightly to focus more on crowdfunding and DorsiFlex demographics. The team continually updated and modified ads based on performance metrics.
The campaign page was compelling, easy to follow and provided clear calls-to-action thanks to a variety of assets provided from the outset. Despite metrics and data suggesting we shouldn't launch a crowdfunding campaign, DorsiFLEX exceeded expectations on Kickstarter, surpassing internal goals.
When DorsiFLEX hit a plateau in the middle of the campaign, the campaign turned to ProductHype for placement in their newsletter. The ProductHype newsletter appearance generated more than $10K for the campaign.
Unsurprisingly, the early bird rewards did well. Data also showed that more than 88% of backers came from the U.S. and had previously backed a crowdfunding campaign.
DorsiFLEX was also featured on the Art of the Kickstart podcast. Samples of the DorsiFLEX were not available to the media during the campaign which hindered earned placements. Most journalists and media outlets wanted to try DorsiFLEX for themselves before providing coverage. The public relations team created an infographic to highlight the industry and where the product fit.
Our Facebook Advertising team was responsible for more than a 2x return on advertising spend. The Facebook Ads team leveraged lifestyle images and GIFs to create engaging content and found the best-performing assets to be images, not GIFs.
Despite not having media samples available, this campaign received a handful of press including coverage on TrendHunter and 30seconds.com.
The DorsiFLEX Kickstarter campaign hit its $15,000 funding goal in three days and went on to raise $97,926, which was 652% of its initial goal. In total, the campaign attracted 856 total backers. Jim Cooper decided to transition to InDemand and utilize Enventys Partners services to help set up his website.