The Enventys Partners Story: Celebrating 20 Years of Business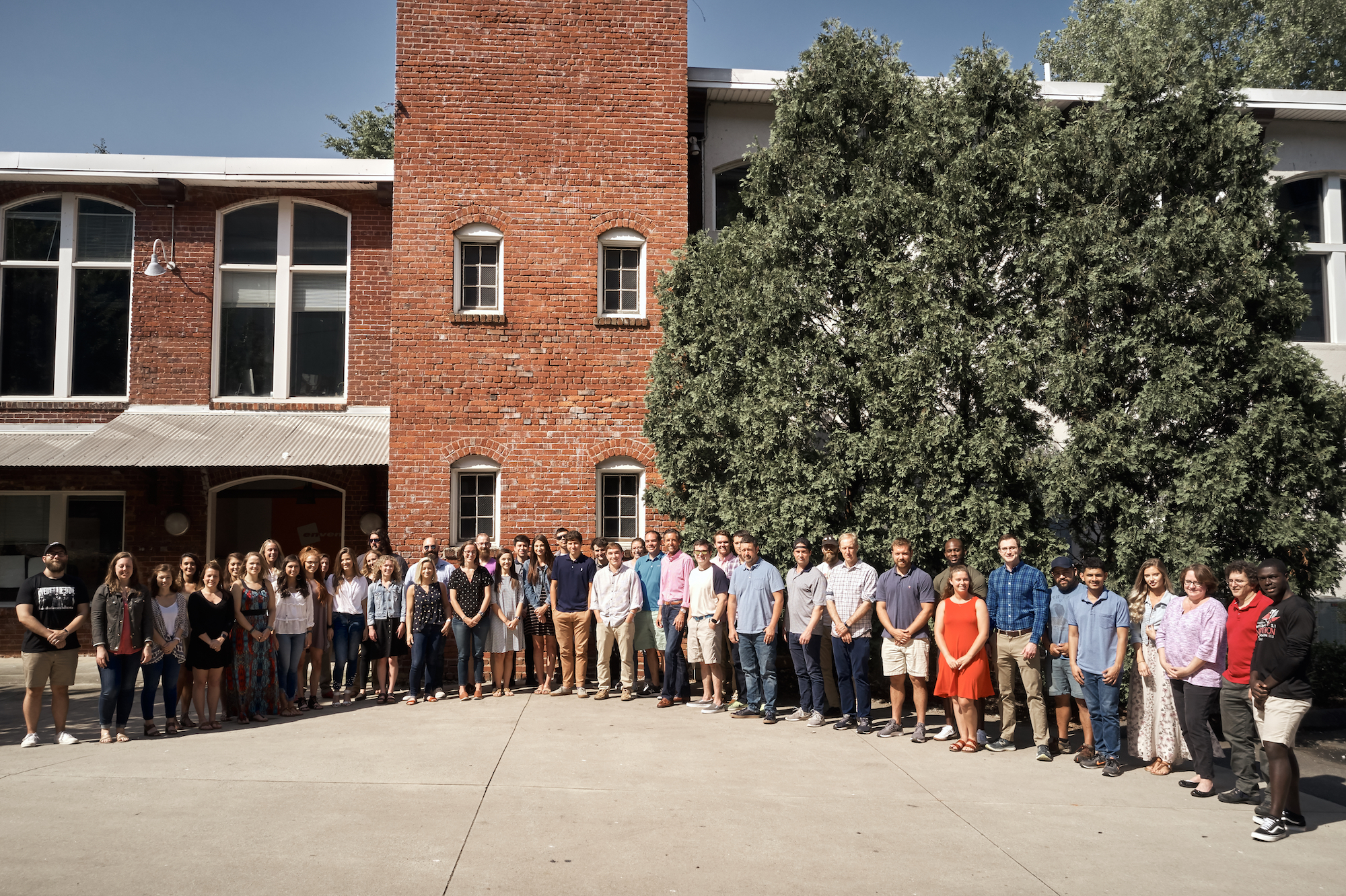 Like our clients, Enventys Partners started with an idea – well, two ideas. In the 20 years that have followed, that idea led Louis Foreman, Roy Morejon and the entire Enventys Partners team on a journey not unlike many small businesses all over the world. Our journey began as the U.S. economy was rebuilding in the aftermath of 9/11 and today, as we emerge from a global pandemic, it's safe to say the journey has been anything but expected.
Discover Enventys Partners' Origin Story
The Idea
A serial entrepreneur, Louis Foreman was involved in developing and launching a number of products. In every case, he relied on outside vendors to provide services from engineering to marketing and branding, web design, etc. After several projects, both successful and unsuccessful, he noticed that when a product was successful, firms were quick to take credit, but when one failed each firm blamed another. The lack of accountability was frustrating.
The idea for Enventys was a simple concept: bring together the experts needed to bring a product to life and control the process from start to finish. Furthermore, Enventys would "put skin in the game" by basing some compensation on the success (or failure) of a product. Entrepreneurs with ideas assume risk to bring their ideas to life and it was time the firm they partnered with did the same.
The Foundation
Enventys was founded in Cornelius, N.C. on November 1, 2001. A scrappy startup, the team consisted of passionate employees who were eager to help entrepreneurs in their journey to success. In that first year, cash flow was irregular and revenue was invested into the team and the tools needed to bring products to life with the belief that we were creating value for each client. By the end of our first year, we outgrew our small office and moved to uptown Charlotte.
Taking to the Small Screen With Everyday Edisons
As word spread about the work Enventys was doing, innovators began approaching us with ideas of their own but no desire to become entrepreneurs. They'd knock on our door and pitch an idea but didn't want to start a business or invest their own resources into the concept. They were hoping for a chance at a small sum of money from their ideas, but that was about it.
During this time, reality TV was gaining popularity with dancing, cooking, fashion and music shows, but nothing addressing innovation or invention. This was before Shark Tank, so in 2005 we decided to see if there was an appetite for a show focused on inventors and inventions. The first season aired in 2007. We eventually produced 52 episodes over four years and won two Emmys. More importantly, our team worked alongside inventors to make their dreams come true.
The Acquisition of Inventors Digest Magazine
In 2007, when the first episodes of Everyday Edisons aired, we were approached by the publisher of Inventors Digest. She was looking to retire and wanted to make sure that the magazine, which started in 1985, would continue. She wanted to make sure that the magazine wouldn't sell inventors false hopes and dreams, but rather educate and inspire them.
We acquired the magazine and transformed it from a quarterly publication to a monthly full-color magazine. Inventors Digest remains a significant investment, but one that we believe pays it forward to the community we serve.
Command Partners Is Formed
In 2010, Roy Morejon had been running a digital marketing agency in Charlotte when he joined forces with a public relations expert to create Command Partners. Public relations and social media marketing, at the time, were working hand-in-hand, so we boosted client profiles by leveraging SEO, public relations and digital marketing tactics.
Command Partners didn't start in the crowdfunding space, but rather by helping enterprise companies with their digital marketing needs. This included social media advertising, SEO, blog and content writing, and public relations. Eventually, a crowdfunding campaign creator reached out for assistance during his campaign because we'd been ranking on the top of Google searches for 'startup marketing'.
In 2012, we successfully helped the Rowdy Robot team raise more than $89K, and other campaign creators took note. It snowballed, and we were able to add on other projects in the crowdfunding phase.
Taking to the Digital Airwaves with Art of the Kickstart
In 2015, Command Partners acquired The Art of the Kickstart podcast. By this time, we managed more than 160 crowdfunding campaigns and raised more than $55 million. The podcast offered creators another avenue of media on which to share their stories. At the time, there weren't many other crowdfunding-specific podcasts, so we were able to offer many of our clients a unique opportunity.
Interviewing campaign creators on the podcast allowed for casual conversations that go beyond the rigidity of the campaign page and advertisements. Hearing stories of pain points and innovation and the process of creation inspires other creators, too.
Needing More than Product Development and Engineering
While Enventys was helping inventors bring ideas to life, the process of commercializing those products began to change. Crowdfunding continued to emerge as an efficient way to bootstrap an idea, but marketing those projects was a challenge. Clients who were working with Enventys were using crowdfunding to de-risk the launch of their products and generate interest but were using outside firms to help them in that endeavor.
Enventys realized that leveraging comprehensive crowdfunding marketing was an additional service our clients needed to increase their chances of success. When looking at agencies to acquire, we realized a perfect fit was literally in our backyard in Command Partners.
Enventys and Command Partners Merge
In 2016, Enventys had been partnering with outside agencies for products they'd developed that were looking to commercialize and launch. Command Partners, on the other hand, had been receiving business leads from innovators very early in the process and had been sending them away until they had a product that was ready for crowdfunding. The two firms began talking about how they might come together to provide a start-to-finish solution.
After months of discussions and joint projects, the teams realized that a merger would benefit both companies with their growth goals. There wasn't overlap in integrating the two teams, which made for a relatively seamless transition.
Now, entrepreneurs can come to Enventys Partners with an idea, have that idea designed, prototyped, and marketed for launch. Where most mergers aren't successful, the merger of Enventys and Command Partners benefitted by having complementary skills that dovetailed to provide a turnkey solution once combined.
20 Years of Pride
Louis Foreman is quick to note that 80% of all new businesses never see the 10-year mark, so to achieve 20 years of success is incredibly gratifying. But beyond our personal successes, partnering with our clients on their entrepreneurial journeys has provided the biggest source of pride for our team. When a founder comes to us with a great idea but lacks the know-how to bring it to life and market it to their target customers, it's rewarding to get them over that finish line.
A Bright Future
Having survived a recession and a pandemic, we believe we're in a better position today than at any other time in our history to deliver on our mission. As people bring products to market faster and cheaper than ever before, we look forward to adapting with the changing trends. Working with innovators whose ideas will make our lives easier, help us live longer and provide our children with better, more fruitful lives is the challenge facing all of us. We're excited for the things to come as we look back on the ideas we've seen and worked with in 20 years.
Your Product's Story Could Become Part of Ours
Since 2001, we've worked hard to climb our way to the top of the product development, crowdfunding and ecommerce marketing industries. You've just heard Enventys Partners' story—can we hear yours? Reach out if you dream of bringing a product to life.
Work With Us
Want to learn more about how we'd prepare your product for launch? Request a quote today.
Want To See This Advice In Action?
Check out our case studies and learn more about how we've achieved stellar results for our clients.