Kickstarter Live allows Kickstarter project creators to livestream video directly on their Kickstarter Campaign page to better engage with their backer community. This new functionality was released in November 2016 and we've now had several clients take advantage of Kickstarter Live for their campaign.
Should I use Kickstarter Live for my Kickstarter Campaign?
We've been getting this question a lot lately.
Our experience with livestreaming has been really positive. Monkey Lights, an Enventys Partner's client, recently hit their $220,000 funding goal in the last 24 hours of the campaign by raising $60,000 from 500+ backers in under 48 hours. Kickstarter Live + driving huge amounts of traffic with Facebook Advertising were two major factors in the incredible spike at the end of the campaign.
Here are few more reasons we recommend Kickstarter Live:
Kickstarter promotes livestreaming events on Kickstarter Live Explore, which lists upcoming live events. Essentially, it is free promotion for your campaign.
Kickstarter built the livestreaming functionality with the hopes that it will make stronger connections between backers and creators, enhancing the strength of the crowdfunding community. Kickstarter wants campaigns to use it, and we feel like the increased engagement from Kickstarter Live helps your campaign rank better on Kickstarter.com.
Livestreaming builds stronger relationship with your community, leading to more sharing of your project.
The livestream allows for live Q&A, chat and selfies from viewers, and all the viewers get notified as people back the campaign live.
We've learned a lot the last couple of months from our clients livestreaming events and wanted to share some Kickstarter Live best practices.
Tips for Livestreaming on Kickstarter Live:
Tips before you go live:
Before launching your Kickstarter campaign, we'd recommend including Kickstarter Live as part of your overall content plan. You may want to do a weekly campaign update, Q&A and demo every Friday. Or you may just want to do two Kickstarter Livestreams during your campaign, one to announce stretch goals and another one the final week of the campaign for product demo/Q&A. The options are pretty endless, and it is best to have a plan before you launch your campaign.
Let your backers know your Kickstarter Live plan. Monkey Lights did a great job of including their Kickstarter Live plans in their updates to backers. They sent out an update to their backers 48-72 hours prior to livestreaming, like the example below. The blue link: 'Friday at 12:30 PST' linked to their Kickstarter Live event where their backers could register for the livestream.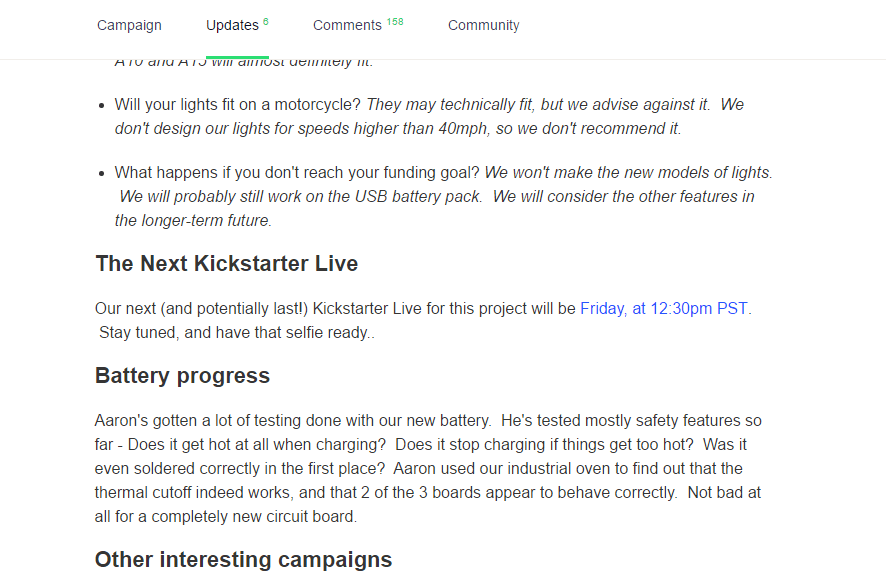 You'll also want to announce the event via Facebook, Twitter, Email, etc a couple days in advance. The more people you have watching the livestream, the better it will look to those new to your campaign. You may even want to think about setting up a Facebook event and advertising it on Facebook.
Check your Internet connection upload speed. During the livestream it is important that you have good connection. Kickstarter recommends at least 2Mbps upload speed – the faster the better. Test your speed here.
Think about upgrading your webcam & microphone. Your built-in mic and webcam on your laptop will work, but upgrading to a higher-quality USB webcam and microphone will make for a better experience.
Proper lighting is important. Make sure the brightest light in the room is facing you. DO NOT have a bright light behind you.
Watch a couple of Kickstarter Livestreams. This is the best way to learn! Go to Kickstarter Explore and subscribe to a couple of livestreams after you read this blog post, so you can see the whole process for yourself.
Tips while livestreaming on Kickstarter Live:
Remember it is supposed to be interactive. Although the video of the livestream will be available on your campaign page for the remainder of the campaign, the main purpose is to connect with those watching live. You do that by making the experience interactive.
If you are only planning one livestream for your campaign, this is the format we recommend:
Introduce the creators. – Be personable… share interesting facts etc.. This is where the potential backers start to gain trust in the creators.
Have answers to common questions asked so far from backers on the campaign page, in private messages and on Facebook.
Do a product demo – try to show multiple use cases and features of the product.
Ask for questions from the viewers. You'll find that after you answer a viewers question, they'll back the product right there if they are not already a backer.
Announce a stretch goal or ask for ideas for stretch goals.
Ask for questions again, or ask if anyone new has joined who would like to see the demo. New people join in the middle and end… doing the demo again or answering common questions 2 – 3 times is good.
Thank everyone for watching, backing the campaign and sharing with their friends.
The biggest mistake we've seen with livestreams is creators rushing through it. We have this notion that people have short attention spans and are only willing to watch a 1-2 minute video. But livestreaming is different, people interested in your project will tune in for 15-20 minutes if you keep it engaging.
Once you go live, you want to let people join before getting to the most important part: the product demo. So, introduce yourselves. Let the viewers know that you are going to introduce yourself while you let more people join. Ask the viewers if they can see and hear you okay. Then tell them you are going to answer some common questions before doing the product demo.
Involve the team. You should try to have 3 – 4 people assisting you with the Livestream.
Main moderator. One of the project creators or someone else on the team who will do a majority of the talking.
Demonstrator. One person to demo the product – they can come into the video just for the demo.
Communications. This person will make sure to put out a Tweet and Facebook post immediately when you go live. This person will also be watching the livestream for questions. People may ask questions in the live chat and they may also use the Q&A function to ask a question. This person will be on the video with the moderator.
At Home QA. A person at home who watches the livestream and can text the communications person if there are issues with sound or video.
The communications person can also be the demonstrator who does the product demo. While they are doing the demo, the moderator can be looking for live questions.
The purpose of this post is not to make livestreaming seem complicated – it is not. We've seen successful Livestreams with just one creator. But, if you plan ahead and have 3-4 assisting you, it will make your Kickstarter Live much more successful.
Some other ideas for engaging Livestreams:
Do a giveaway. Giveaway one of your products or a free add-on to someone who comments, asks a question or uploads a selfie.
Ask for viewers to give their ideas for stretch goals in the comments. After the product demo say, "Now that you have seen our product in action, do you have any ideas for stretch goals? Comment, we'd love to hear your ideas."
Ask backers to comment how or where they plan on using your product.
Make it an evening wine Q&A…tell the viewers to join you in a glass of wine while you do the Q&A.
To get people commenting, mention a giveaway for comments… then once your viewers get comfortable with commenting, they should be much more responsive to your questions.
Try to make the experience engaging and fun. Your goal with the livestream is to overcome any questions that have kept viewers from backing and to make a strong connection with backers to get them to continue sharing the campaign.
We find that livestreams are most powerful as you are getting close to hitting your funding goal or a popular stretch goal because backers who watch the livestream will share the project a lot more right after the livestream if a goal is within reach.
We hope this helps, happy streaming!
Want to keep learning about crowdfunding?
Not quite ready to talk with sales or just here to learn? Here are some of our most popular articles on how to run a winning Kickstarter campaign:
Need professional help with your crowdfunding campaign?
With over six years marketing crowdfunding projects, Enventys Partners is one of the largest and most experienced product launch companies in the industry.