Meta Pixel integration on Kickstarter pages was released by the crowdfunding platform this week. As we begin testing this new feature, we're sharing what we know and what we're still figuring out.
Meta Pixel integration on Kickstarter pages is finally possible! Kickstarter quietly introduced the feature on November 7. The bad news: We still have a lot of questions.
It's a feature that had been requested for years, and something that was already possible on Indiegogo.
This should be good news for creators.
The new pixel integration will enable creators to add a Meta pixel to the following pages: pre-launch, main project page, rewards page and thank you.
Benefits of Meta Pixel Integration
Once all the kinks are worked out, pixel integration will allow for greater retargeting in campaign advertising. Creators with higher-priced products will likely benefit the most from retargeting ads as this will allow them to run users through a funnel and spend money on people who are more likely to back their project. Kickstarter also says the integration of the pixel will help creators gather higher-quality leads before the launch of their campaigns.
The integration of the Meta pixel will also allow creators to run more targeted and better-optimized ad campaigns on Facebook. There will now be data sent back to Facebook from Kickstarter allowing Facebook to find people who are more likely to back each campaign.
Differences in Kickstarter and Indiegogo's Meta Pixel Integration
Creators who launch on Indiegogo have been able to integrate Meta (Facebook) Pixels on their pages for years. To do so, Indiegogo requires you to connect your Facebook business manager with theirs. You do so by sharing Pixel admin access. In Indiegogo's integration, creators and marketers use the Conversion API and Meta Pixel. This provides a combination of browser and cookie tracking and the matching of other data points to track conversions.
As of now, Kickstarter's integration only allows for the Meta Pixel. This currently limits tracking to cookie or browser tracking, which isn't ideal. But, it's better than no integration at all.
Potential Problems with Kickstarter's Meta Integration
Overall, the integration of Meta Pixels into campaign pages is a welcome change. But this early on, there are a couple of trouble spots we're keeping our eye on as this feature is rolled out.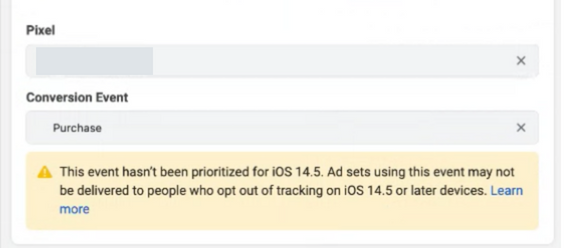 One of the biggest issues is that unlike with Indiegogo, Kickstarter currently doesn't allow us to prioritize events within AEM (aggregated event measurement). It seems as though Kickstarter has some events prioritized under their domain but we are not able to see what events are configured.
When setting up an ad campaign using the Meta Pixel on our Kickstarter page Facebook gives a warning message about the events not being prioritized for iOS 14 under aggregated events management. This is potentially a huge issue because if the event isn't prioritized, ad sets might not be shown to users who opted out of tracking. Simply put, it makes it harder for Facebook to find potential backers.
Our promise to you
We're currently testing Meta Pixel implementation with our clients and comparing results to our current best practices. We've reached out to Kickstarter for clarifications about this feature, too. We promise to use the features that give our clients the best chance to reach new audiences, surpass their funding goals and launch their products successfully.
Have additional questions? We'd love to answer them or track down answers to them for you. Reach out to us today.
Work With Us
Want to learn more about how we'd prepare your product for launch? Request a quote today.
Want To See This Advice In Action?
Check out our case studies and learn more about how we've achieved stellar results for our clients.