Entrepreneurs all face uncertainty. It comes with the territory of bringing something new into existence. But as the coronavirus has swept the globe, it can feel like uncertainty is at an all-time high due to closed manufacturing facilities and unstable stock markets. Even as COVID-19 led governments to issue stay-at-home orders around the world, innovators continue to create new ideas and inch their way toward launching them.
Coronavirus Impact: What COVID-19 Means for Crowdfunding
Even still, crowdfunding offers a way to either test the market for your idea or product, or launch your business altogether. When the coronavirus pandemic first began and factories in China remained closed for weeks after the end of the Lunar New Year festivities, we started fielding questions about whether or not the timing was right to enter the crowdfunding market. Like you, we want your businesses to succeed. We also want you to have all the information you need to make the best decision for your business. That's why we've analyzed the data from campaigns launched in 2019 and 2020.
A word about the data
We analyzed data from every successful Kickstarter campaign in 2019 and 2020 to get a good look at the health of the platform. We focused on analyzing successful campaigns because complete data over the duration of the campaign is available. Successful campaigns also charge backer accounts, meaning we're talking about real money raised as opposed to merely pledges that don't actually come to fruition. While we also launch campaigns on Indiegogo, we don't have access to the same breadth of data for that platform, and therefore can't accurately represent trends they might be seeing. The data collected spans from January 1 to April 3 of this year for 2020 year-to-date numbers.
Are campaigns still launching?
As COVID-19 began to move from China to other parts of the world, creators started asking us whether or not they should postpone their launches. What were other campaign creators doing?
While we can't totally answer whether the time is right for you now, we can tell you that from January to April 3 of this year, 2,587 projects launched on Kickstarter. Compared with the same timeframe year-over-year we've seen an increase of 8.93% when only 2,375 projects launched in 2019.
Are people still supporting crowdfunding campaigns?
Ok, so people are still launching campaigns, but have they been successful? The answer to that is largely yes. While the percentage of successful campaigns has decreased slightly from 61.26% in 2019 to 57.75% in 2020, that is still well above Kickstarter's lifetime success rate of 37.65%.
There are a couple of key metrics we can look at to show how consumers are behaving when it comes to crowdfunding campaigns: total campaign raise and day-one funding.
Overall campaign funding
When COVID-19 was first discussed globally in early January, it was confined to Wuhan, China. By February 8, at what would have been the end of the Lunar New Year festival, many factories remained closed while the Chinese government grappled with containing the illness. As all of this was occurring, consumers still backed crowdfunding campaigns. In fact, campaigns in 2020 raised more than they did in 2019. In total, 2020 campaigns ending between January 1 and April 3, 2020 raised $71,524,658.67, which is a 38% increase from 2019 when campaigns generated $51,827,024.87.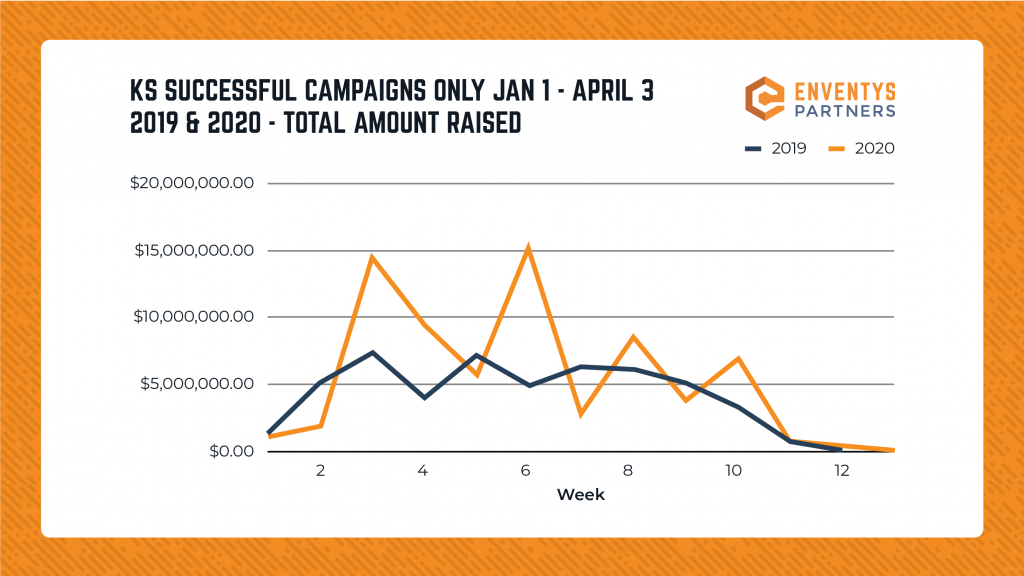 A quick look at the data shows 2020 trending above 2019, overall. Total funds for all campaigns ending before April 3 don't appear to have suffered from the virus. Both years saw slight downward slopes heading into the spring, and 2020 appears to be leveling off. All good signs for creators considering a launch.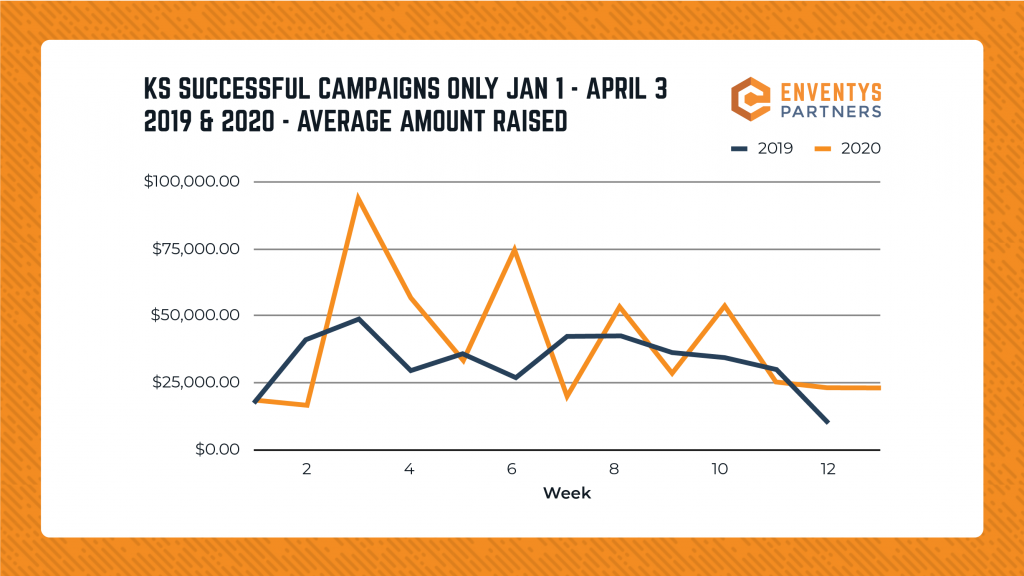 While every campaign performs differently depending on its goals, marketing and outreach, it's not just the total campaign raise that is up in 2020. On average, campaigns ending between January 1 and April 3 raised $27,647.72, up 26.69% from $21,821.91 during the same time period in 2019.
First-day funding
Coronavirus or not, it's important to have funding lined up for the first day of the campaign. Leveraging networks of friends and family can build momentum within the Kickstarter community.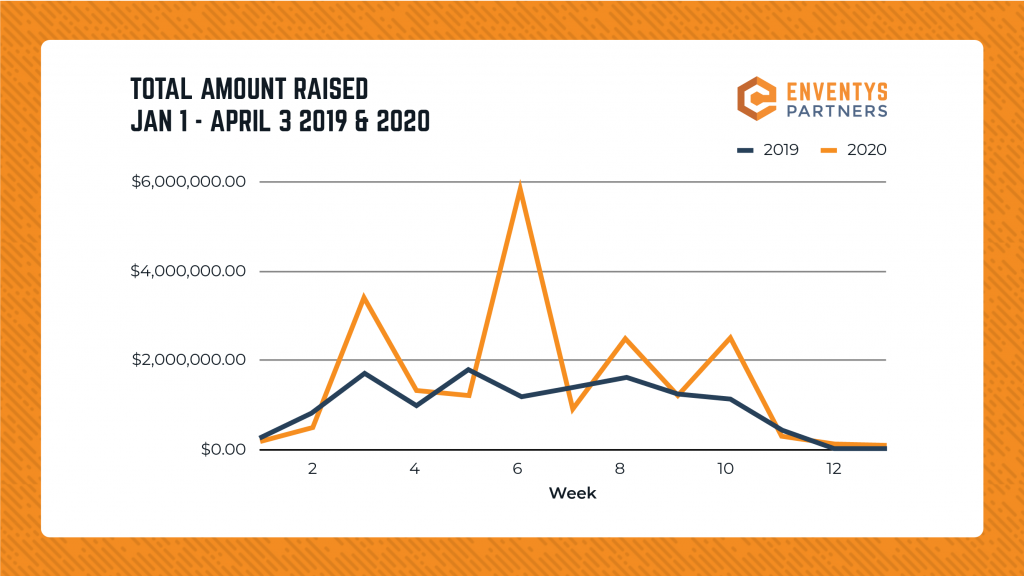 From January to April 3, 2020, campaigns generated a total of $20,245,501, which is up from $12,810,399 during the same period in 2019. Average first-day funding increased 45% from 2019 to 2020 with this year's campaigns bringing in an average of $7,826.
Much like the cumulative total for day-one funding, campaigns in 2020 generally started their campaigns off stronger than they did in 2019. If anything, it does appear that people are continuing to support crowdfunding campaigns, even in the midst of this coronavirus pandemic.
How should you navigate a campaign amid COVID-19?
If you completed all the necessary prototyping, photography and video creation needed for a successful campaign before the widespread effects were felt in the United States, don't worry. Launching your product is still viable, provided you maintain open lines of communication with the community you're creating. We've seen campaigns that have transparently communicated where they are in the development process and the challenges they're seeing to earn the trust of backers. The key is honesty.
Crowdfunding campaign backers are accustomed to waiting months while the projects they've supported come to life. This is a unique opportunity that only exists in crowdfunding. If you've done the work to launch a campaign, your backers will understand manufacturing delays as you create products to fulfill rewards.
Discuss with your community
Unlike existing businesses whose customers expect products to be delivered promptly, crowdfunding offers a different path to startup success. Crowdfunding depends on the community of supporters that come together around a project. Leverage those relationships.
Use backer updates to tell your backers more about your story. Let them know about the challenges you're facing without placing blame or making excuses. Tell your backers where you are in your development and production process and what your next steps are. When approached honestly and humbly, you'll be surprised at how your community will be understanding of the challenges you're facing. Use the duration of your campaign to get new ideas from your backers, too. You might find inventive tweaks that can be implemented before you deliver your rewards.
Learn from others
Because campaigns have continued to launch in 2020 at a faster pace than in 2019, there are plenty of other entrepreneurs you can learn from. Look at those whose campaigns have recently ended to see the types of updates they've given their backers. It can help you know what to expect and what questions to be asking your manufacturing partners as you move through your own campaign. Kickstarter and Indiegogo have both offered advice to creators about how to navigate the coronavirus impacts with their community of backers.
Let's Talk
Whether you've just thought of a new idea, you're almost ready to test the market, or you're preparing to launch to the public, Enventys Partners is open for business, even amid the COVID-19 pandemic. Our expert product development and crowdfunding teams are ready to help with your engineering, content and digital marketing needs. Do you have questions about the data we've shared? We'd love to talk you through what we're seeing. We're actively monitoring the crowdfunding market and production pipelines and are poised to help you make informed decisions as you launch or grow your business. Request a quote today.
Work With Us
Want to learn more about how we'd prepare your product for launch? Request a quote today.
Want To See This Advice In Action?
Check out our case studies and learn more about how we've achieved stellar results for our clients.