Five Ways to Use Email Marketing to Boost Your Holiday Ecommerce Sales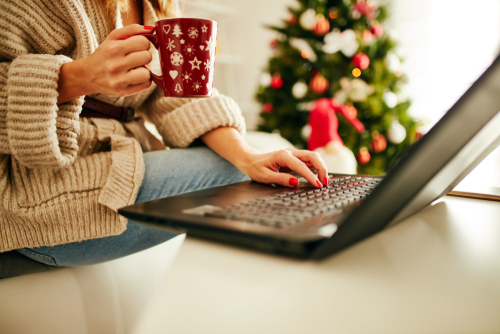 The holiday season can be the busiest time of the year for many businesses, often bringing a major boost in sales. With the peak season just around the corner, it's time to start planning your ecommerce holiday marketing strategy.
Email marketing is a great way to increase holiday sales. According to
Mailcharts
, email marketing is responsible for 20% of holiday sales. As competition for sales increases, ecommerce-based businesses should take action to ensure their promotions are at the top of shoppers' lists during this time of year.
It's important to begin planning your ecommerce holiday marketing early. Each year about 40% of consumers begin their holiday shopping before Halloween. That means that your ecommerce holiday strategy should be done well before the early shopping season begins.
To help get you started, we've put together five ecommerce holiday marketing tips to apply to your email marketing and boost your overall holiday strategy.
How to Build Your Email List and Leverage Your Current Customers
Your strategy for reaching out to customers should also be two-fold when it comes to increasing your sales during the holidays. First, you should focus on lead generation campaigns earlier in the year to build your subscriber list before the shopping season starts. Additionally, you should also nurture and leverage your relationship with your current email subscribers and long-time fans throughout the year. You will be able to tap into these leads during the holidays to increase your sales and support your bottom line.
Consider creating lead generation campaigns during quarters two and three to grow your list. Think about offering a one-time discount code or other incentives for signing up for emails.
When the holiday season comes around, your refined list will be easy to tap into when your campaigns begin to launch.
Use Emails to Promote Deals & Supplement Marketing Initiatives
Many businesses offer deals and markdowns during the holiday season, so it's important to make yours stand out. Here are a few ideas to grab your subscribers' attention.
Organize a gift guide. Gift guides allow you to showcase your best products and deals, and give your subscribers awesome gift ideas. Some gift guide themes can include gifts under $10, gifts for mom or dad, or stocking stuffers. Feature the gift guide on a landing page and create click-through links to send subscribers to your page.
Design holiday-themed contests. Contests are a great way to generate more interest in your product. Around the holidays you could offer a gift set as a contest prize or offer a free gift as a reward for giving a subscription to a friend.
Create a sense of urgency. Utilize countdowns when a deal is ending or an item is low in stock. You could also create a countdown to the holiday itself, or include last order and shipping dates to remind subscribers to purchase gifts on time.
Regardless, you should always use your email marketing strategy to promote your Black Friday and Cyber Monday sales. Last year, an estimated 165.8 million consumers shopped between Thanksgiving Day and Cyber Monday. Ecommerce email marketing can help you stay top-of-mind during this busy time.
How to Make Your Email Marketing Language Stand Out
Most consumers will be bombarded with holiday-themed emails from a variety of ecommerce businesses, so it is important to make yours stand out.
Make sure your subject lines are direct. For example, if your email promotes a gift guide in your email, make the subject line "Gift Ideas for the Coffee Connoisseur," or "Ten Best Gifts Under $10." Get creative and try out different subject lines throughout the season. Subject line testing could become your new best friend this time of year to ensure you're sending out the most qualified content.
Include emojis, capitalizations and exclamations to your advantage to catch consumers' attention. Using emojis in your subject lines can actually increase the read rate of your emails and help you stand out in consumers' inboxes.
Keep the text of your email direct, clear, concise, exciting and urgent to stand out to consumers. It's also important to double, even triple-check that all links work, especially when you include a call to action that will direct consumers to your landing page or product page. Your consumers are receiving a range of emails this time of year, so you need to make your email count and not waste selling opportunities on sloppy mistakes.
Revisit Your Automated Message Language for the Holidays
Review the language used in your drip campaigns, welcome messages, abandon cart messages and re-engagement emails. Make sure these messages make sense for the season and your current deals, and adjust the messages accordingly.
If you don't have any email automation set up, now is a great time to do it! Start with a cart abandonment campaigns so you don't lose site visitors who put items into their cart but don't check out.
Create Mobile-Friendly Emails for Increased Conversion
It's important to keep your mobile users in mind when creating holiday email campaigns as well. In 2018, 71% of smartphone owners used their mobile device to make holiday purchase decisions and 40% used it to research products and prices, according to the National Retail Federation.
Optimizing your email campaign for mobile users allows them to view your emails easily on their devices, giving them the full effect of your campaign.
Here are some ways to keep mobile-friendly emails in mind.
Avoid small text on graphics. If the text looks small on the web version of the email, it will likely not be readable on a smaller mobile device.
Make sure everything is easy to read.
Add descriptive alt-text to images in case users have images turned off on their phones. For example, if you're having a one-day 40% off sale, the alt-text should read "40PERCENT_OFF_TODAY_ONLY". Descriptive alt-text will support your sales information, even without the image.
Use the "mobile view" feature on your email marketing platform to see what the email will look like. Check to see that everything is readable and the format remains consistent.
As with everything, send yourself and other members on your team a test email to view how it will display on mobile.
Are you ready to get started on your holiday email marketing strategy? Do you have some questions or need some pointers? This is our favorite time of year in more ways than one. We understand the importance of being prepared for the holiday season and we know exactly what to do to bring our clients the results they're looking for. If you'd like more information like this, get in touch with our team today.
Work With Us
Want to learn more about how we'd prepare your product for launch? Request a quote today.
Want To See This Advice In Action?
Check out our case studies and learn more about how we've achieved stellar results for our clients.