Applying Buyer Psychology to Your Ecommerce Holiday Marketing Strategy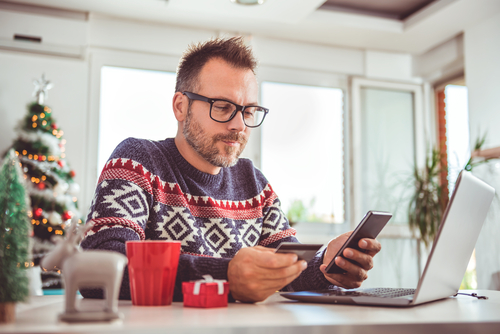 With the holiday shopping season fast approaching, as a business owner, you may have started strategizing about the best way to access the "buyer brain" this year. It's no secret that this time of year is crucial to companies' bottom lines, especially in the retail and ecommerce world, as shoppers are prepared to spend in the coming months, with the typical shopper spending $1,007 on average during the holiday season. In fact, the National Retail Foundation (NRF) is forecasting that retail sales in 2019 will increase between 3.8 percent and 4.4 percent compared to last year and reach more than $3.8 trillion.
With the anticipation of
at least 57% of this year's holiday dollars going through online channels
, it's clear that there is a major opportunity for ecommerce sales this year. Below, we'll discuss the ways in which psychology affects consumers' purchasing decisions, as well as how to apply that knowledge to your ecommerce marketing strategy this holiday season.
Buyer Psychology, Consumer Needs & How They Apply to Holiday Sales
The idea that a successful marketing campaign relies on the right amount of persuasion is nothing new, (for a refresher, you may want to brush up on Cialdini's Six Principles of Influence before the holidays), but the holiday season provides a unique opportunity for creative and strategic selling opportunities that are unlike any other holiday or season.
So, as an ecommerce store owner, how can you use this information to your advantage?
How to Apply Buyer Psychology to Your Ecommerce Holiday Marketing Strategy
Be Up Front About Timely Discounts & Other Deals
First things first, take a look at your budget and bottom line for this time of year. It's important to determine what you can spend on advertising, the lowest possible discounts you can offer on your products and shipping, and the bandwidth you and your internal marketing team have to manage your campaigns during this time of year. If your marketing team is short-staffed or you'd like more refined, expert advice, considering working with an agency so you can focus on other aspects of the business. If you decide to go this route, you'll also need to take those fees into consideration before you begin planning.
Once you've established what you can spend where, start formulating a discount strategy, as sales go a long way this time of year. 73% of consumers cited sales and price discounts as the most important factor when deciding to shop with a particular retailer, according to the NRF. Here are some other ways to include sales and deals into your overall strategy:
BOGO – Buy One, Get One deals are great ways to offer incentives and make consumers feel like they are getting more for less.
Product Bundles – Similar to the psychology behind BOGO deals, bundling product that your consumers would likely purchase together can help incentivize purchasing from you over your competitors.
One-Day Deals – Advertising your deals as "one day only" not only lets your consumers know that your deal is limited, but that they may never see the deal again, which encourages them to take advantage of the deal
Countdown Deals – Similar to the one-day deals, deals that involve a countdown for a certain amount of time let your customers know that a deal is limited. Consider implementing a countdown clock on your site to make the deal deadline even more apparent.
Low in Stock – While this isn't a deal per se, whenever your inventory is running low on an item, advertise that it is "low in stock" so that your consumers know there's only a limited quantity available.
Make sure your strategy also includes post-holiday dates through the new year so that you're reaching those late shoppers as well. Once you've established your budget, sit down and map out the discounts you can offer consumers for the remainder of the year, this includes Thanksgiving, Black Friday, Cyber Monday, the weeks leading up to Christmas, and more.
Increase Sales by Improving Shipping
Fast shipping is convenient, free shipping is great, free (or low cost) and fast shipping is even better. The discounts you advertise with your marketing initiatives don't have to stop with product discounts. Take a look at your margins, determine your most strategic shipping strategies, and market them. If you can offer a discount on your product, and offer two-day shipping for "as little as $5" or "free", when it was previously $20 or more, use that as another upsell to support the value of your holiday deals. Speaking of making the shopping experience easy, now is also a good time to test and refine your checkout process. Nothing kills a potential sale like a complicated checkout process.
Make Shopping Easy on Customers With Landing Pages
The shopping season can be stressful for consumers for a variety of reasons, which results in frenzied purchasing decisions while rushing around for "the perfect gift." If you have multiple products, this season is a great time to create landing pages with gift guides to help your consumers better digest and understand your products. You can sort your gift guides by familial role (moms, dads, teens, etc.) or by any range of activities that apply to your products (the fisherman, the workout junkie, the creative, etc.). These gift guides are also a great place to incorporate the product bundles referenced above.
Another way to make shopping easier on your consumers is through comparison shopping. If you have multiple products or products with similar but varying benefits, figure out a way to implement comparison shopping on your site so your customers are making informed and confident decisions.
Create Consistent & Themed Branded Content
Once you've established the best discounts and offers for your business this holiday season, don't let these strategies fall short by forgetting to implement your campaign on the visual front. Streamlined content that is also visually appealing helps consumers relate to and recognize your brand while shopping.
Before you craft your first social media post or build your first landing page, create brand guidelines that include relevant holiday-themed content, and then create a digital strategy for implementation. Determine things that will need to be created like holiday-themed assets – videos, graphics, landing pages, emails, social media content and more. If all goes according to plan, you're going to be busy during the upcoming season with customer service, inventory and shipping. Creating content now that you can implement later will help ease the pressures that the holiday shopping can bring on ecommerce businesses.
You should get started on this strategy by Q2 or Q3 of the year, as 40% of consumers begin their holiday shopping before Halloween. That means that your ecommerce holiday strategy should be done well before the early shopping season begins.
If you haven't started this yet, or need help fine-tuning your strategies this holiday season, we're here to help. We understand the importance of being prepared for the holiday season and we know exactly what to do to bring our clients the results they're looking for. If you'd like more information like this, get in touch with our team today.
Work With Us
Want to learn more about how we'd prepare your product for launch? Request a quote today.
Want To See This Advice In Action?
Check out our case studies and learn more about how we've achieved stellar results for our clients.