Launching a product, whether on Kickstarter or Indiegogo, requires capturing your target audience, but how do you know if your Facebook advertising returns are on par with your competitors? Enventys Partners looked at our industry data from 2020 to 2021 to tell you how crowdfunding campaigns are succeeding and what's making them rise to the top.
Analyzing 2020 vs 2021 Kickstarter Ad Campaigns Statistics
How do we measure advertising data?
Enventys Partners analyzes the ad data from the campaigns we run and while our marketing and advertising efforts naturally result in organic traffic, our data for ROI is solely measured in tracked sales. If comparing our ROI data to others, know that because we measure only our tracked efforts, others who factor in organic traffic and other sources will likely show a higher return. We believe in transparency and recognize that tracked-links-only measurements don't capture the full picture of what advertising does for a campaign.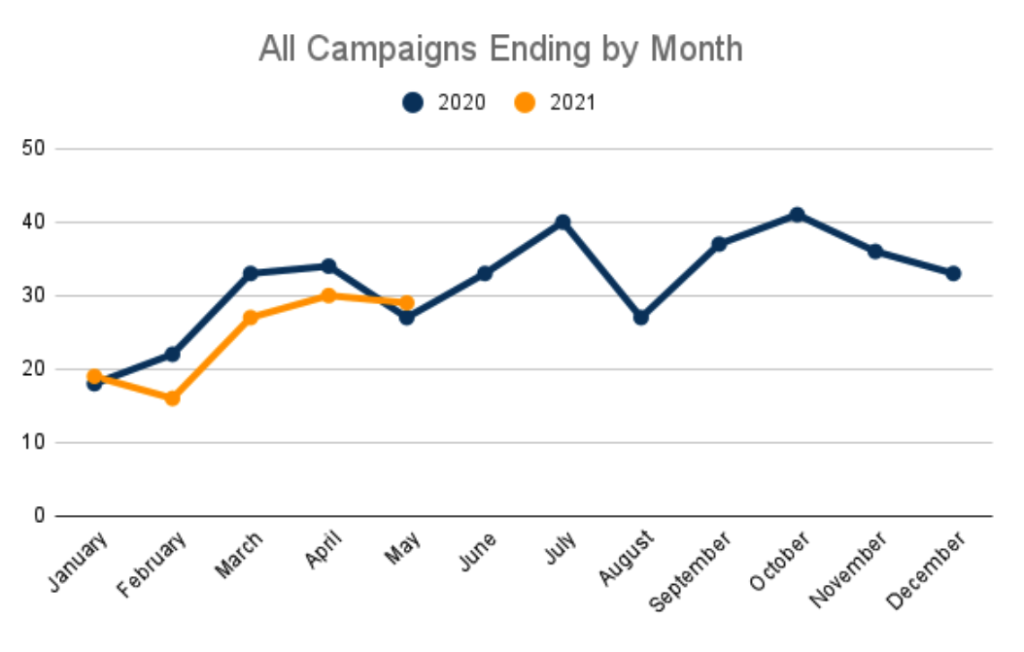 2020 was a weird year. As you can see from the data, roughly the same number of campaigns ended in January 2020 and January 2021. For campaigns ending in January 2020, those creators faced difficulties with fulfillment as the pandemic took shape. By the end of the year, crowdfunding platforms had rebounded, which is indicated in the data.
How much are campaigns raising?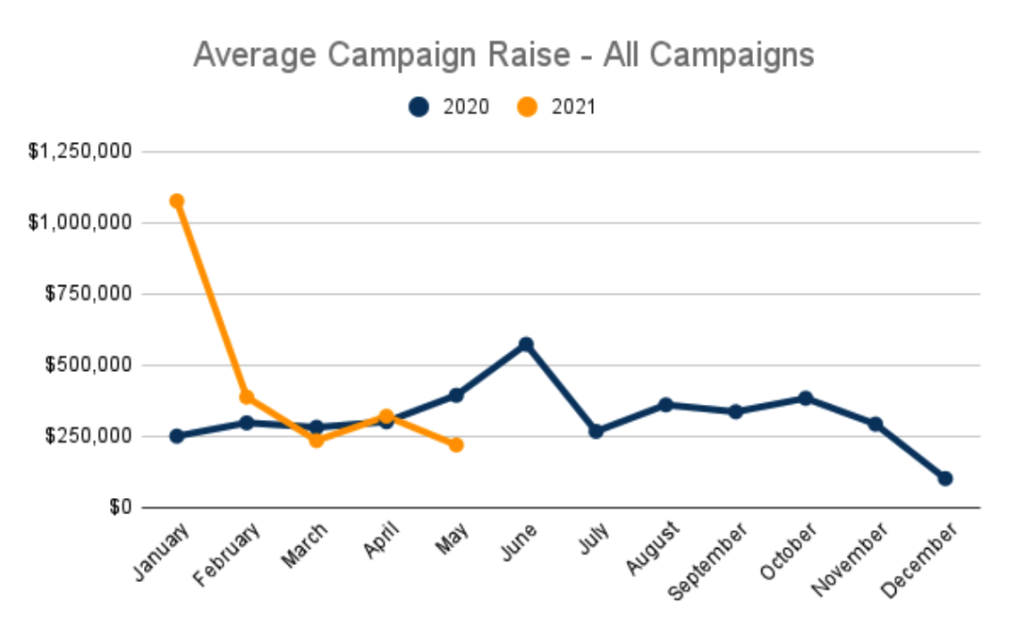 Over 2020, campaigns we worked with that were successful raised an average of $319,971. Campaigns ending in the summer and fall performed slightly above average, with July 2020 as an exception. According to Kickstarter data, 61% of projects aren't successful at all. Of campaigns that do surpass their public funding goals, nearly two-thirds raise less than $20,000 total. Only 4% of all successful campaigns raise more than $100,000.
Let's talk about outliers…
When you look at the data for how much money campaigns raised, the first month of this year sticks out. Ending in January 2021, we worked with FOUR campaigns that surpassed $2,000,000 in funding. Two of those campaigns surpassed $5,000,000. Kickstarter's own data shows that less than 0.3% of successful campaigns even cross the million-dollar threshold.
To eliminate these extreme outliers, we ran our data a second time and eliminated campaigns that raised more than $2,000,000.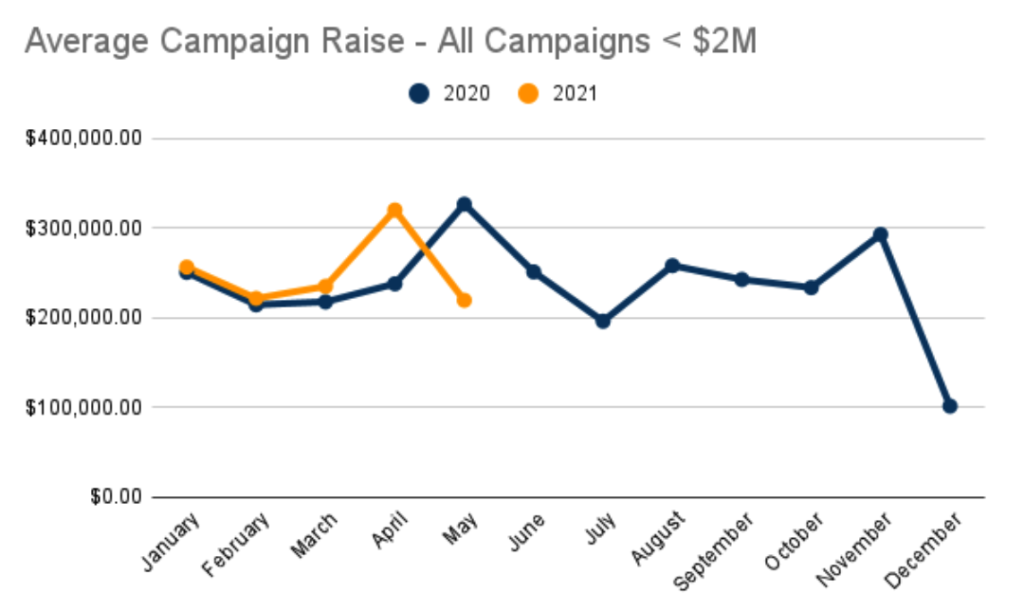 Without the outliers, the average campaign funding total for 2020 was $235,388. For campaigns ending through May 2021, that total funding was a pretty close comparison at $250,588.
What about advertising metrics?
Facebook remains the most popular platform on which to advertise crowdfunding campaigns. Despite recent Apple iOS 14 changes affecting advertisers, audiences on Facebook remain ideal for marketers to target. The update changed what reporting metrics advertisers receive, forcing agencies to adapt their practices.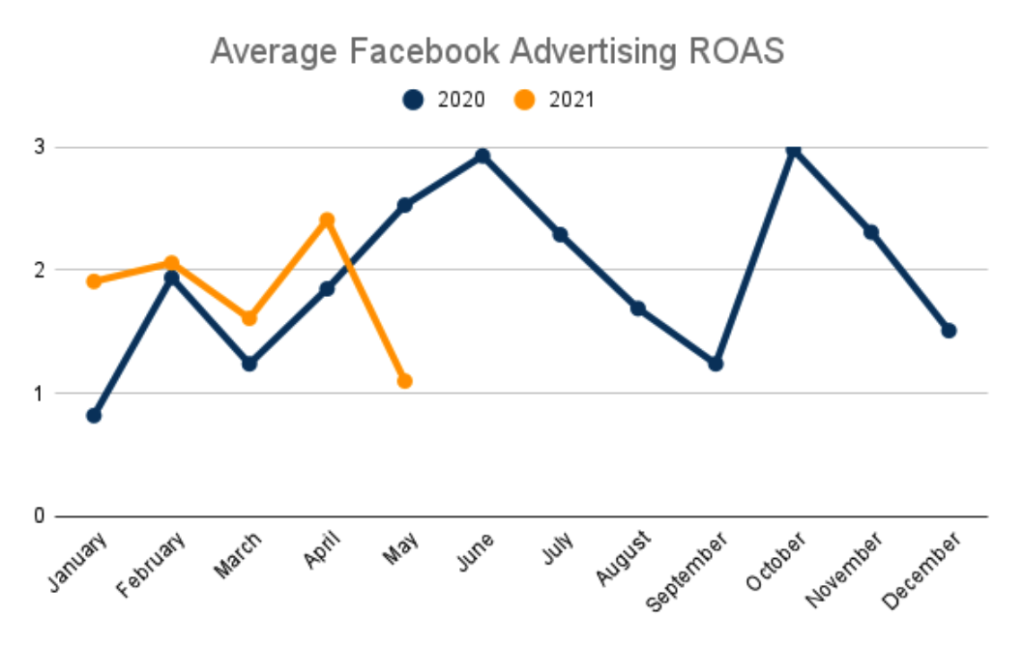 It's important to note that crowdfunding advertising is different from traditional ecommerce marketing. Kickstarter doesn't allow the use of Facebook pixels. This makes it significantly more difficult to track and measure advertising success. Many agencies leverage a form of tracked links to more accurately report on efforts. However, as much as 30% of all traffic to the campaign from advertising is lost because of the inability to leverage pixel data from Facebook.
Because we offer a newsletter, advertising, email marketing, and complete campaign management services, our total ROAS takes all of these services into account. As you can see in the chart below, ROAS can vary wildly, however, we maintain an average ROAS with campaigns breaking even on their investments.
It's not uncommon for advertisers to suggest a 3-8X ROAS as a metric of success. For ecommerce businesses, that makes sense. But because Kickstarter forces advertisers to lose as much as 30% of their attributable traffic, and campaigns are limited in duration, it's harder to achieve high sustained returns.
Factors that Affect ROAS
It's true that you can't creatively market a bad product. For crowdfunding, in particular, a truly innovative product that isn't available elsewhere is one of the single most important factors for success. Price is another.
If customers are interested in your product, bigger ticket items generally see stronger returns. It's incredibly difficult to achieve even a 1X ROAS on products priced under $30. Luckily, for those campaigns, ROAS isn't the only indicator of campaign success.
It's been said that in business you have to spend money to make money. That's absolutely true for crowdfunding campaigns, too. When you look at million-dollar campaigns, it's important to remember that they likely employed very high advertising budgets, and saw lower ROAS overall.
At Enventys Partners, we factor in your specific campaign goals when deciding what "success" will mean. Campaigns can either prioritize a high ROAS or high overall funding. Generally, the higher the funding goal, the higher the advertising budget. Campaigns that manage to achieve both generally do so because they are innovative, unattainable anywhere else on the market, and have a wide customer base to target.
A Measurable Difference with Enventys Partners
If you're interested in a tailored approach to advertising your next campaign, reach out to us and start a conversation. We'd love to learn more about your idea and your goals so we can determine a game plan that sets you up for success.
Work With Us
Want to learn more about how we'd prepare your product for launch? Request a quote today.
Want To See This Advice In Action?
Check out our case studies and learn more about how we've achieved stellar results for our clients.