Facebook Advertising doesn't have to be hard.
Are you ready to take your online sales to the next level and exceed your yearly sales goals? Enventys Partners' Facebook Advertising specialists can help.
Results-Driven Facebook Ads Strategy
When it comes to increasing site visitors, maximizing ROI and, ultimately, making more online sales than ever before, Enventys Partners has been an industry leader for years. Just look at our Facebook Ads results.
A 671% Revenue Increase
Enventys Partners' paid media efforts contributed to 39% of Outbound Lighting's total revenue during a five-month period. Our Facebook Advertising specialists increased revenue by 130% within the first six weeks of engagement, and grew revenue by 671% between August and November.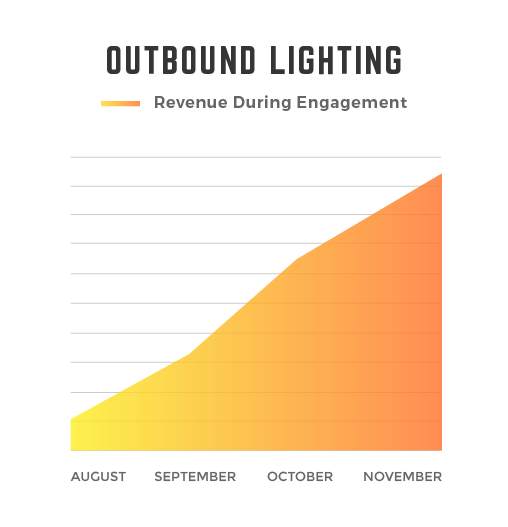 Revenue Attributed to Paid Media
Revenue Increase in First Six Weeks of Ads
Total Revenue Growth Between August and November
Finding Amazon Success
In a year of selling Caiman Hat Clips on Amazon, Enventys Partners increased revenue by 587% by reaching key organic positions for important keywords, obtaining reviews and lowering PPC ACoS. Those sales enabled the company to expand its business and develop additional product lines.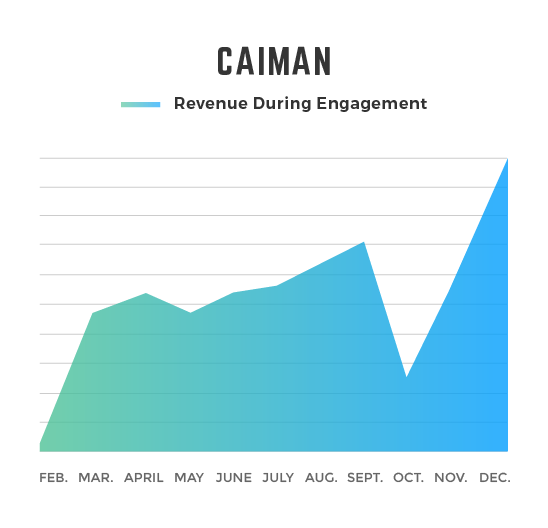 185% Increase in Monthly Revenue

By capitalizing on paid advertising and seasonal trends, Enventys Partners' efforts resulted in an additional 185% in monthly revenue for Nectar and was responsible for over 50% of all sales, resulting in a 250% ROI on ad spend.
Increase in Monthly Revenue
Return on Advertising Investment
Percent Increase in Facebook Engagement
Increased Sales, Decreased Costs

Through the use of SEO, content marketing, social media management, email marketing, PPC, Facebook advertising and a complete website redesign, we created strategies and campaigns that brought Chili Technology a 150% increase in revenue during the first half of 2017.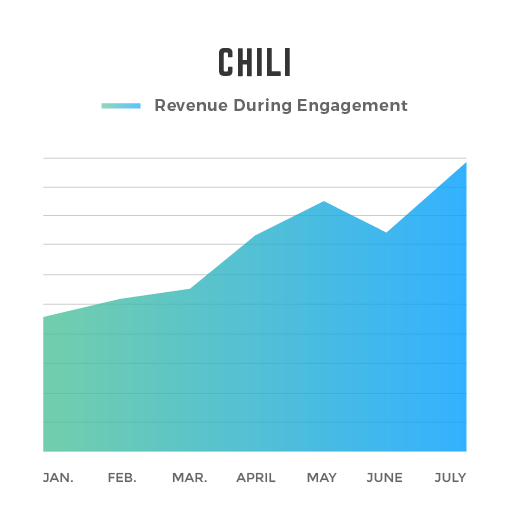 Increase in Site Visitors
Increase in Conversion Rate
Sure, all this data sounds great, but how will we actually get these results for your company? We've developed a proven process for Facebook Advertising that increases conversion rates and maximizes your bottom line.
Here is the path you can expect to take when you work with Enventys Partners:
Onboarding and Discovery
During this time, our team gets to know you and your goals as we collect assets, run initial audits and identify your risks and challenges.
Strategy
In this phase of our process, we take time to analyze audits, evaluate past marketing efforts and strategize across all disciplines so we can set meaningful KPIs and build holistic ecommerce marketing campaigns that are designed to achieve your business goals.
Execution
We don't just talk the talk, we walk the walk. Once we've established the most appropriate digital marketing strategies for ecommerce, we are focused, organized and diligent when it comes to executing the best plan for you.
Reviewing and Planning
Our work doesn't stop once we put our strategies into motion, we work constantly to ensure your ecommerce marketing strategies are successful. Whether we're providing monthly reports, conducting our 90-day strategy reassessment or setting new benchmarks, our finger is constantly on the pulse of your ecommerce business' performance.